Chrissy Teigen was feeling extra shady on Monday night as she called out some of her so-called "rich" buddies, while also taking a dig at her earlier feud with Alison Roman!
Taking to her Instagram Story, the Cravings: Hungry For More cookbook author revealed her "curated" PR boxes for her line had gone out to some of her famous friend influencers, like Kourtney Kardashian, Kylie Jenner, Ali Wong, and Shay Mitchell.
Related: Chrissy Teigen Responds To Accusations Of Stealing Recipes!
Her only problem?? Getting requests for free press kits from the people she knows can afford it!
Chrissy's Instagram message read:
"Please don't ask for a box. My marketing budget is not infinite but my love for you is. Also I see some of u [sic] asking and you're literally rich."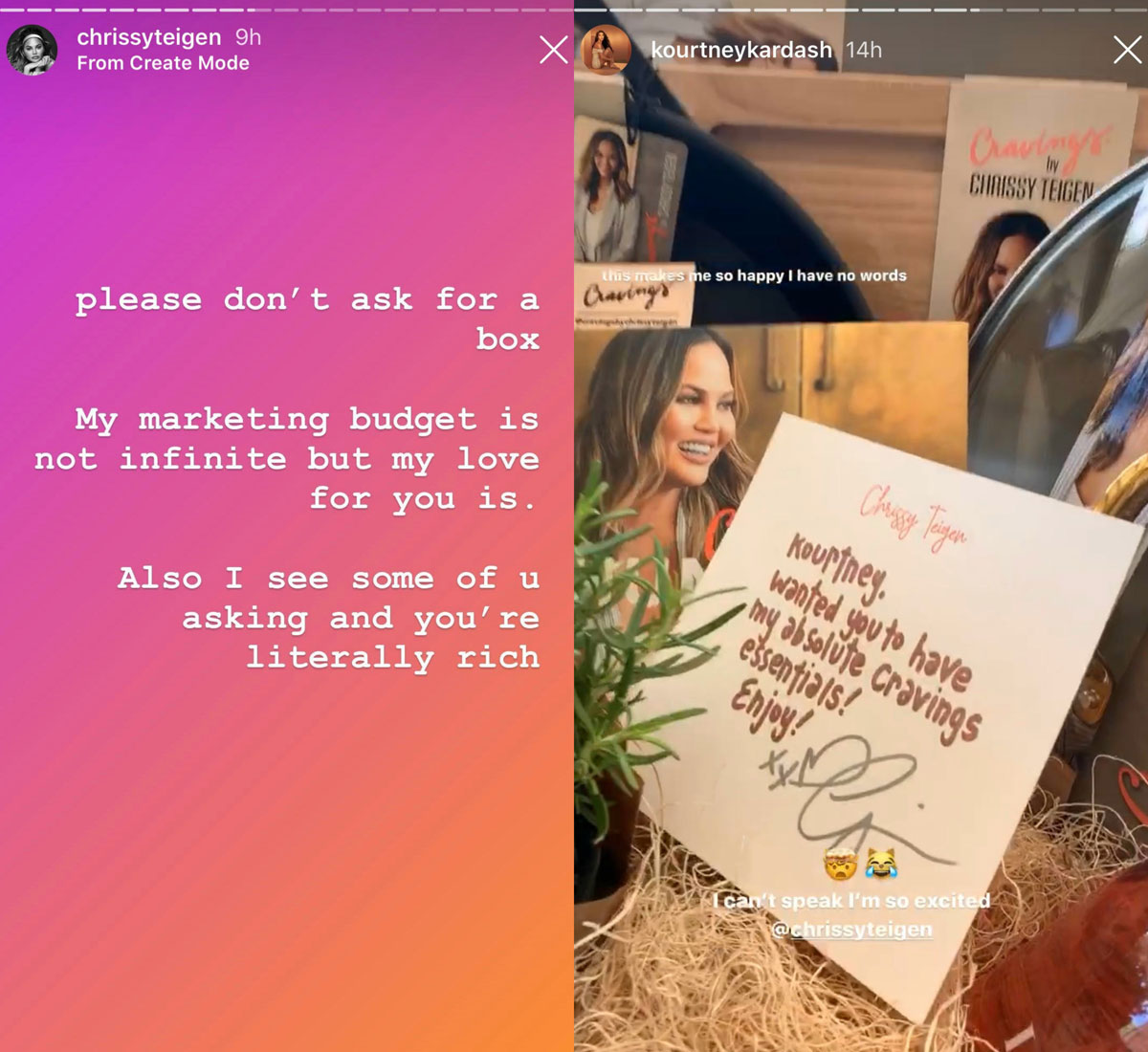 Gurl had beef!
The momma of two continued her rant, explaining it's just not possible for everyone to receive one:
"Anyhow, that wasn't even written for the fans asking for one. I'm gonna start doing a ton of giveaways. I'm excited to be able to put together things like this all the time and to show you guys how hard we work on everything. That was honestly just meant for my friends who are literally writing saying 'uh, mine hasn't gotten here yet,' and 'uh, that's cause I didn't send it to you."
Teigen later added one of her own employees from her "small" team was hand-delivering them amid the coronavirus pandemic:
"Just kidding, kind of, but they all haven't gone out yet, okay? They're not all out. I got someone driving around freakin Los Angeles doing this one at a time. What do you want from me, we're tiny, we're small, okay."
Related: Courtney Stodden Releases Chrissy Diss Track 'Bully'
The sauciness didn't end there, as she also called out Roman's "content farm" comment without ever mentioning her name:
"I know it looks like everything's just easy but I promise, okay, you're gonna be okay. Maybe that comes from someone putting it in your head that we're just a content farm with endless money and just got so big, so fast, but I promise we didn't. As great as it looks."
For those who missed it, Chrissy's Cravings success was shot down by the established cookbook author, who shared her candid feelings on it in an interview for The New Consumer:
"What Chrissy Teigen has done is so crazy to me. She had a successful cookbook. And then it was like: Boom, line at Target. Boom, now she has an Instagram page that has over a million followers where it's just, like, people running a content farm for her. That horrifies me and it's not something that I ever want to do. I don't aspire to that."
Clearly the former Sports Illustrated model is still feeling burned.
But adding how much hard work has gone into putting together these PR boxes, she has a newfound appreciation for others who are doing it on their own:
"Before I actually had to make my own boxes, I would get boxes all the time. I would usually donate them or give them away and I usually just didn't think twice about it. Cause I was like 'oh, I'm sure the person that made this probably doesn't even know this box came to me.' And then I started making my own. And holy s**t it's a ton of work. Shoutout and much love to people who do it on their own. I had a lot of help… I put it together, it's very curated, it's like a labor of love. And I will never ever throw away or not thank somebody profusely for being sent one."
That's growth!
So, what did we learn from Teigen's vent?? Well, for one, don't ask for freebies! And two, it seems like she'll never be able to forgive Roman for dissing her hard work!
[Image via FayesVision/WENN & Alison Roman/Instagram]
Related Posts
CLICK HERE TO COMMENT
May 19, 2020 07:26am PDT