Kylie Jenner's new clothing line is already facing some controversy!
In case you missed it, the 26-year-old reality star announced earlier this week that she was launching a new company called Khy. She told the Wall Street Journal, "The whole line is really inspired by my personal wardrobe, and the different moods that I'm in." She's first dropping a collaboration with the celeb label Namilia at the beginning of next month. The makeup mogul describes the first 12 pieces as "King Kylie — who I am at my core."
Related: Prince Harry & Meghan Markle Skewered As Lazy Grifters On Family Guy!
But it wouldn't be a new KarJenner brand launch without some drama! Two days after the clothing line reveal, another fashion designer, Betsy Johnson, publicly accused Kylie of stealing her ideas! And no, we're not talking about the iconic Betsey Johnson here!!
This Betsy is a creative director, stylist, and consultant who has worked with brands like Luis De Javier and Balenciaga. She's even collaborated on several of Kanye West's projects, including his Yeezy Gap Engineered by Balenciaga line. Last month, Betsy announced her own line called PRODUCTS. And Kylie allegedly ripped off the designs from this very line!
After seeing what Kylie is releasing soon, Betsy took to Instagram Stories Wednesday claiming she emailed Kylie and her team concepts, language, and line sheets from her clothing line earlier this year and then they utilized her ideas without giving her any credit. Slamming both Kylie and Namilia for this "trash move," she wrote:
"We emailed Kylie and all her team @products.ltd concept and langauge [sic] and a line sheet 6 MONTHS AGO. INTERESTING CONCEPT KYLIE:… INTERESTING. Thanks for the co-sign … F**k your support."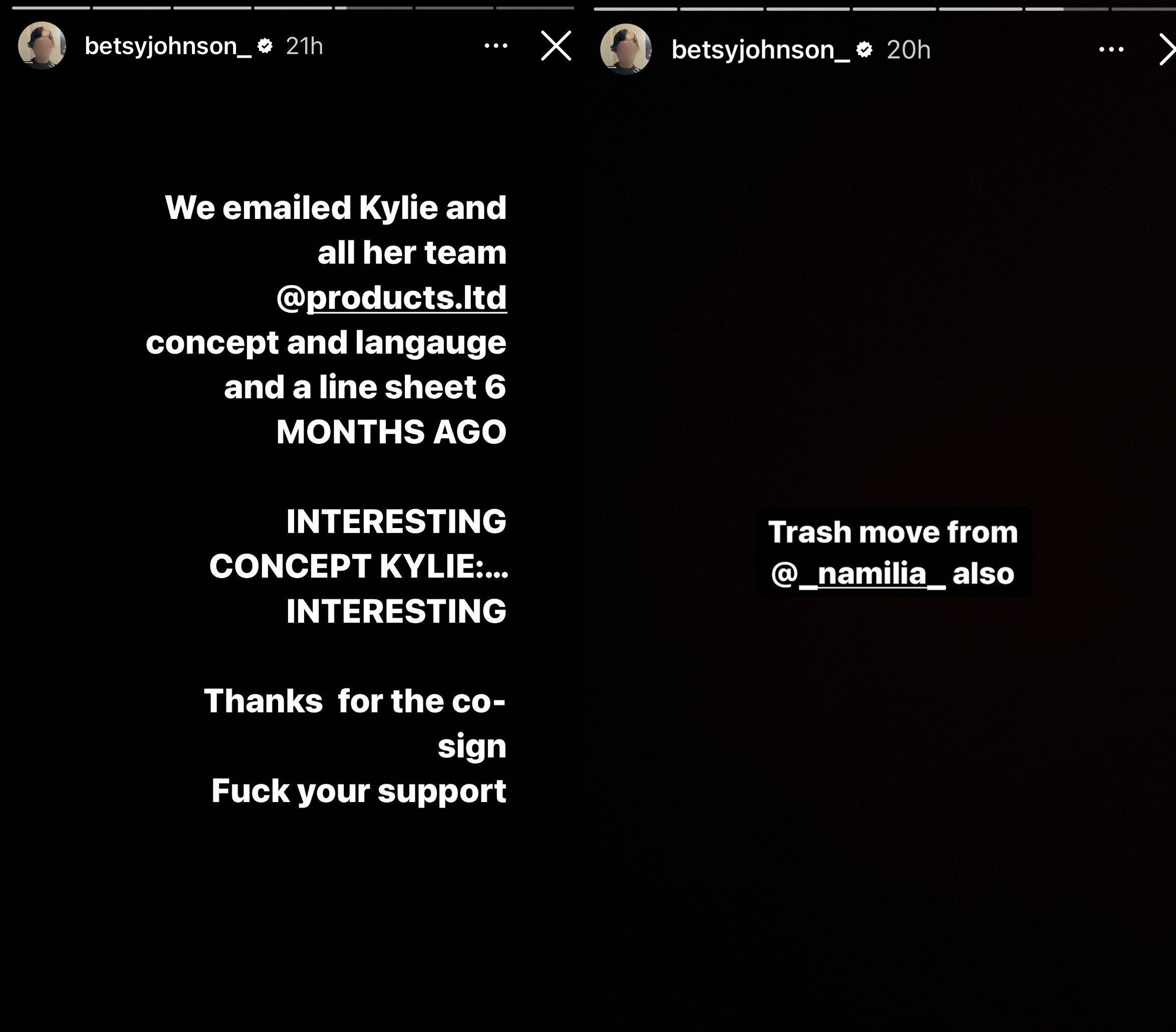 YIKES!
She also shared a screenshot of a message she received asking, "Why is the caption giving me products ltd concept teas?" Betsy also shared a caption from the Financial Times' description of Khy along with a series of middle fingers. Check it out (below):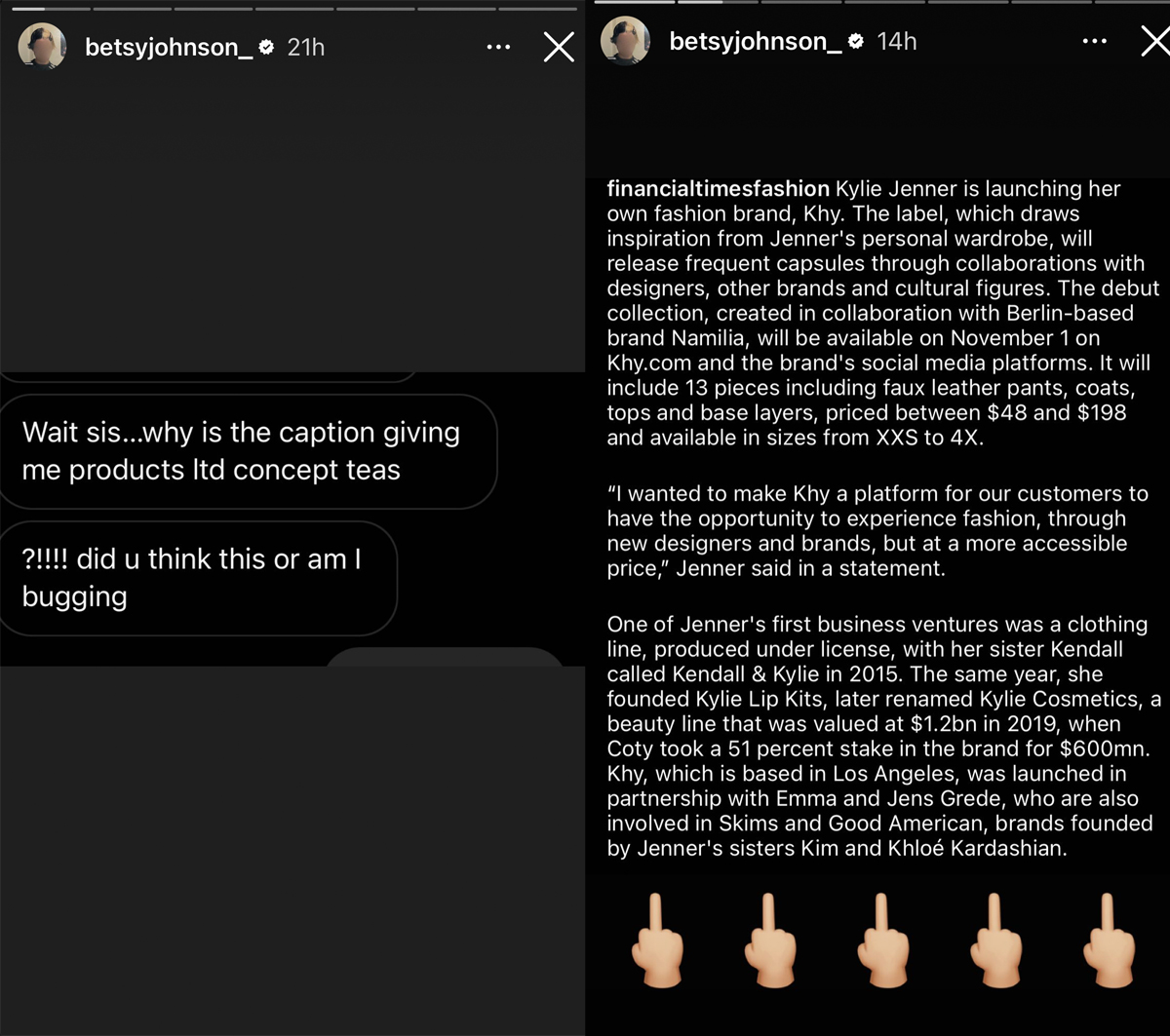 Just to make sure everyone understood how upset she was at Kylie, she posted a screenshot of her student loan balance along with a dig at The Kardashians star:
"While I stare @ my student debt. Worked my ass off for this. Like so many other working class kids who bust their ass for expertise they weren't born into to realise their ideas."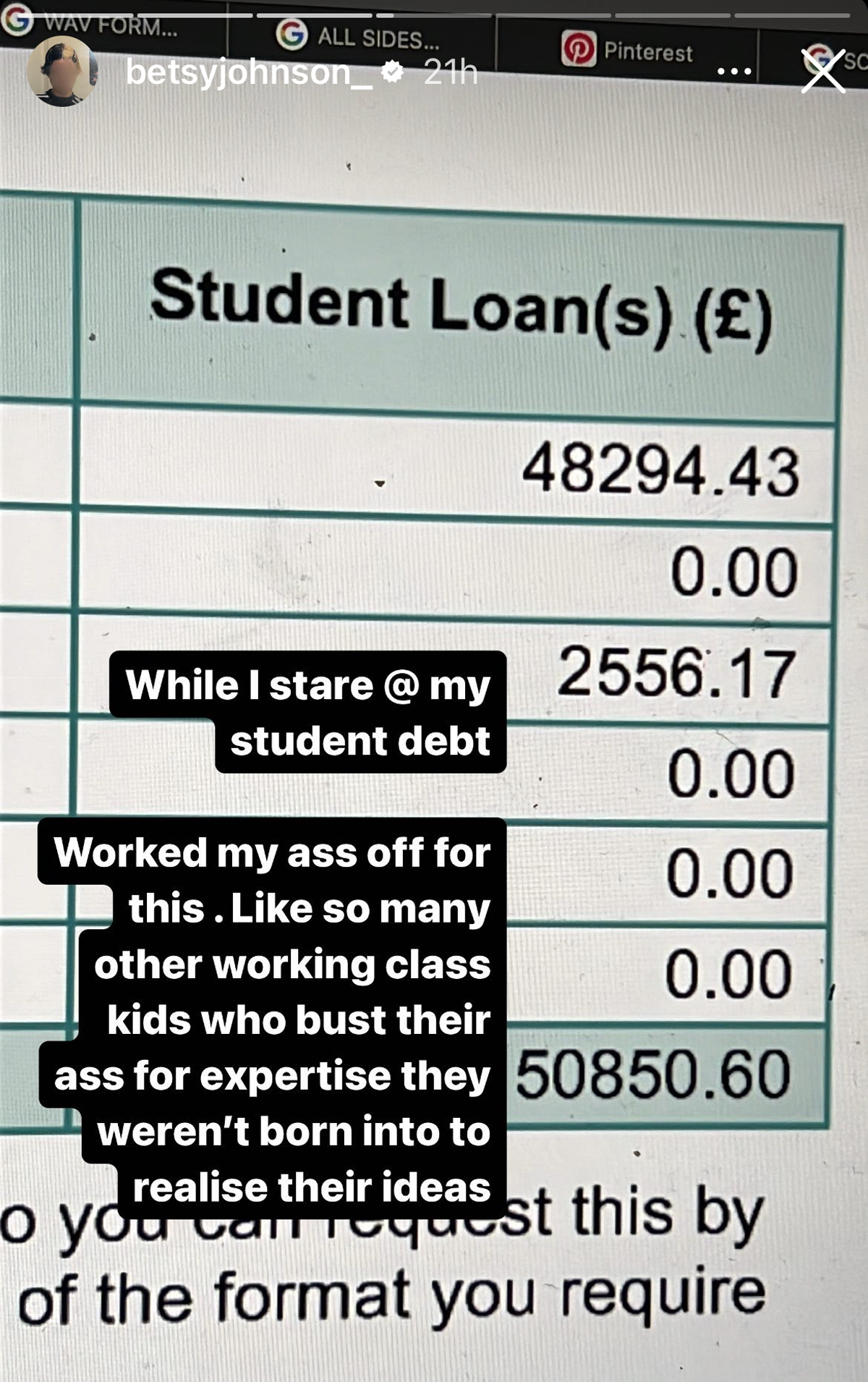 Damn…
Kylie hasn't addressed the copying controversy yet. But we're curious to hear what she has to say for herself! What do YOU think, Perezcious readers? Let us know in the comments below.
[Image via Betsy Johnson/Instagram, Kylie Jenner/Instagram, Hulu/YouTube]
Related Posts
CLICK HERE TO COMMENT
Oct 26, 2023 14:37pm PDT