[Warning: Potentially Triggering Content]
There have been a lot of political scandals popping up on both sides of the aisle lately — including the truly shocking George Santos fake dog charity story — but no one can touch the Teflon Don when it comes to sheer volume of offenses.
For any other politician, being forced to sit for a deposition in a lawsuit accusing him of rape would be the lowest moment of their career. But for Donald Trump it's just another drop of crude oil in the ocean. Be honest, did you even know this happened??
Anyway, the former President of the United States absolutely did have to sit down last year and answer questions regarding the sexual assault allegations. In case you've forgotten the case amongst the sea of scandals, E. Jean Carroll wrote in her 2019 book What Do We Need Men For? that Trump had forced himself on her in a Bergdorf's dressing room in the mid '90s. The story, which has been corroborated by friends of Carroll's from the time, is harrowing. It flips on a dime from something the Elle columnist thought was a joke to an all-too-real encounter that would haunt the rest of her life. She wrote:
"The moment the dressing-room door is closed, he lunges at me, pushes me against the wall, hitting my head quite badly, and puts his mouth against my lips. I am so shocked I shove him back and start laughing again. He seizes both my arms and pushes me up against the wall a second time, and, as I become aware of how large he is, he holds me against the wall with his shoulder and jams his hand under my coat dress and pulls down my tights… The next moment, still wearing correct business attire, shirt, tie, suit jacket, overcoat, he opens the overcoat, unzips his pants, and, forcing his fingers around my private area, thrusts his penis halfway — or completely, I'm not certain — inside me."
Heartbreakingly, she reveals at the end of the story that she never had sex with anyone ever again. In over two decades.
You can read the upsetting full account HERE.
Related: Jason Aldean Trolled Online After Donald Trump Kissed His Wife!
Trump of course responded, suggesting it was a Democrat conspiracy, saying "shame on those who make up false stories of assault to try to get publicity…" But most grotesquely he brushed off the story a month later by saying about Ms. Carroll:
"She's not my type."
That was his big defense — that obviously he wouldn't have done this because she wasn't his type. Well, that brings us to the deposition, which was finally unsealed on Wednesday.
The most shocking moment from the October sitdown was when Trump was shown a photo of his accuser from the '90s, the time when she said he assaulted her. At first he didn't recognize her — but then he surprised everyone in the room by saying:
"I don't know who — it's Marla."
When asked to clarify, he confirmed:
"That's Marla, yeah. That's my wife."
He thought he was looking at a photo of his ex-wife, Marla Maples. His lawyer interjected, telling him, "No, that's Carroll." But the damage was done. In one misidentification, the FPOTUS demolished his whole stupid defense.
Ironically, the photo was likely only showed to Trump to disprove his lie that they'd never met — because he, too, was in the snap. That's him on the far left…
Trump mistook rape accuser E. Jean Carroll for ex-wife Marla Maples in deposition about photo – Newsworldpress @ https://t.co/3Egse6jSPC pic.twitter.com/oLWcIwVbhm

— newsworldpress.com (@newsworldpress) January 19, 2023
It wasn't a "gotcha" — it was his own damn fault for getting this wrong. What an epic self-own.
BTW, you can't blame him necessarily for getting the two confused. Here's Carroll in the '90s on her TV show, Ask E. Jean.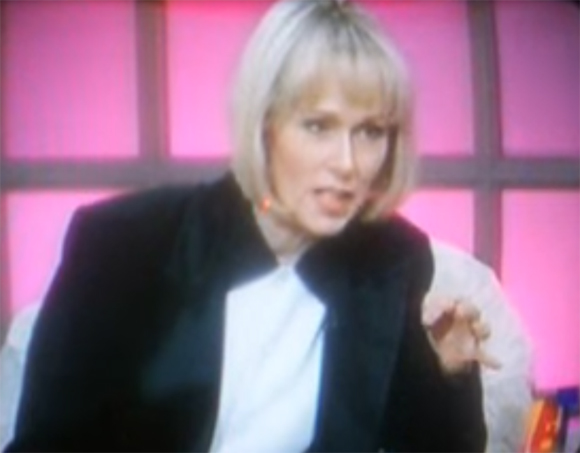 And here's Trump with Marla during their marriage, also in the mid '90s. There is a resemblance there.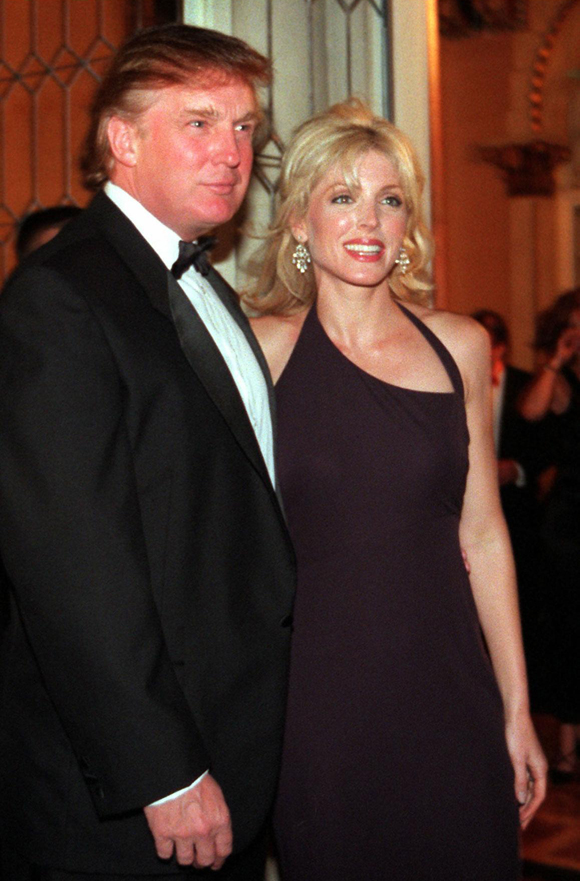 You can see why this case has just quietly chugged along. Whereas her story has not changed in nearly 30 years, he can't even keep it straight for a few hours while being deposed. Will anything come of it? We'll just have to see. But we can tell you one thing: we believe E. Jean.
If you or someone you know has experienced sexual violence and would like to learn more about resources, consider checking out https://www.rainn.org/resources. 
[Image via ABC News/Bill Boggs/YouTube/Joseph Marzullo/WENN.]
Related Posts
CLICK HERE TO COMMENT
Jan 19, 2023 15:01pm PDT