This is getting absurd! If all this is true, George Santos isn't just a conman, he's like a villain from a Saturday morning cartoon!
OK, to catch up everyone who hasn't been following this bizarre political scandal… Santos won a seat in Congress back in November — he's supposed to be repping New York's 3rd in the House of Representatives. But a month after the election it was discovered Santos had lied about, well, his entire life maybe? He wasn't Jewish as he'd claimed, he didn't attend either of the colleges he said he had, the places he said he'd worked had never heard of him… The list goes on.
After all of this went public, Santos denied the worst of the speculation, anything that was an actual crime. But he admitted to lying about so much, brushing it off as no big deal, just "embellishing" his resume. Eesh.
Video: Santos Did WHAT When He Was Sworn In??
In the days since we've learned more and more about this guy. For instance, a big question was where his campaign money came from if he was lying about it — and the answer seems to be Russian oligarchs… Shocking… Like we said before, a big reason it's such a huge deal that someone running for office be transparent about their background is exactly because of the security issues involved with someone being paid by a foreign government to influence our politics.
But perhaps the most disgusting scandal just surfaced on Tuesday…
A disabled US Navy veteran named Richard Osthoff reached out to Patch with his own tale of being scammed by a man he believes to be the Congressman after he saw the news about Santos. Well, that's not exactly accurate — it was after he saw the news about one of Santos' aliases, Anthony Devolder, which he can be seen introducing himself as in recently discovered videos from political rallies circa 2019:
The name George Santos may not have been known to Richard Osthoff, but Anthony Devolder was all too familiar.
The combat vet was living in poverty in New Jersey in 2016 when his service dog, given to him by a veteran's charity, fell ill. The poor pup, a pit mix named Sapphire, needed surgery to remove a tumor. The life-saving surgery would cost $3,000 — something Richard just didn't have.
However, he says a veterinary technician got him in touch with a charity called Friends of Pets United, or FOPU, run by a man named… Anthony Devolder. He got in touch with Devolder, who set up a GoFundMe page in May 2016 to raise the money for Sapphire's surgery, writing:
"Dear all, When a veteran reaches out to ask for help, how can you say no…"
Plenty of folks were moved, and the GoFundMe reached its goal "and then some" by the end of June. Many of the donations came from Richard's friends. However, the veteran says, he was confused when Devolder refused to schedule the procedure with the money, telling him he couldn't get it done in New Jersey but instead would have to take the dog to New York City. So he went to the place in Queens that Devolder told him about — but unlike the veterinarian in NJ, this one said they couldn't do the surgery. Huh?
Then Devolder became more difficult to reach. Richard says by November he still hadn't gotten a straight answer — so he messaged him:
"I'm starting to feel like I was mined for my family and friends donations."
In text messages provided to Patch, said he'd bring the dog to get looked at by another vet — but Richard wasn't allowed to come along, just the dog, writing:
"And your [sic] not coming for the ride FOPU will handle this from now on only with the animal! We do not drive people around nor do we give them rides we transports animals in need not needy owners"
And if Sapphire wasn't a candidate for surgery, the GoFundMe money would be "moved to the next animal in need." Remember, a lot of this money was from Richard's own friends — they were donating to help save Sapphire, not to some charity they'd never heard of.
Related: Remember When Donald Trump Allegedly Stole From A Children's Charity?
Sadly Devolder stopped responding to calls. Richard even contacted another veteran, Michael Boll, the founder of the non-profit NJ Veterans Outreach, for help. Boll, a former police sergeant, recalls reaching out to Devolder:
"I contacted [Santos] and told him 'You're messing with a veteran,' and that he needed to give back the money or use it to get Osthoff another dog… He was totally uncooperative on the phone."
Ultimately Devolder never came through on any of his promises. He shut down the GoFundMe page, and the money disappeared. In a 2016 Facebook post, Richard told his friends:
"To everyone who helped me and Sapphire raise the money for her surgery, I'm sorry to say that we were scammed by Anthony Devolder and Friends of Pets United FOPU"
Sapphire died on January 15, 2017. RIP.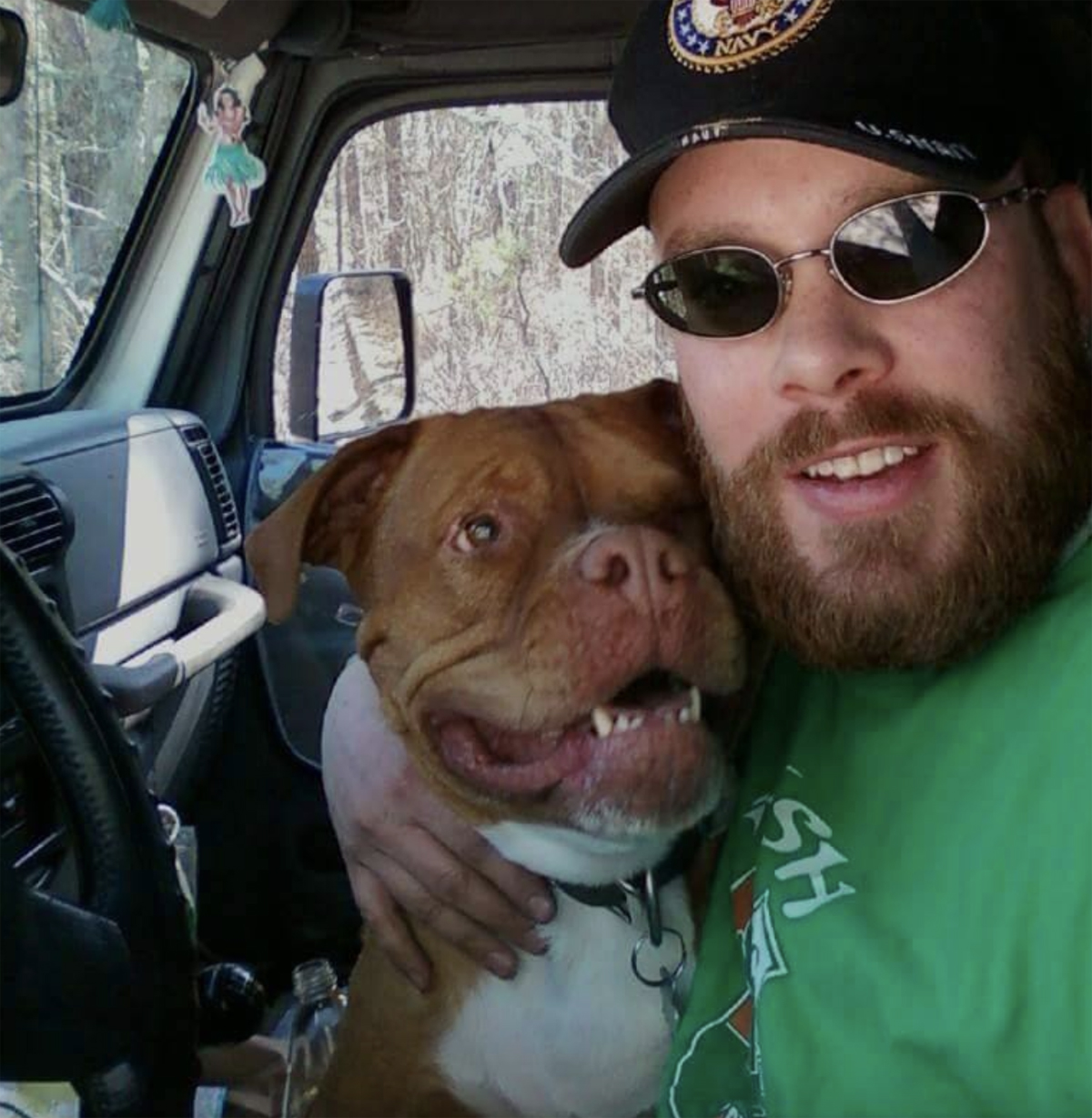 Richard didn't even have the funds to pay for the euthanasia and cremation of the poor girl. He had to panhandle to raise enough money. He told Patch:
"It was one of the most degrading things I ever had to do."
He said about his beloved pup:
"Little girl never left my side in 10 years. I went through two bouts of seriously considering suicide, but thinking about leaving her without me saved my life. I loved that dog so much, I inhaled her last breaths when I had her euthanized."
Such a sad end to the story. Except… it's not really, is it? Because Devolder/Santos kept going. This does NOT seem to have been a one-off scam.
The thing about "Friends of Pets United" is, as far as anyone can tell, it never existed. Not as a charity anyway. Devolder told Richard it was a "501c3," but The New York Times found out back in December it was never a registered nonprofit at all. But it took real people's money. Santos created a Facebook group for FOPU around 2015. It wasn't archived (disabled for all intents and purposes) until 2020. And according to a former co-worker of Santos' — not from fake job Goldman Sachs, but a real coworker from his job at a DISH Network call center in Queens in 2011 — told Patch he was sharing about FOPU as early as 2012. And in his now-deleted personal FB page, he posted about fundraisers for pets during this time as well.
So near as we can tell, that's roughly eight years of faking a charity for pets that never existed. And now we have witnesses saying he pocketed at least one dog's surgery money, leaving the poor girl to die. How many other pet owners are out there who had to watch their beloved animals suffer because of this scam??
BTW, Santos denies he was ever involved in this, telling Semafor he has "no clue" who Richard Osthoff is. The thing about that is… one of y'all has a real credibility problem. And it isn't the disabled veteran.
What do YOU think of this latest piece of the disgusting puzzle that is George Santos? Or whatever his name actually is??
[Image via CBS New York/YouTube/Richard Osthoff/Facebook.]
Related Posts
CLICK HERE TO COMMENT
Jan 18, 2023 16:00pm PDT