Twitter EXPLODES Over #GameOfThrones Premiere!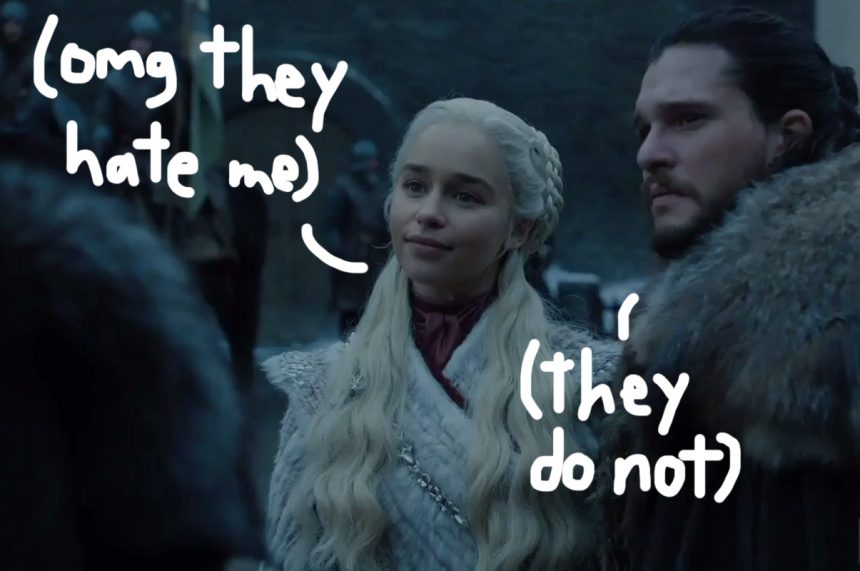 Game Of Thrones is the biggest show in the history of TV — not just in budget (CGI DRAGONS!!!) but also in audience participation!
No show has ever generated as many memes, reaction videos, and fan theories.
Related: GoT Season 8 Premiere Recap
So what did fans think of the FINAL season premiere they'll ever get to experience of the show they love? Was it worth the TWO YEARS of waiting??
Well, let's just put it this way. ALL of Twitter's United States trending terms Sunday night were related to Game of Thrones.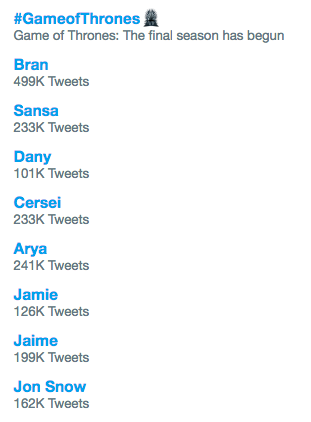 Here are some of the best reactions (below)!
This is exactly what that Ser Jaime and Bran scene felt like 😂#GameofThrones pic.twitter.com/ZhwYfPDJPN

— Pravin Suthar (@iAmpravinsuthar) April 15, 2019
Jamie explaining himself next episode
😂😂#GameofThrones pic.twitter.com/JXyjD1JnHN

— Chuks Dozie (@DozieCN) April 15, 2019
someone : you can't dance to the game of thrones soundtrack

me, an intellectual : #GameOfThrones pic.twitter.com/ThBkyuz3O0

— 𝖑𝖚𝖈𝖎𝖋𝖊𝖗 (@loki_enthusiast) April 15, 2019
The whole world..😂❤#GameofThrones pic.twitter.com/lAYpMouatm

— Mohamed Dab3oun (@mohamed_dab3oun) April 15, 2019
Bran throughout this episode
💯#GameofThrones pic.twitter.com/QRX4i9Ky6M

— Chuks Dozie (@DozieCN) April 15, 2019
Me every Monday at 8AM for the next six weeks. #GameofThrones #ForTheThrone pic.twitter.com/QvL5wMKznG

— Fitri Rizki Sugianto (@doubleqiew) April 15, 2019
jon: *kisses daeny*
drogon: bruh that's ur aunt…
jon:#gameofthrones pic.twitter.com/jHypG77Jfi

— cj (@blackbeansoo) April 15, 2019
i spent 10 minutes on this edit and it was worth every second pic.twitter.com/BNxKHjl4Mb

— yin3an cersei (@yngfalafel) April 15, 2019
#GameofThronesSeason8 episode 1 spoilers without context#GameOfThrones pic.twitter.com/eDgBZ2jibU

— theseviolentdelights (@_violentends) April 15, 2019
No one:

Drogon: 😏#GameOfThrones pic.twitter.com/Q2fXOMjtbx

— Tyler Klingbiel (@TyKlingbiel) April 15, 2019
Jon snow need to see this😂😂#jonsnow #GameofThrones pic.twitter.com/gX3oHn5aGj

— umar abubakar (@uabubakar1) April 15, 2019
Mood until next episode:#GameofThrones#GameofThronesSeason8 pic.twitter.com/1A9ILKMnHZ

— salik67 (@salik671) April 15, 2019
[Images via HBO/YouTube.]
Related Posts
CLICK CLICK CLICK Next Article
Apr 15, 2019 12:39am PDT