Hailey Bieber is in a "fragile" state.
The 26-year-old took to Instagram to candidly reflect on how her year has been going, and we'll just say, it sounds like the Selena Gomez beef definitely got to her. If you don't recall, back in February, the Only Murders in the Building actress posted on TikTok that she "accidentally laminated [her] brows too much," resulting in what many fans believe to be shade from Justin Bieber's wife. At the time, Kylie Jenner posted a selfie of her and her BFF on FaceTime, both showing off their brows, with the caption, "this was an accident ?????"
After that, pretty much the entire world came to Selena's defense, unfollowing the "mean girls" en masse, and resurfacing old clips of Hailey seemingly copying the Wizards of Waverly Place alum, who dated Justin off and on for eight years before he married Hailey. It was messy AF! Now, the model is opening up about the toll everything took on her.
Related: Kylie's Eyebrows 'Fell Off' — Was It Karma??
The Rhode Beauty founder posted on her IG story Wednesday evening:
"I like to make jokes about how I feel because sometimes it's easier than admitting I'm having a hard time. But truthfully since 2023 started I have had some of the saddest, hardest moments I've ever had in my adult life and my mind and emotions have been fragile to say the least…

And I know so many other people feel the way I feel, so just know you're not alone"
See (below):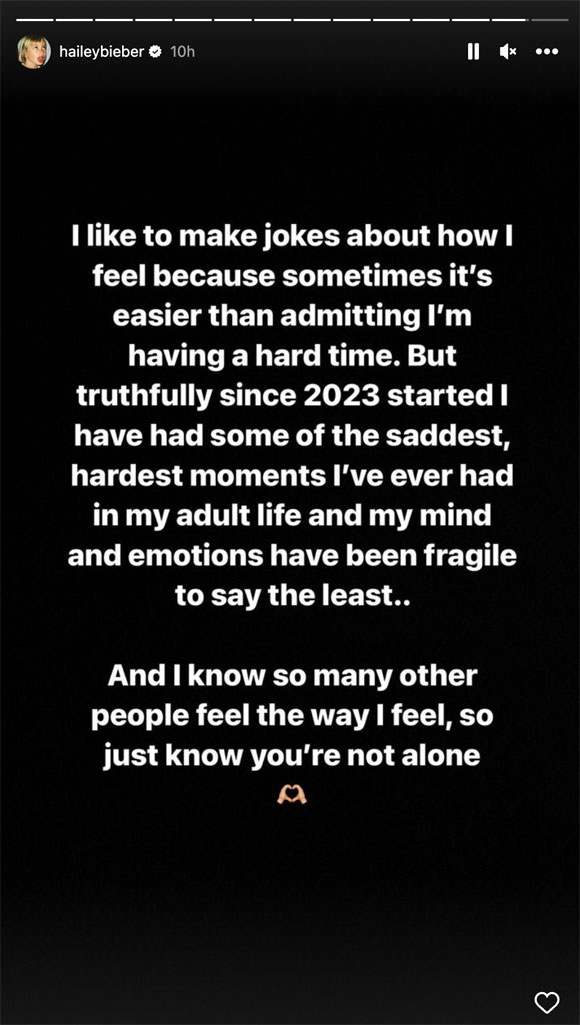 We're always going to be sympathetic to whatever struggle someone may be going through, but we have to admit, the whole ordeal just felt very brought on by Hailey herself, so it's a bit hard to see her as a victim in this mess. That being said, some of the comments circulating from haters online did go WAY too far! Things got so problematic, she even reached out to the Who Says singer last month and asked her to call off her legion of fans who were sending "death threats," and the Lose You To Love Me artist happily obliged. With all the context in mind, we can understand why this has been such a challenging year for the socialite!
Related: Hailey Showed Support For THIS Selena Post! Wow!
Seemingly referencing Selena's olive branch, Hailey followed up her IG Story with a second post encouraging everyone to be there for others, especially those having a tough time like her. She wrote:
"That being said, let's keep being there for one another. Let's be there for loved ones and friends and family and strangers. Let's just be there for people.. let's keep showing up for each other even when it's hard. We're better together"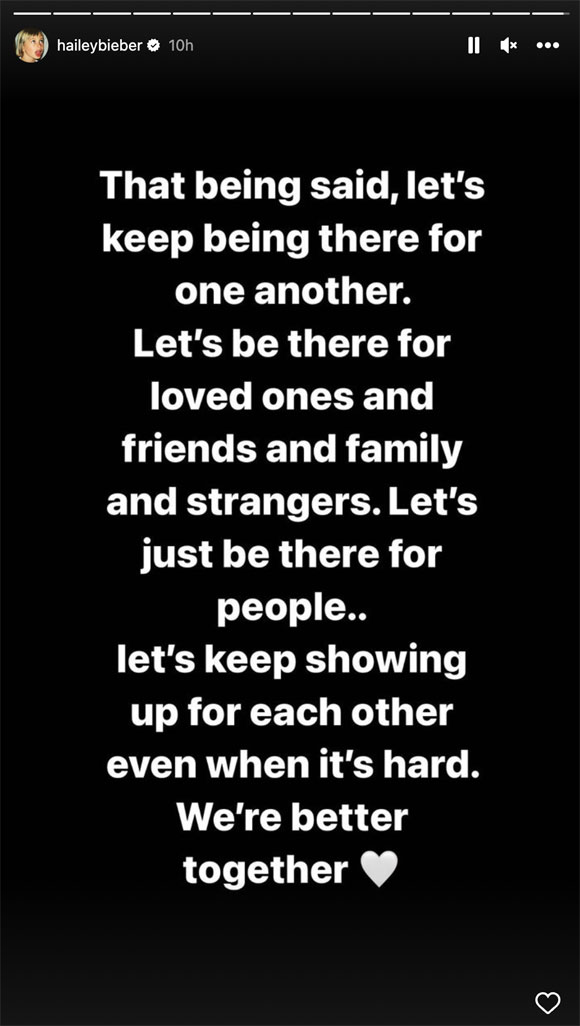 What do YOU think of Hailey's update, Perezcious readers? Share all your thoughts in the comments down below!
Related Posts
CLICK HERE TO COMMENT
Apr 20, 2023 08:41am PDT