UPDATE, 3:09 p.m. ET — Well, now we know who the mystery woman is, at least!
Per TMZ, the woman is apparently model and recording artist Sela Vave, and judging by social media pics, it appears she and Foxx have been connected for some time now! The first social media image we can find of 'em appears to have been posted way back on June 30, as you can see (below):
What's interesting is we can't really tell if Foxx is, like, mentoring her career or romantically involved with her — or, perhaps, both!
Regardless, at least the woman in question is ID'd, and there's some history here with Jamie. Very interesting times, indeed…
____________________
Jamie Foxx and Katie Holmes have had a good thing going for a while, or so it seems — it's been sort of tough to tell, considering how low key they've been about it.
But then when the fresh hell is this: on Friday night, Foxx and an unknown younger woman "beelined" out of nightclub Bootsy Bellows in WeHo around 2:00 a.m., hand in hand, quickly jumping in his Lamborghini SUV to head out for the night. WTF?!
Related: Breakup, Makeup, Breakup, Makeup — These Two Are Off And On A LOT!
TMZ has the pics and the story (see the photos of Foxx and the lovely young lady HERE), and it's clearly got us wondering: so did he and the former Dawson's Creek star break up at some point in the last few months, or what?!
The secretive pair appears to have been together since 2013, though they've definitely been on and off (or, at least rumored to be) a few times since then. Plus, we've had sightings of 'em within the past six months, including a shot at the Met Gala in May. And speaking of May — Jamie's daughter Corinne publicly spoke highly of the pair in the same month!
So did something happen since then, or what?! It's crazy how much life can change in just three months' time — and it's crazy how private Jamie & Kate have been able to keep things around whatever is going on between 'em. Whatever the case, Jamie sure looked happy with that lovely young lady steppin' out late last night. Soooo…. here's to new beginnings???
Proud Papa!
Speaking of Jamie and his daughter, Corinne, the elder Foxx has been in El Lay the last couple weeks supporting his offspring in her own film debut, the shark attack movie 47 Meters Down: Uncaged.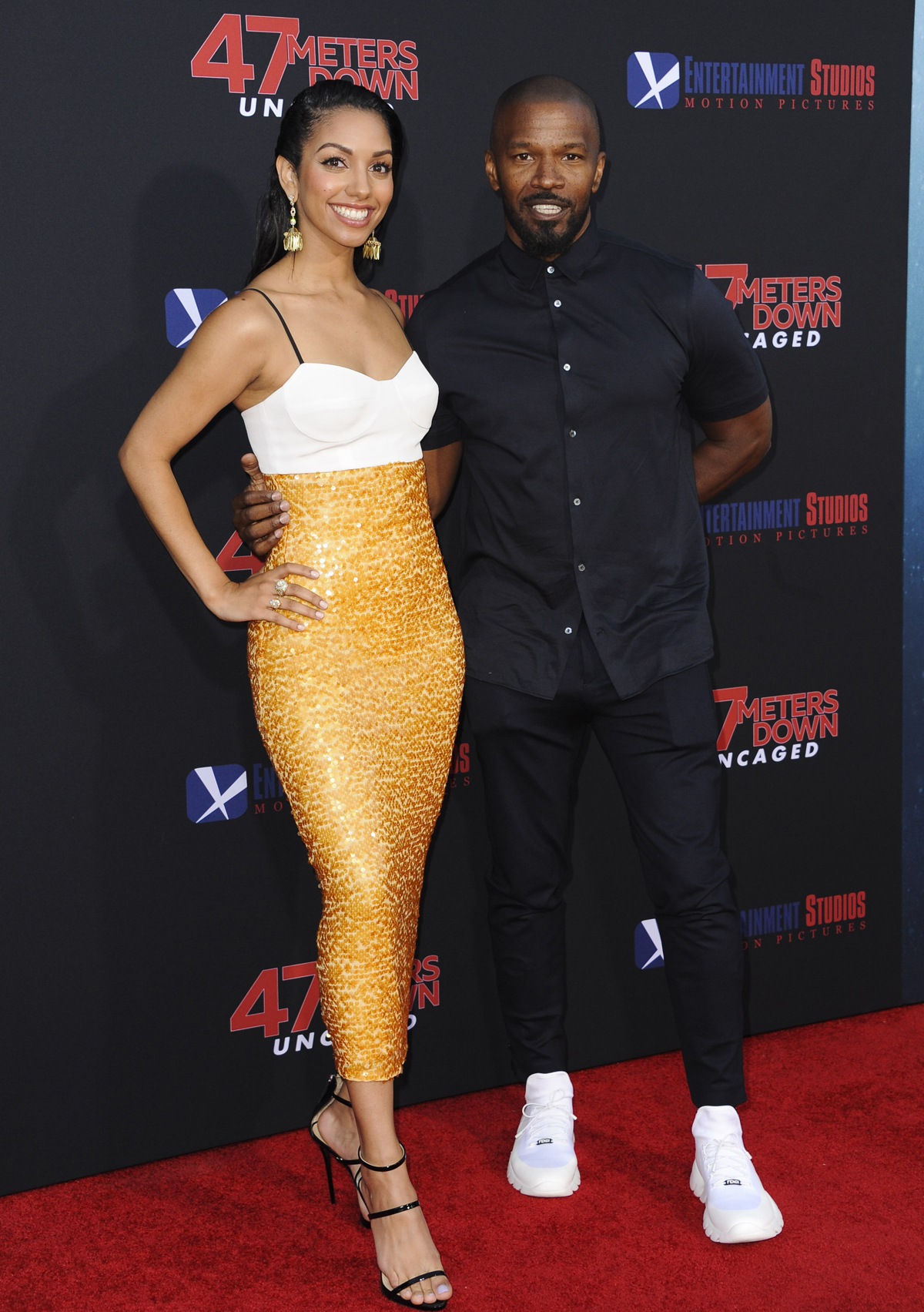 To hear Jamie tell it on social media this week about watching Corinne work on the big screen, it sure sounds like he's swelling with pride over all the hard work she's put in to kick off her own career!
Here's what he had to say on Instagram a few days ago (below):
"As I watched the movie last night on pins and needles for so many reasons… palms sweaty… nervous to watch my daughter in her first big Hollywood film… and the fact that I have a gigantic fear of sharks… as soon as the movie started and I saw my baby on that screen…my nerves Became pure adrenaline… and my fear turned into absolute Pride… Sitting next to my daughter and simultaneously watching her on screen was a proud papa tearjerking moment… She was as cool sitting in her seat next to me… As she was in the bottom of the ocean ducking and dodging killer sharks… at the end of the movie when the whole audience was giving an ovation… My daughter looked at me as if to say… 'DADDY I DID IT'… And I looked at her and screamed… 'BABY YOU KILLED THAT S**T!!!'"
Awww! That's very sweet!
But seriously — what on earth is up between Jamie and Katie?! It seriously must be breakup season, y'all!!!
Sound off with all of your reactions — and whatever you think is going on here — in the comment section (below)!
[Image via WENN]
Related Posts
CLICK HERE TO COMMENT
Aug 17, 2019 10:52am PDT