We are just floored by how honest Jessica Simpson has been sharing her story of abuse and addiction.
The Irresistible singer is telling all in her new memoir, aptly titled Open Book, but she's also spilling extra tea as part of the media tour promoting it.
A major part of Jessica's story is her nearly decade-long abuse of pills and alcohol, something she has revealed didn't end until in November 2017, after a Halloween party in which she was drunk all day and subsequently had to hide from her kids.
Related: Jessica's Husband Quit Drinking The Day She Did
But before she hit her rock bottom, the fashion mogul had another quite low point, and she had it in public. You may recall an extremely awkward interview with Ellen DeGeneres in which quite a few fans — ourselves included — wondered if she might have been on something.
Well, it turns out that speculation was right on target.
Jess appeared on the Today show Wednesday, and admitted she had in fact been drunk during that infamous appearance, telling Hoda Kotb in embarrassment:
"I can't even watch that interview, it's not… I can't watch it. It was a weak moment for me, and I wasn't in the right place. I had started a spiral and I couldn't catch up with myself. And that was with alcohol."
If you never saw the chat, we were able to track it down. And it just makes so much more sense with this explanation.
For instance, Ellen first brings up this is the star's first appearance on the show in years where she wasn't pregnant, to which Jess responds:
"We got an IUD. Nothing is going to get in that uterus."
Ellen doesn't seem to realize right away what the interview will be like; at this point she's still quipping. However, as it goes on the comedian just keeps making Jim from The Office faces at the camera.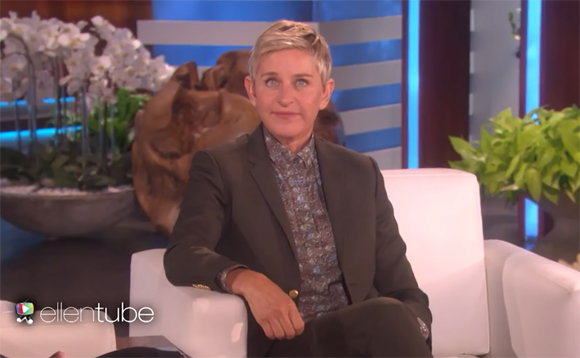 When Ellen asks about new music, Jessica says she's written some songs but can't decide how many…
"I have about… I probably have about 38. So maybe 36… or 39…"
The most awkward moment comes when Ellen asks Jessica how long she's been with Eric Johnson:
"Seven years now. Well, coming on seven years. Well, actually, no… seven years. It's been a long time. I don't know if I've ever had a seven year relationship, other than with a woman."
When the host looks at her questioningly, Jessica realizes what she's just said and quickly backtracks:
"No, not like… You know, I mean… Ha! My besties that understand me."
The whole thing is just wild — but much more understandable now. See the clip yourself, just five months away from rock bottom (below):
.@JessicaSimpson is a performer, a designer, a mom, and owns a billion-dollar business. pic.twitter.com/RINGLz1aXc

— Ellen DeGeneres (@TheEllenShow) May 22, 2017
[Image via EllenTube/YouTube.]
Related Posts
CLICK HERE TO COMMENT
Jan 30, 2020 12:43pm PDT