Joe Giudice is officially a free man, no longer detained by immigration authorities in the United States!
…but he's no longer in the United States, either, having been officially sent to the European nation of Italy as of Friday afternoon, on a plane bound for Rome. It's quite the bittersweet taste of freedom for the Real Housewives of New Jersey star, who must now leave his family behind while he figures things out in Italy.
Related: Wait, Joe Never Wanted To Marry Teresa In The First Place?! WTF?!?!
Joe's daughter Gia posted a sweet — but sad — pic of the pair on social media as Joe was on his way to the airport outside Washington, D.C. on Friday afternoon, in order to get on the flight to go to Rome.
You can see the pic (below):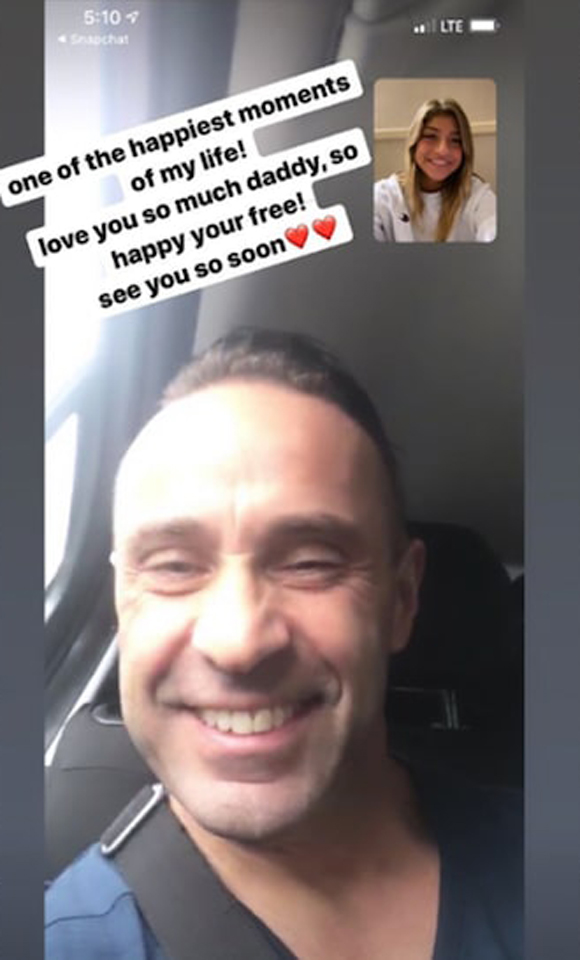 Awww…
Obviously, Joe will see his daughters and wife Teresa Giudice soon, we presume, but it's unclear what that schedule will look like, or what life will be like for Joe in general now that he'll be in Italy for at the very least the foreseeable future.
Now, it should be noted that Joe has not been officially deported yet. As we've been reporting, this move was made after a judge approved Joe's request to be allowed to go to Italy in order to start to get his affairs straight and begin earning money again for his family ahead of the immigration court's ruling. He may still be deported, of course, but a judge has yet to decide that, and for now, he's simply going over there to try to make money for his family and get his life back on track.
Related: Teresa Enjoys All-American Weekend On Campus At Rutgers!
Regardless, this weekend marks a good time in at least one sense for Joe, who is no longer behind bars or being detained by anyone. Officially a free man again, hopefully he can at least start to get his life back in order as he waits to hear the results from the ongoing deportation drama. We'll keep you posted as to what happens…
What do U think of Joe's chances to ever return to America, Perezcious readers?! What about Teresa's apparently-final decision NOT to join him in Italy full time?? Sound OFF about all that drama and so much more in the comments (below)…
[Image via Joel Ginsburg/WENN]
Related Posts
CLICK HERE TO COMMENT
Oct 12, 2019 10:51am PDT