The BEST Jonas Brothers Memories To Celebrate Their Return To Music!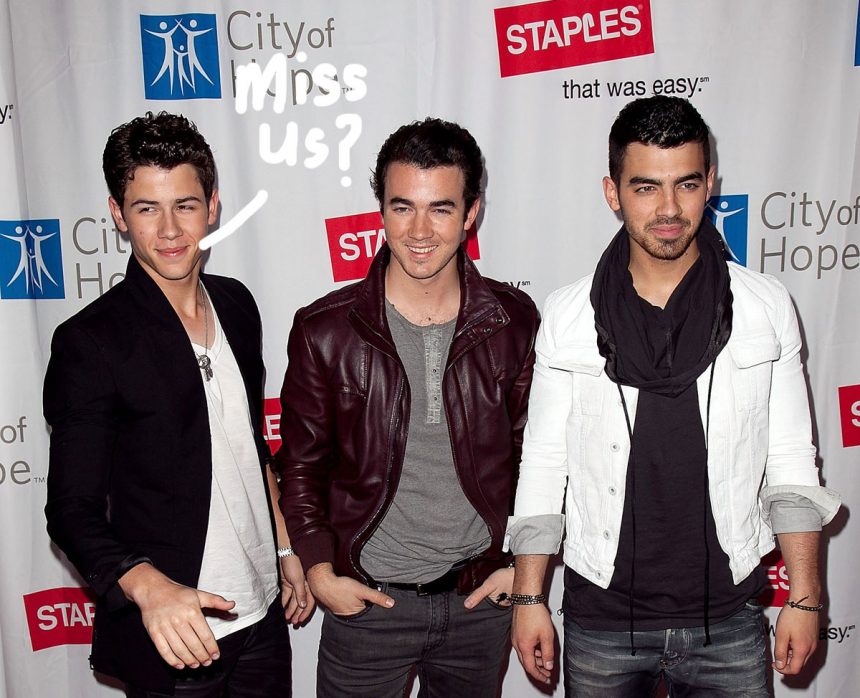 It's been nearly six years in the making, but the Jonas Brothers are OFFICIALLY reuniting!
Their single Sucker is set to premiere tonight at midnight EST, which is truly thrilling as this is the first studio time the brothers have committed to since disbanding in 2013!
Related: Full Details On The Jonas Brothers Musical Reunion HERE!
To prep and celebrate this undeniably UNFORGETTABLE occasion, we decided to look back on Nick, Joe, and Kevin Jonas' best musical and fun moments throughout their career as a group! Brace yourself for full nostalgia feels upon impact!
Fetus Performance Of Mandy
We kinda can't get over how little they look in this album release performance from 2006. They are really working the stage and Joe plays tambourine! Emo punk pop memz!
Camp Rock, DUH.
This is real, this is everyone's favorite! Demi Lovato, and all the JoBros joined forces for an epic DCOM classic that fused music and summer camp. Every kid wanted to attend Camp Rock after seeing this flick! Truly an iconic moment in early aughts Disney.
VMAs Performance Of Love Bug
This 2008 award show spectacle was truly magical! It was super simple and totally swoon-worthy, with the guys singing on a stoop before belting to a huge crowd on a backlot! We're happy to report all the boys caught the love bug (again) as Kevin has been happily married to his wife Danielle Jonas for years, Nick just married Priyanka Chopra in December 2018, and Joe is reportedly set to tie the knot with Game of Thrones star Sophie Turner in 2019!
Home Videos With Demi Lovato
Look at how little they were! This was before social media really blew up, so giving fans access to these comedic videos shot in their downtime was something special!
Joe Dancing To Single Ladies
Nothing like rewarding fans while making a fool of yourself! Joe donned a black leotard to dance his heart out. Beyonce was SHAKING!
Jonas Disney Channel Show
This was classic Jonas, and showcased all the guys' personalities! Jonas (or sometimes known as Jonas L.A.) aired on Disney Channel from May 2009 to October 2010.
S.O.S. Music Video
This nautical themed video and jam was such a bop! We love the old cell phones and angst featured in the visual (below)!
Year 3000 Music Video
Not much has changed, except we don't live under water! In this music video, the JoBros were transported to the future through their neighbor's couch… The special effects are hilarious as is Nick's voice that hasn't matured yet!
Burnin' Up Music Video
This video with Bond, Miami Vice, and Crouching Tiger references was the sh*t way back when!! Look at how teeny they all were. Too cute!
Pom Poms Music Video
We'd like to call this the mature Jonas era, where Nick cut his curls and high definition music videos were shot!
"Oh How The Tables Have Turned"
The guys went viral for this table turning clip way back when… so they decided to recreate the 2008 moment in honor of their new song dropping! LOL and watch both clips (below)!
Did we miss any of your fave Jonas moments? Let us know by sounding off in the comments (below)! And check back here tomorrow for the premiere of their new song Sucker!
It's a Jonas Renaissance, and we're just living in it y'all!
[Image via WENN.]
Feb 28, 2019 12:02pm PDT