Justin Bieber Had An Unexpected Reaction To Shawn Mendes Liking A Pic Of Hailey Bieber!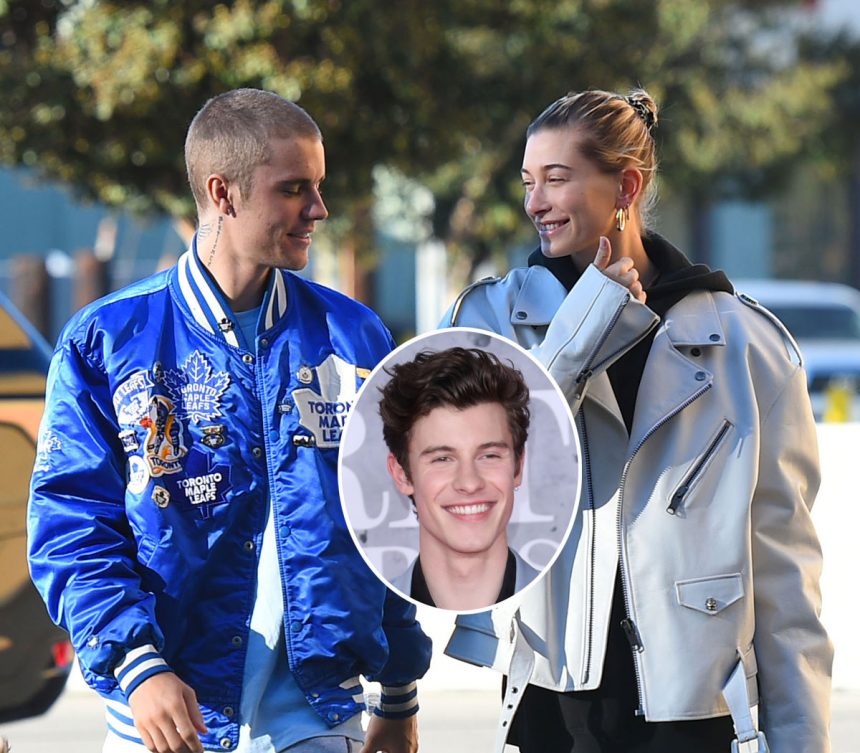 Justin Bieber isn't feeling threatened by any of his wife's rumored exes!
After posting a candid shot of Hailey Bieber to his Instagram on Wednesday, eagle-eyed fans noticed Shawn Mendes happened to be one of the five million likes on the photo!
Related: Justin Has 'Stayed Away' From Selena Gomez 'To Be Loyal' To Hailey!
One fan account, HailsBuzzle, reposted the picture after catching the Lost In Japan singer's double tap. See (below):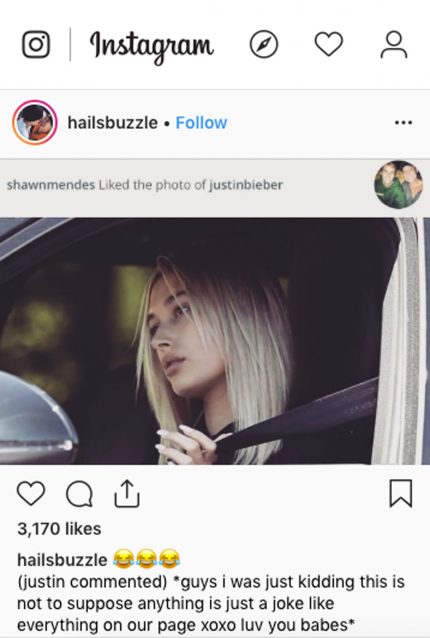 So, what was it Justin commented??
"They're [sic] friends relax"
Ch-ch-check it out as captured by IG account Comments By Celebs (below):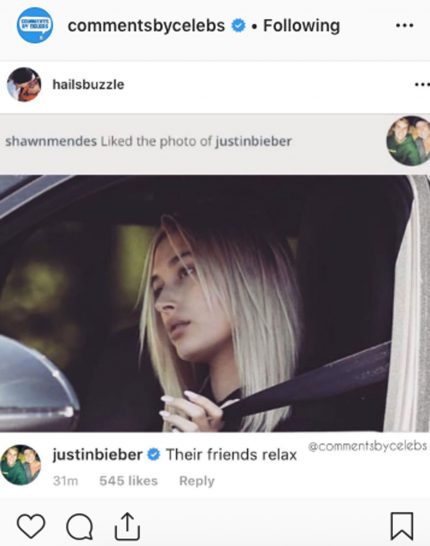 In case you don't remember, Shawn was linked to the model before JB and Hails reconnected and later got engaged. While they never confirmed any sort of relationship, despite attending the Met Gala together this past May, the 20-year-old told Rolling Stone:
"I don't even wanna put a title on it. I think it was more of a zone of limbo."
Mendes also congratulated the pair on their engagement, previously dishing to The Project:
"I texted Hailey the day of, and I said congrats. That's what it is."
It sounded like he and Baldwin-now-Bieber fizzled whatever that was on a good note, so it's no wonder the Sorry artist isn't feeling too concerned!
Which is good, because the less drama for the Canadian native, the better!
As we previously reported, Justin decided to seek mental health treatment last month so he can be a better husband to his 22-year-old bride.
Related: Justin Is 'Looking In The Right Direction' Following Weeks Of Therapy
A People source explained at the time:
"He wants to be the best possible husband for Hailey. It's one thing to have your issues when you're single, but when you're married, there's two people's happiness at stake. He's working on himself so that he can be a good partner to her."
And made it perfectly clear that the couple's marriage isn't an issue:
"This is not marriage counseling and this isn't an indication that anything is wrong with the marriage."
Even so, Hails opened up that this new step in their relationship has been "very hard," telling Vogue in their first joint cover story:
"The thing is, marriage is very hard. That is the sentence you should lead with. It's really effing hard."
But continued, saying it's worth the work:
"It's just that I'm fighting to do this the right way, to build a healthy relationship. I want people to know that. We're coming from a really genuine place. But we're two young people who are learning as we go. I'm not going to sit here and lie and say it's all a magical fantasy. It's always going to be hard. It's a choice. You don't feel it every single day. You don't wake up every day saying, 'I'm absolutely so in love and you are perfect.' That's not what being married is. But there's something beautiful about it anyway — about wanting to fight for something, committing to building with someone."
Well, it sounds like they're both very secure as Mr. and Mrs. Bieber!
Hopefully none of their exes can put a strain on this relationship…
[Image via Lia Toby/WENN]
Mar 8, 2019 7:07am PDT