Kara Keough has bravely opened up about losing her son, McCoy Bosworth, in childbirth. 
The Real Housewives of Orange County alum spoke candidly about her childbirth experience and the loss of her child in a heartbreaking video for Good Morning America. After a healthy (and even "uneventful and boring") pregnancy, the reality star changed birth plans due to the coronavirus pandemic. 
"I was all excited to have this process where we labored at home, and then at the last second when it was push time we were gonna go to the hospital and have the unmedicated birth in the hospital setting with the support of my husband, my doula, and then my daughter was gonna get to come. … And then coronavirus. Once I found out the doula wasn't gonna be able to be there, I started to get really anxious. In some cities, people weren't even allowed to have their birth partner in the delivery room with them. And then I started to get really anxious and really afraid. Moms were talking about their babies actually being taken from them after they ran a fever. You know, I'm sitting there thinking, what if I spiked a fever, because that's sometimes a normal part of giving birth, and then I get my baby taken from me? And I mean, the irony now looking back is I don't have my baby now. But the fear of all that compounded so much."
Related: YouTuber Corey La Barrie Killed In Car Crash On 25th Birthday
Faced with these unusually challenging set of circumstances, Keough made the reasonable decision to give birth at home. Considering she was planning to give birth naturally, the family thought this choice would help "take that burden off the healthcare system."
When the 32-year-old went into labor and began to push, she could tell immediately that McCoy was experiencing "shoulder dystocia", a condition that GMA reports occurs during an estimated .2-.3% of births. Though she was able to push the baby out with the help of her husband, doula, and midwife, EMTs struggled to get a heart rate. 
Husband Kyle Bosworth described the "miracle" of seeing his son regain a pulse in the hospital; Kara said the 45 minutes McCoy went without oxygen was the longest her doctor had ever seen a baby come back from. Unfortunately, the brain trauma he suffered was too severe, and after 72 hours on a ventilator and no improvement, the couple knew their son wouldn't be coming home.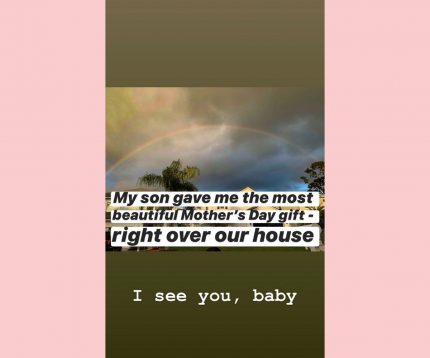 The hospital made exceptions to their coronavirus protocols to allow the family to be together to say goodbye. "It made it a little bit harder, but we're really glad that we got to meet him and get to know him," Keough said tearfully. 
Related: Nick Cordero's Wife Got To Video Chat With Him On Mother's Day
Despite the tragedy, there was also an extraordinary silver lining. Kara explained:
"He got to end up giving his heart valves to other kids so that he can kind of live on through them. The milk that was meant for him is going to an adopted mom who has a baby in the NICU. … I think like most parents, when they deal with loss they want to make sure that they were here, they mattered. We want his life to mean as much to as many people as possible and to let all of the positive ripples of his life be there."
And although their daughter Decker was also devastated by the loss, the "little optimist" has helped her parents navigate this most difficult period. Kara said: 
"Because nothing will ever be as painful as what we went through and are going through, everything is also sweeter. Like every time I hear our daughter laugh, it's that much better. And every time I see our daughter run, it's that much more of a joy to see. Like, because we've hit the lowest of lows, everything that's good is also just much better."
We continue to send love and hold Kara and her family in our thoughts. 
For more of Keough's story, see the GMA video (below).
[Image via Kara Keough Bosworth/Instagram]
Related Posts
CLICK HERE TO COMMENT
May 11, 2020 17:06pm PDT