Megan Fox has a message for SAG-AFTRA — but pretty much everyone else has an even stronger message for her!
On Saturday, Megan and fiancé Machine Gun Kelly attended Rande Gerber's Casamigos Halloween Party dressed up as assassins Gogo Yubari and Beatrix Kiddo from Quentin Tarantino's Kill Bill. They're playing opponents who fought to the death — cute after all that relationship turmoil, right?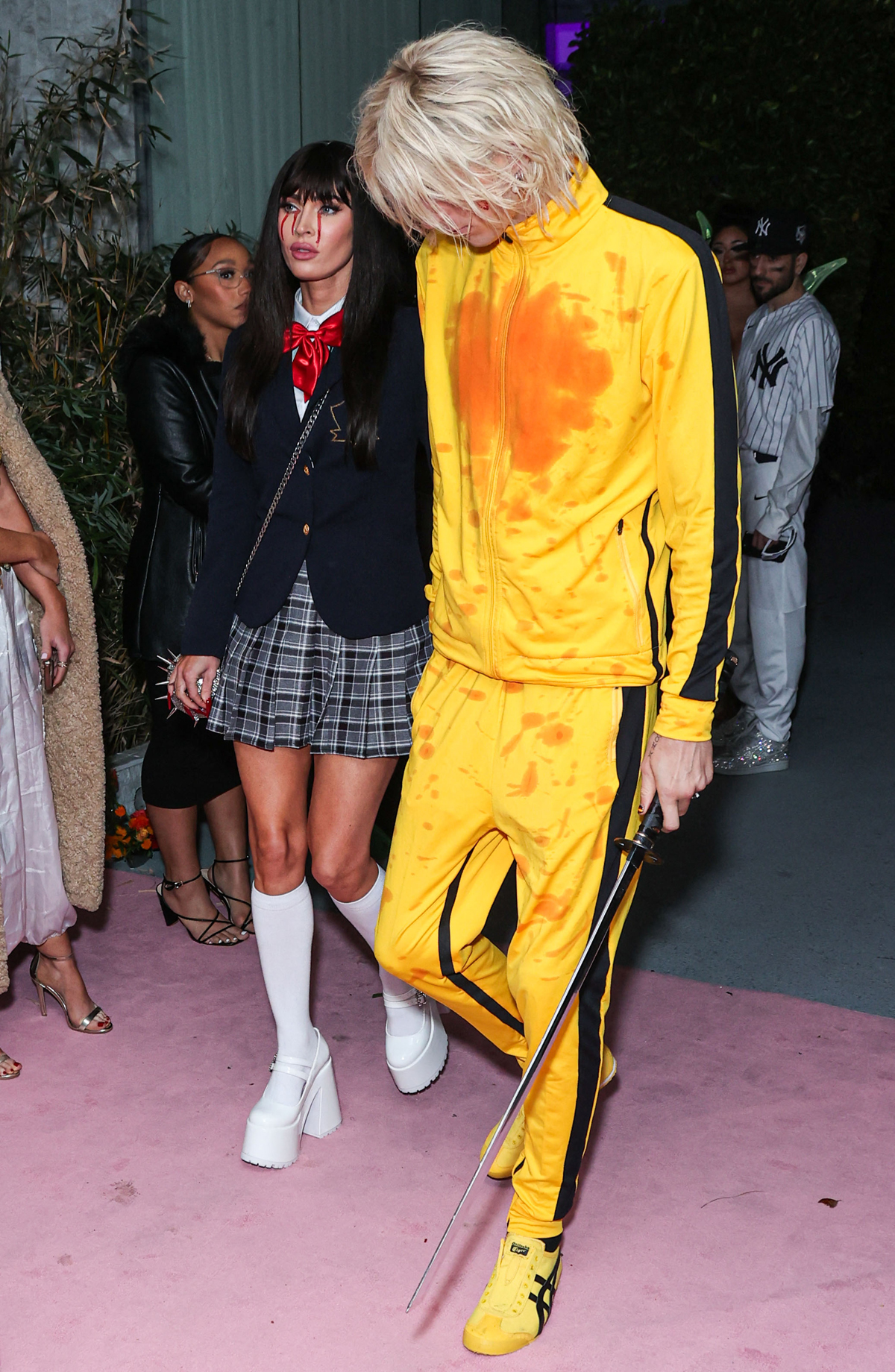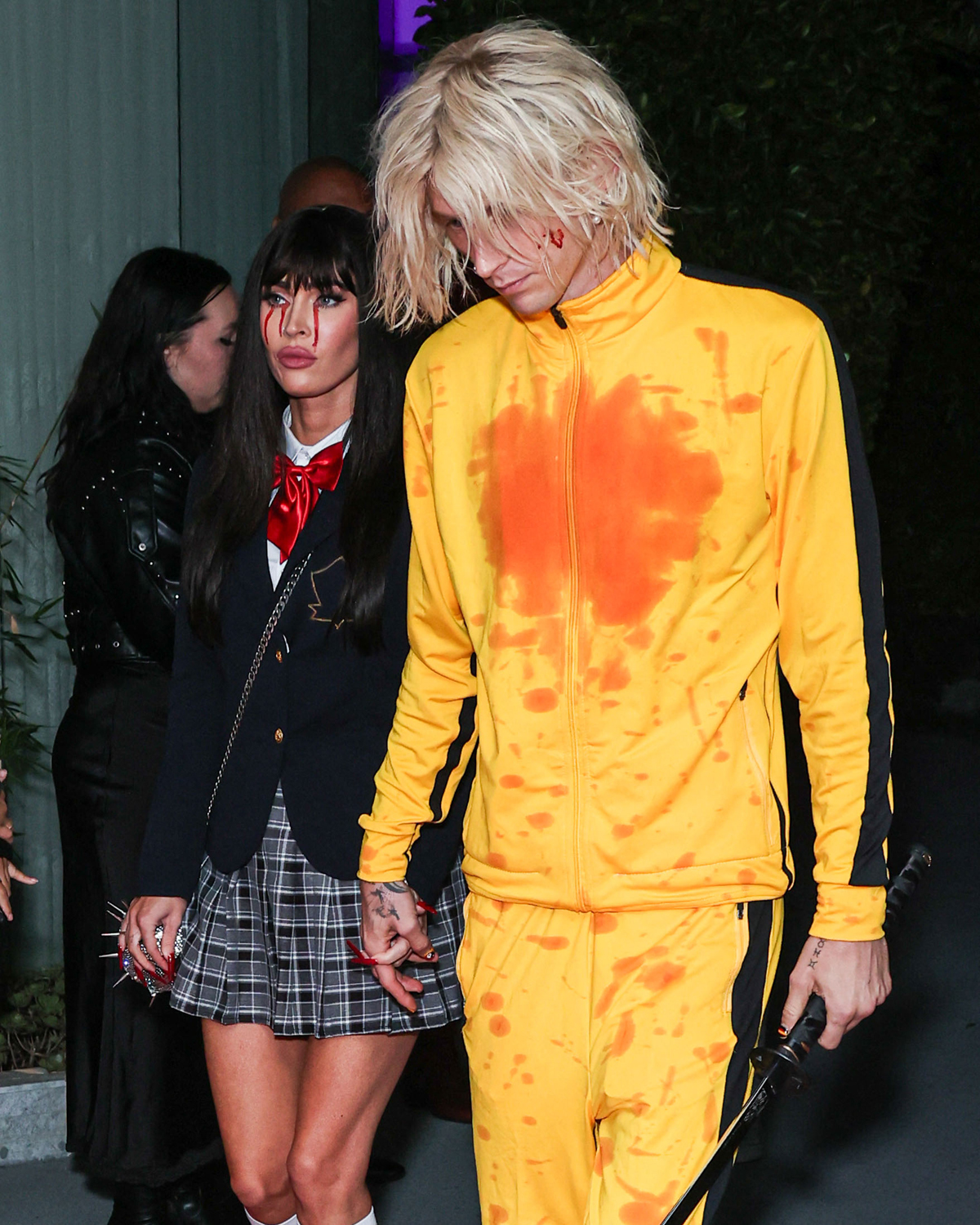 So what's the problem? Well, Megan herself hinted at the issue. See, she uploaded a carousel of pics on Instagram ahead of the event — and tagged "@sagaftra" as her sole caption. Um…
Oof.
The actors' strike is still very much going on in Hollywood as the guild continues to fight for better gigs. Part of said strike forbids actors from promoting anything that has to do with movies and TV shows by AMPTP studios. More recently, as the strike lingered into October, that designation was updated to include Halloween costumes.
Related: Fans SLAM Kim Kardashian's 'Tone Deaf' Halloween Decor — Here's Why!
Earlier this month, SAG strongly advised union members to wear more "generalized characters and figures (ghost, zombie, spider, etc)," or "characters from non-struck content, such as animated TV shows," or  at the very least not "post photos of costumes inspired by struck content to social media" to avoid breaking strike rules.
But the Transformers star clearly didn't take kindly to being told what to do. She not only broke the rule, she tagged them in it. It was a big middle finger to the organization that's fighting for her rights, as well as the rights of so many other union members! Fans definitely weren't as impressed as she apparently hoped they'd be, condemning her "defiant" move in the comments:
"Why is she being defiant to a group that's literally fighting for her to make a fair wage"

"Queen please you can do better"

"Didn't SAG-AFTRA ask its members to NOT dress as movie characters?"

"girl, you did not just tag sagftra"

"Yes girl give it to your union trying to get better wages and benefits for lesser known people than u!"

"you look amazing but i wish you didn't post this. i totally understand if you disagree with sag and want to voice that privately / to your inner circle, but using your massive platform to undermine the union and sow seeds of division in an incredibly public way does nothing but hurt our leverage with the amptp."
Can't say we disagree! And they weren't the only voices disavowing with her move — other actors weren't happy either!
Over on X (Twitter), Abbott Elementary's Lisa Ann Walter disapproved of Megan's actions while giving her a little insight into what it's like down on the picket lines:
"What a rebel. Keep posturing for stupid s**t, pretty lady. Meanwhile we'll be working 10 hours a day — unpaid — to get basic contract earners a fair deal. (PS-the post responded members questions. No one cares about kids' costumes. Just high pros at fancy parties. Like Megan)"
Tell her, Lisa! Not a good look for Megan — even if it is a killer look.
Thoughts, Perezcious readers?? Sound OFF in the comments down below.
[Image via WENN]
Related Posts
CLICK HERE TO COMMENT
Oct 30, 2023 15:24pm PDT