Miley Cyrus Is On A Throwback Photo Spree & We're Thankful For The Sweet Nostalgia!!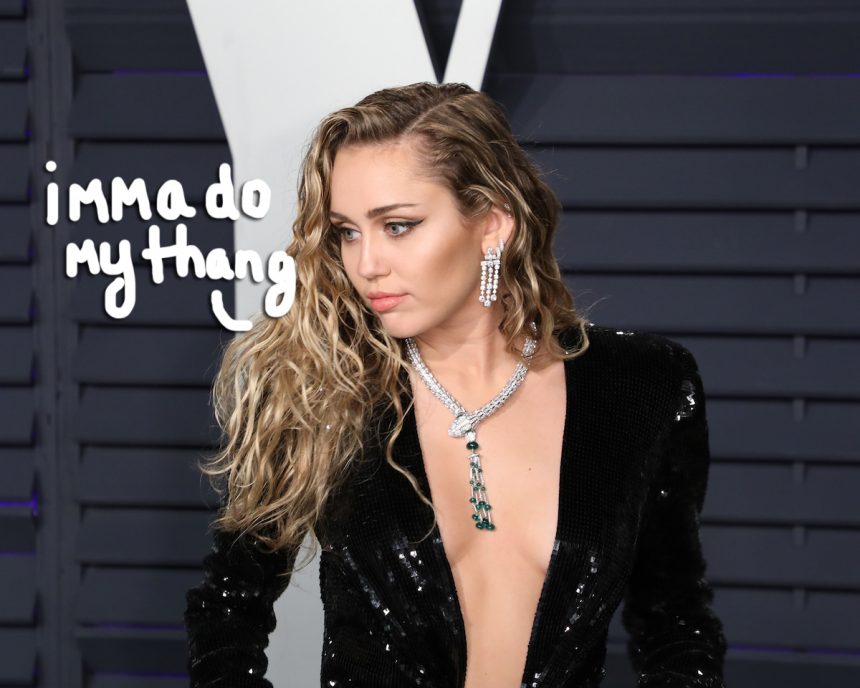 Miley Cyrus knows her social media timeline is FIRE!
The 26-year-old may have gone a bit overboard with sharing throwback photos recently, but that's exactly why we love her! She not only posted epic shots from her teens and preteens, but celebrated a belated International Women's Day 2019 with oodles of video!
Related: Here's How Celebrities Celebrated International Women's Day!
Let's start with the goodies she shared on Twitter, like this duet with Rihanna, Fergie, and some other fabulous ladies:
Women's 👏 Day 👏( yes , I know it was officially 2 days ago , but I've officially declared Women's Day Every 👏 Fuckin 👏 Day 👏 👏👏 so BAM 💥 💥💥 @rihanna pic.twitter.com/OJ6sJIw3Kf

— Miley Ray Cyrus (@MileyCyrus) March 10, 2019
— Miley Ray Cyrus (@MileyCyrus) March 8, 2019
Miss Beyonce Giselle Knowles Carter and THE Hannah of the Montanas? SIGN US UP!
It's Women's Day! 😻 To celebrate, will you Top like Taylor? Or Twerk like Miley? Please Answer pic.twitter.com/eNte9TOtR9

— Miley Ray Cyrus (@MileyCyrus) March 10, 2019
We're Taylor, LOLz!!
Your generation = 7 Rings MY generation = 7 Things 💍7️⃣💍7️⃣💍7️⃣💍7️⃣💍 Simpler times. @selenagomez pic.twitter.com/hX84PwIItl

— Miley Ray Cyrus (@MileyCyrus) March 11, 2019
Miley and Selena Gomez bringing you the sing-along we never knew we f**king needed!!
Related: Best Girl Power Anthems Of All Time For International Women's Day
The performer also didn't shy away from sharing plenty of photos on her Instagram Story, complete with plenty of GIFs and hilarious commentary. Here are some of the highlights that will have you feeling all the feels:
Lovin' your cargo pants Miley, LOLz!!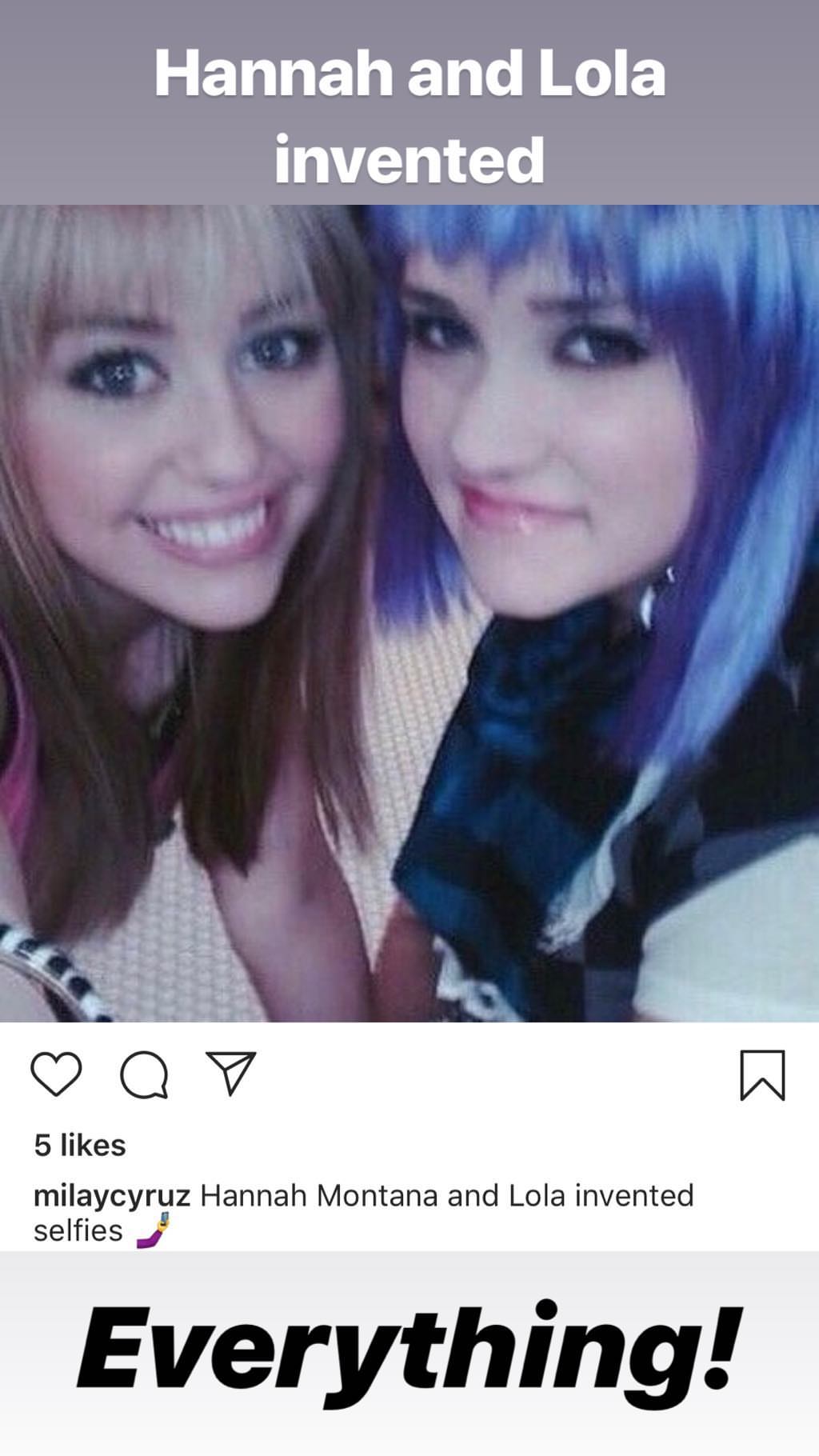 Hannah and Lola forever! Emily Osmet was an OG definition of bestie goals on Hannah Montana!
Miles and Demi Lovato's sunglasses were too cute!!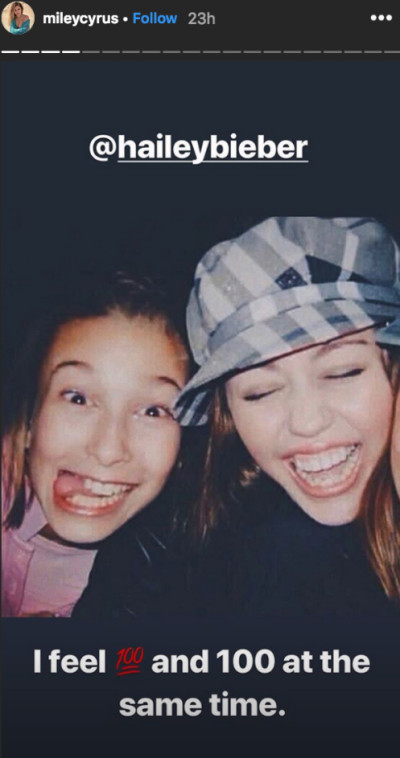 While the two wives were riding around in an episode of Carpool Karaoke with Kendall Jenner, Hailey Bieber revealed the Wrecking Ball singer used to bully her when they were kids:
"I would be evil to her… She would try to play with us, like me and Alaia, and then we would lock her out of the room and be evil… I had to. It made you who you are, you know? It made you stronger… Now you can always take like… the trolls and s**t. 'Cause I was such a troll."
The tough love paid off, Justin Bieber's wife agreed:
"Miley was the biggest troll to me! She prepared me for this industry!"
— Miley Ray Cyrus (@MileyCyrus) March 11, 2019
We're glad we got the (above) pic, though!! It's our favorite one yet!!
The ICONS of mid-2000s Disney Channel: Miz Cyrus, Selena, Demi, Nick Jonas, Joe Jonas, Kevin Jonas!! We know Liam Hemsworth's wife has been loving jamming out to 7 Rings lately, but we're sure she loves Sucker too!
Cyrus went back on social media Tuesday to share that everyone's been loving her early aughts nostalgia, because DUHHHH:
— Miley Ray Cyrus (@MileyCyrus) March 12, 2019
Keep doing your thang, Miley!! We lurrrrve all the memories!
[Image via Sheri Determan/WENN.]
Related Posts
CLICK CLICK CLICK Next Article
Mar 12, 2019 11:53am PDT