Ariana Grande, Miley Cyrus, & More Celebs Celebrate International Women's Day!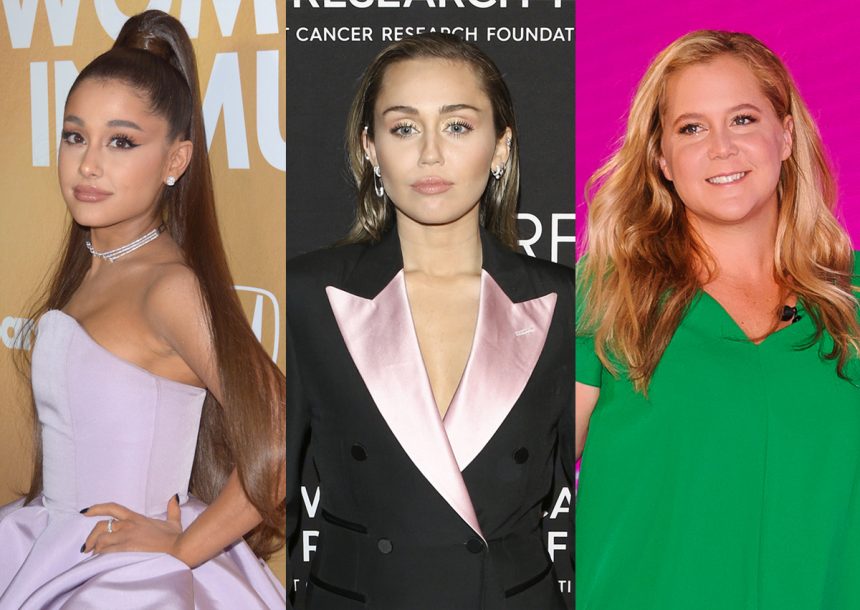 By now, we've established that God is, in fact, a Woman — and several celebs are worshipping Her children on this very special International Women's Day!!
From the historic number of women in congress to the movements that have empowered women to stand up for themselves in and out of the workplace, it's no secret women have made great strides in the past few years.
Sure, we still have a long way to go before reaching actual gender equality, (And we're just talking about in developed countries; let's not forget about the horrifying, violent, deadly conditions women have to endure in less developed parts of the world) but, like it or not, the future is female — and it's time to honor those who will help us get there!
Related: Cardi B Destroys Troll Over Female Empowerment
See how Ariana Grande, Miley Cyrus, and more celebs are celebrating the supreme sisterhood on #IWD2019 (below)!
Ariana Grande
"happy 'everyday is international women's day' 🐈 love, the swt family 🖤🌫🌑"
we made this for the dwt and you've been asking for it since 🖤 happy international women's day every day to women of every color, shape, size, sexuality, age, religion, trans, cis, and all who identify ! u are everything and i'm proud of u everyday. female by @HANNAHLUXDAVIS 🌫 pic.twitter.com/pQkNiPSU3d

— Ariana Grande (@ArianaGrande) March 8, 2019
Miley Cyrus
"Celebrating some of my favorite #Women ❤️ This cute ass 🐭/ 🐻 is my #[email protected]#HappyInternationalWomensDay"
"TBT to Variety's Power Of Women awards! Representing @happyhippiefdn & Puttin this pussy power to good use! #InternationalWomensDay"
"In honor of International Women's Day here's some of my favorite bad ass bitches! 🌈 @janefonda @[email protected] @cyndilauper @arianagrande"
Selena Gomez
Selena teamed up with Coach to "curate a series of poems by some of our favorite Instagram writers. Check back every day for new works on love, strength and hope. From all of us at Coach, Happy #InternationalWomensDay. #CoachNY" AH-Mazing!
Elizabeth Banks
Happy #InternationalWomensDay #Angels. Honoring the commitment and celebrating the victories of the women who came before us today. Thank you to the women revolutionaries in every industry who lead the way and set an example for us all. #sisterhood #CharliesAngels pic.twitter.com/B3AxlNHKGU

— Elizabeth Banks (@ElizabethBanks) March 8, 2019
The actress honored the stars of Charlie's Angels — past and present: the OGs from the 1970s, the stars of the 2001 film, and the stars of the upcoming reboot that Banks directed!
Harry Styles
Thank you to all the wonderful women of today, yesterday, and always. Happy International Women's Day. H

— Harry Styles. (@Harry_Styles) March 8, 2019
Yes, the guys got in on the love, too! Fitting, seeing that most women are grateful for Harry every day of the year.
Amy Schumer
What's real feminism? Sometimes, it's using a hashtag for shameless self promotion and NOT apologizing for it!
Hillary Clinton
Leave it to Hillary to issue a "challenge" on International Women's Day — one that could significantly impact our future! Yas, former presidential candidate and popular vote winner!
Reese Witherspoon
Reese is giving back to her fellow woman! The actress announced she's selling #MarchOn lipsticks and giving all of the proceeds to UN Women.
Selma Blair
The actress paid tribute to one of the most iconic female characters of all time: her character from Cruel Intentions!
Gabrielle Union
The actress celebrated the most important woman in her life… her daughter!
Pink
The songstress encouraged her followers to donate to UNICEF so women around the globe can reach their full potential.
Katy Perry
Miss Perry did the same!
Constance Wu
The Crazy Rich Asians star showed off her "Power Vag Pose" from her recent Marie Claire cover shoot. Powerful!
Sofia Vergara
The Modern Family star celebrated by promoting EBY undies, which help "empower a woman out of poverty and into business through microfinance."
What are YOU doing to celebrate International Women's Day?
[Image via WENN]
Mar 8, 2019 2:29pm PDT