Offset Addresses Backlash After Fans Thought He Implied Cardi B Started Female Rap Game!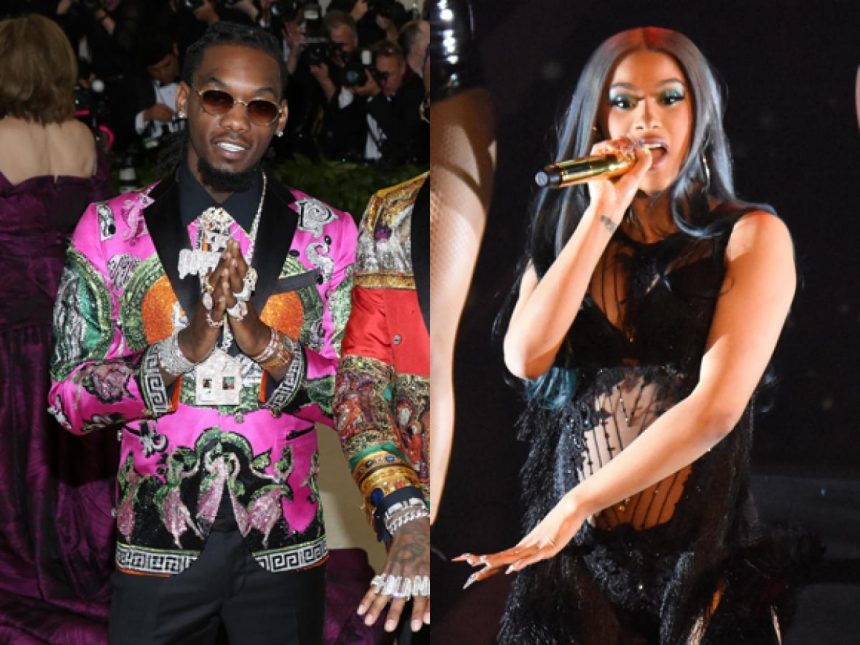 Offset defends wife Cardi B's legacy!
On Thursday, the Migos rapper reportedly tweeted (and deleted) a message saying the Bodak Yellow musician had given "y'all h**s hope to not suck d**k the rest of ya life and catch money."
However, some fans interpreted the MC's post to imply that Kulture's mom started the female rap game, when several artists (including MC Lyte, Queen Latifah, Missy Elliott, Trina, Lil' Kim, and Nicki Minaj) came before her.
Related: Cardi B Isn't Interested In Your Opinions About Her Marriage To Offset!
On Friday, the 27-year-old —  born Kiari Kendrell Cephus — clarified his remarks by saying he was "not talking bout prior female artist," but "talking bout the female artist that come from my wife background."
He added:
"Every bartender stripper with the dream of getting out the club it's nun wrong with that but my wife help guide ur life to try to rap all u dumb ass ppl at home on couch tweeting suck my balls not talking bout established artist like the legands and the ones before Cardi. The same ones hate are motivated by the wife she did the unbelievable."
As seen on Twitter: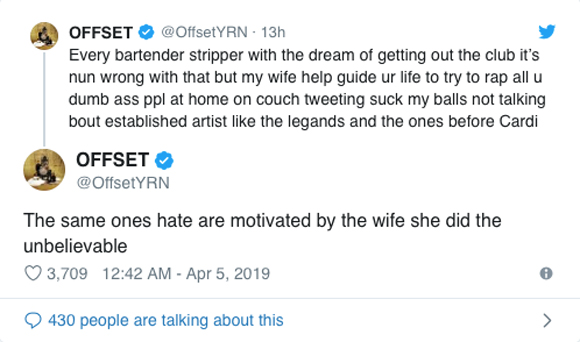 He also added that he was "talking bout you h**s that start rapping this year," and that "my bitch still number one."
As we reported, Cardi filed paperwork with the United States Patent and Trademark Office this year to trademark her saying, "Okurrr."
Her application stated that she wants to use the phrase for merchandising purposes, including paper goods such as cups and posters.
In a since-deleted video, the 26-year-old defended her decision to lock up the rights for her slogan.
Referencing the fact that people constantly ask her to do the famous chirp, Cardi said:
"Let me tell you something… You think i ain't gonna profit off that?!"
Explaining that "white folks" do it all the time, she added:
"While I'm here, I'm gonna secure all the bags!"
However, as we EXCLUSIVELY wrote, Broadway actress Laura Bell Bundy filed for the "okurr" trademark… a year ago!
The thespian — who started saying it in her "Shocantelle Brown" YouTube skits over 10 years ago — plans on coming out with a special t-shirt, and possibly more items, for charity very soon.
However, the trademark office has yet to rule on Bundy's — or Cardi's — request.
Make those money moves, y'all!
[Image via Adam Bielawski/Andres Otero/WENN.]
Apr 5, 2019 3:53pm PDT