Bethenny Frankel may pay her interns well, but when it comes to her podcast guests? She will not be coughing up any cash!
This week, Rachel Leviss shocked Vanderpump Rules fans by speaking out for the first time since her stay at a mental health facility following the Scandoval — on the Just B podcast of all places. During the podcast, the 28-year-old television personality shared some inneresting details about her salary for season 10 on the show, saying she had not seen "a single penny" following the cheating scandal. This was likely a salty reference to Ariana Madix making bank on endorsements and such. You know, because people felt sorry for her after what AKA Raquel did.
As for Rachel's usual paycheck? Bethenny further claimed the former pageant queen was "exploited" without pay during Scandoval, and she made less than her interns. Although the two women didn't get into the exact numbers, Rachel said she was informed she would "get paid based off of [her] performance from the season prior."
Apparently, the SUR waitress made a lot though! Sources told TMZ after the podcast ep that she earned $350k for Season 10. Damn! And she's complaining??
Related: Brittany Cartwright Claims She Didn't Get Paid For Most Of Her First Season!
But breaking her silence on a podcast instead of on Season 11 of VPR? Well, if she's complaining about money, that choice certainly did not help her wallet — at all! We've just learned Rachel did not receive any compensation for speaking with Bethenny! An insider revealed to Entertainment Tonight on Wednesday:
"Rachel wasn't paid for her interview with Bethenny. Bethenny offered her an unedited long-form platform where she could speak freely. Rachel knew no other outlet would give her that freedom."
Hmm. The outlet reported there are meant to be three parts of the interview, with part three coming out on Friday. Then, the whole video of the podcast conversation will drop on YouTube in the next few days. So Bethenny will be making money from both of these platforms, while Rachel is getting nothing for spilling her guts? What?!
B has been trying to start a war with Bravo, pushing to unionize reality stars and advocate for them not to be exploited. She even talked about it on this podcast ep! And yet, the Real Housewives of New York City alum is using Rachel and profiting off her story? Make it make sense, Bethenny. Because this podcast now comes off as very self-serving to not only gain some more attention to her podcast but to push her campaign. Not to mention it's hypocritical to be doing the same thing she's been accusing Bravo and other networks!
We aren't the only ones who were questioning the Skinnygirl founder either. Summer House's Kyle Cooke came for Bethenny in the comments section of an Instagram post from the podcast Two Judgey Girls, writing:
"The irony of it all: Bethenny cashing in ads as she 'exposes bravo's exploits' and gives Rachel 'a voice'. She literally has more ad spots than any other podcast I've ever listened to. Rachel won't see a dime lol. I bet she had to pay her way to fly to B just to record this. If this was a true PSA it would be ad free."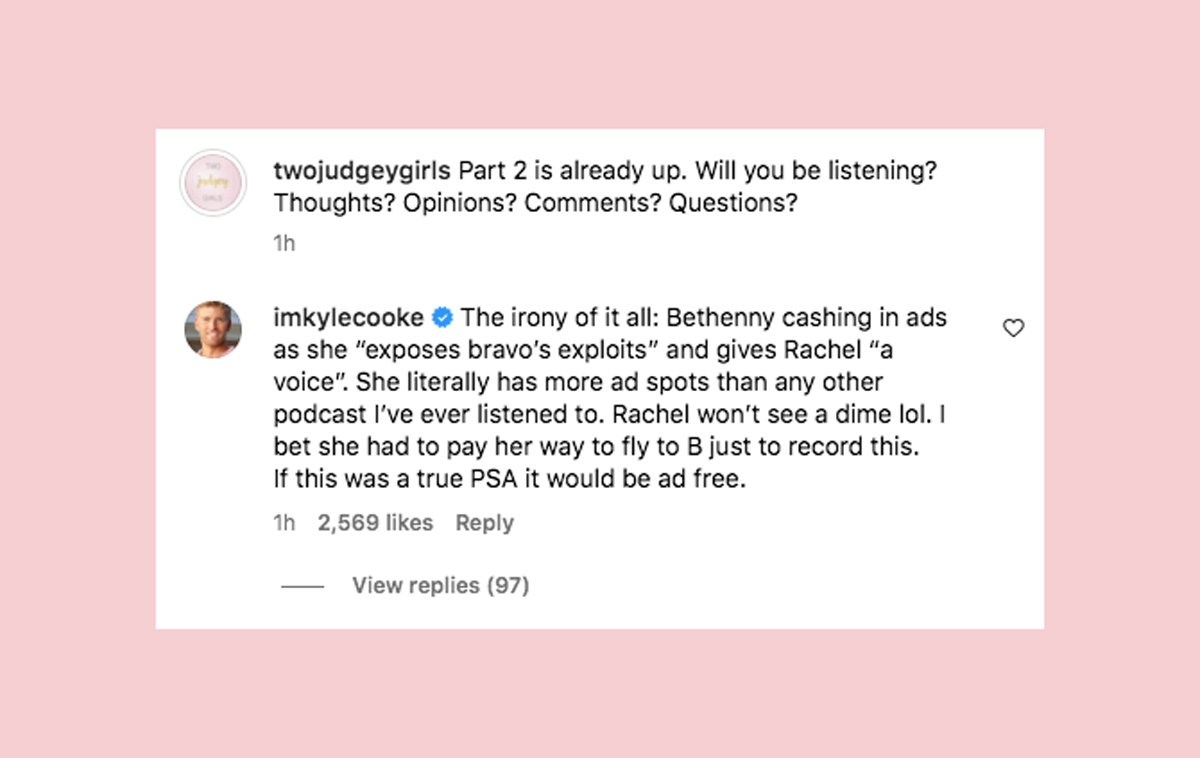 Kyle has a point. If Bethenny cares about fighting exploitation in reality television, she wouldn't turn around and cash in on what happened to Rachel. Thoughts, Perezcious readers? Sound OFF in the comments below!
[Image via Watch What Happens Live with Andy Cohen/YouTube, Bethenny Frankel/Instagram]
Related Posts
CLICK HERE TO COMMENT
Aug 17, 2023 11:01am PDT