Meghan Markle's father Thomas Markle is trying one last time (supposedly) to get his daughter's attention… but we're not sure this is going to help them mend things AT ALL!
The Markle family — including estranged half-siblings Samantha Markle and Thomas Markle Jr. — is set to drop some explosive bombs on the royal family right ahead of the historic coronation next week!
Australia's 7NEWS Spotlight released a trailer for their upcoming interview with the family, which will air on Sunday night, and it promises to spill some HOT tea about the Suits alum, her "toxic" relationship with Prince Harry, and even the Prince Andrew allegations! (What they'd know about that, we have no idea.)
Related: Is Meghan Markle Returning To Acting?
Most notably in the teaser, Thomas, who has been estranged from his daughter since 2018, makes a "death bed" plea to her in hopes of reconnecting. The 78-year-old suffered a stroke last year and is still seemingly in poor health as he struggles to speak. After holding photos of a young Meghan, he wonders aloud:
"How can I fix this?"
The news program then goes on to claim "treasured measures, home truths, and secret tapes are all coming out," with the Duchess of Sussex's half-siblings even sitting down to watch some of the tapes together while blasting their famous relative! Samantha argues at one point:
"She would still be a waitress if it wasn't for Dad."
Um, OK! She's 41, y'all. We're sure she would have made some moves with or without her father's intervention. They're acting like she had no hand in crafting her own destiny — which we personally think is about as far from the mark as you can get about Meghan!
Hard to believe they actually want to make amends if they're so willing to roast the Archetypes podcast host — and expose her dirty laundry! — like this! (Though we guess you could say not a dissimilar tactic from what the Duke of Sussex has been trying with his memoir…)
Related: Prince Harry & Prince William Haven't Spoken A WORD To Each Other
As Perezcious readers know, Meghan and Thomas had a falling out in 2018. At the time, her father was set to walk her down the aisle, but he was caught secretly teaming up with paparazzi to stage photos of him getting prepped for the big day. He ultimately didn't attend the nuptials due to heart surgery, which he blamed on the stress of the feud. King Charles III filled in for him.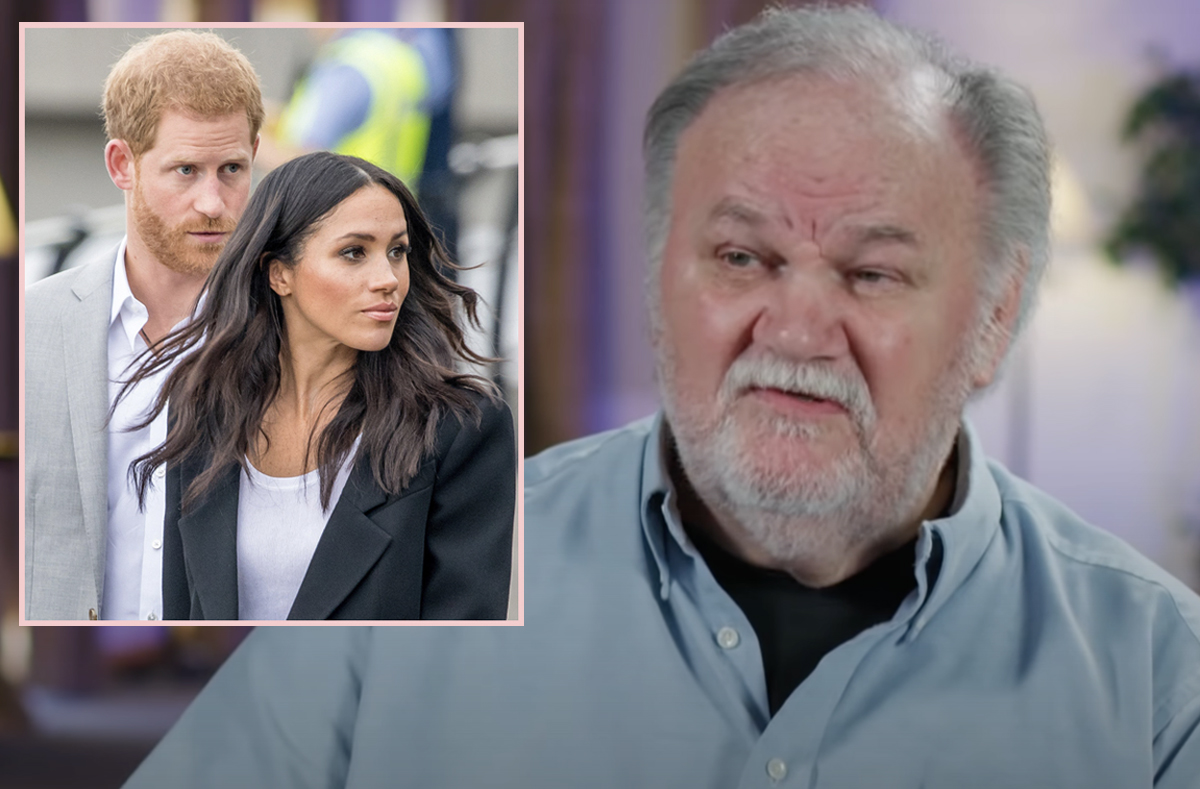 Since then, the entire family has been attacking the former Deal or No Deal briefcase model, including in legal battles!
Meghan seems to think it's her father who's to blame for the distance. In her Netflix docuseries, Harry & Meghan, she opened up about how heartbreaking it was when the former lighting designer ditched her wedding and then leaked a private letter she'd written to him after the ceremony. A source at the time of the leak told Us Weekly:
"Meghan really hoped Thomas wouldn't leak the letter. She finds it absolutely heartbreaking that her own flesh and blood continues to profit from her."
She's made it very clear how much she doesn't like her father talking to the press, and yet he continues to do so. We mean, if he was serious about reconnecting, why keep going to the media? Frankly it feels like he and Samantha Markle — or wait, was it Grant? — are interested in connecting with TV audiences.
Check out the teaser trailer (below) and let us know what YOU think!
Reactions? Do you think this will really be Thomas' last interview? Let us know in the comments (below).
[Image via MEGA/WENN & 7NEWS Spotlight/YouTube]
Related Posts
CLICK HERE TO COMMENT
Apr 28, 2023 11:36am PDT