Percy Hynes White of Netflix's huge hit show Wednesday is speaking out about his sexual misconduct allegations.
In case you didn't know, the 21-year-old actor who's best known for playing Xavier Thorpe on the show, was slammed with some disturbing sexual assault allegations in January. The since-deleted tweets claimed that he assaulted multiple women while at a party in Toronto that he had hosted. According to Variety, the tweet thread went as far as to allege he'd drugged underage girls and then have sex with them:
"He would pursue, have sex with, abuse and get my friend high who was 13/14 at the time. Last time I knew they had sex she was 16 and he was 20. He assaulted me at one of those parties awhile I was too drunk, and he had cornered and pressured and assaulted multiple of my friend."
Yeah, just awful. And it got really bad, guys. #CancelPercy trended on Twitter worldwide as fans started attacking his Wednesday co-star Jenna Ortega for remaining friends with him. Fans were then demanding his removal from the show's upcoming season 2.
Related: Wendy Williams' Manager CLAPS BACK At Son's Guardianship Allegations!
But now Percy is coming out with his own statement — and six months later he's saying these horrific allegations aren't true.
On Tuesday, The Gifted star took to Instagram to speak his piece in the matter, writing on his Stories:
"Hey everyone. There's something I need to clarify; Earlier this year, somebody I've never met started a campaign of misinformation about me online. Because of this, my family has been doxed, and my friends have received death threats. Underage photos of me were used, and examples of me acting in character were presented as hateful. My friend Jane was falsely portrayed as a victim, and her attempts to set the record straight have been ignored. She gave me permission to include her in this message."
He continued on to say these since-deleted allegations are "false" and that the "misinformation" being spread against him and those he's close to is "harmful":
"The rumors are false. I can't accept the portrayal of me as someone bigoted or criminally negligent of people's safety. These are the kind of baseless, harmful claims that can create mistrust towards victims. It's very distressing to know that this misinformation has upset people."
Finishing up his statement, the Pretty Hard Cases alum thanked those for sticking up for him:
"I'm really thankful for everyone who's stood by me and helped share the facts. Harassment of my family, friends, and coworkers needs to stop, please. Thank you for taking the time to read this."
You can see his full statement (below):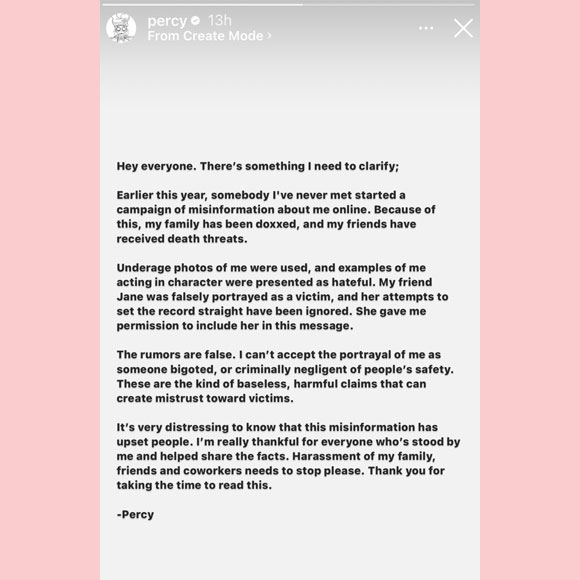 A lot to take in… What do U think about his response, Perezcious readers? Let us know (below).
If you or someone you know has experienced sexual violence and would like to learn more about resources, consider checking out https://www.rainn.org/resources.
Related Posts
CLICK HERE TO COMMENT
Jun 08, 2023 17:38pm PDT