Woman Kicked Off Plane For Fat-Shaming Passengers, Calling Them 'Big Pigs' — Watch!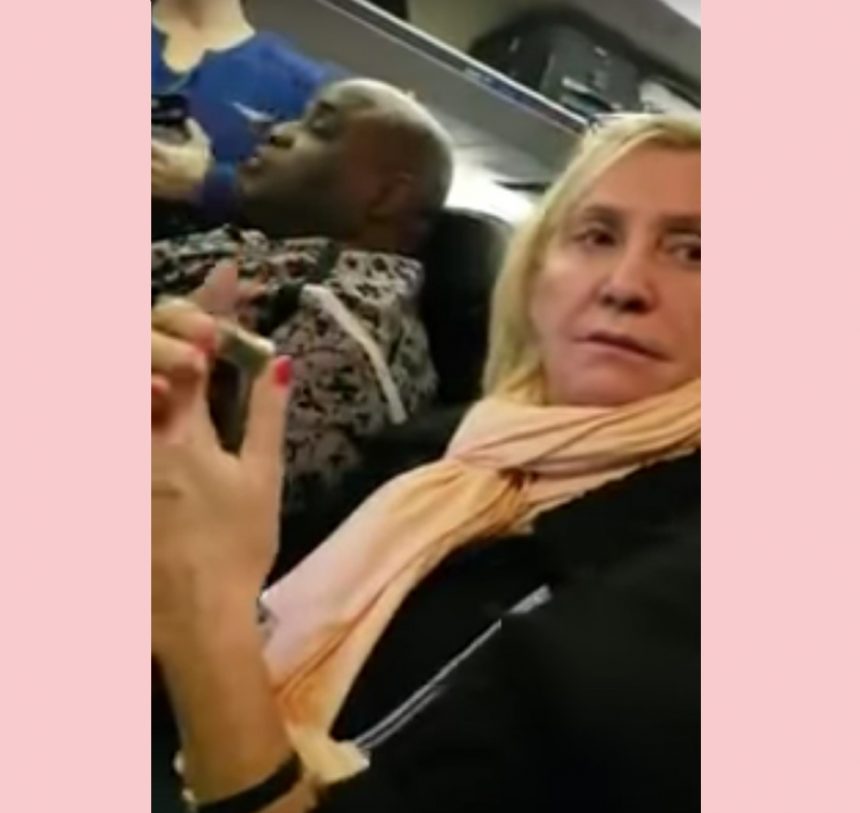 A woman (pictured above) was removed from a plane after repeatedly fat shaming her seatmates and bragging about how she eats salad.
Traumatized over how little room she had on a flight from Las Vegas to New Jersey on January 2, the woman started loudly complaining on her cell phone that the two passengers sitting next to her were "squishing [her]."
Related: Celine Dion Couldn't Care Less If You Don't Like Her Slimmer Body!
The woman's comments became so obnoxious, Norma Rodgers, the passenger on the woman's left, began recording the incident. The complainer said into the phone:
"This is just impossible because they're squishing me. It's just friggin' unbelievable… I'm stuck; at least they'll keep me warm."
The woman became so distraught, she eventually flagged down a flight attendant and asked to be moved to another seat — and, for some reason, thought it was relevant to mention that she eats salads. She said:
"Get me out of here. I can't do this. I can't breathe, I'm so squished. I eat salads, okay?"
Salads don't get you first class, bb.
Or class at all for that matter. 
Related: Dean McDermott SLAMS Trolls For Body Shaming His Children!
Eventually, Rodgers asked the flight attendant to get the combative salad-eater a new seat because she couldn't take the verbal abuse. When the flight attendant agreed to help the woman find a new seat, she happily got up and once again repeated that she can't sit there because "they're both so big… I eat salad."
She wasn't done yet: after other passengers on the plane started making comments at the woman, she fought back, yelling:
"Why don't you sit between those two big pigs?"
WTF? Arm room or not, what kind of person talks about other people like that??
A hungry person, that's who.
Watch the confrontation (below):
Rodgers told CBS New York that the woman was removed from the plane by flight attendants shortly after. We assume she then went to the nearest food court and yelled at a salad.
[Image via YouTube.]
Feb 1, 2019 3:40pm PDT