Ariana Grande Goes OFF On Twitics Blasting Her Over Her 'Great' Dinner Debate With Piers Morgan!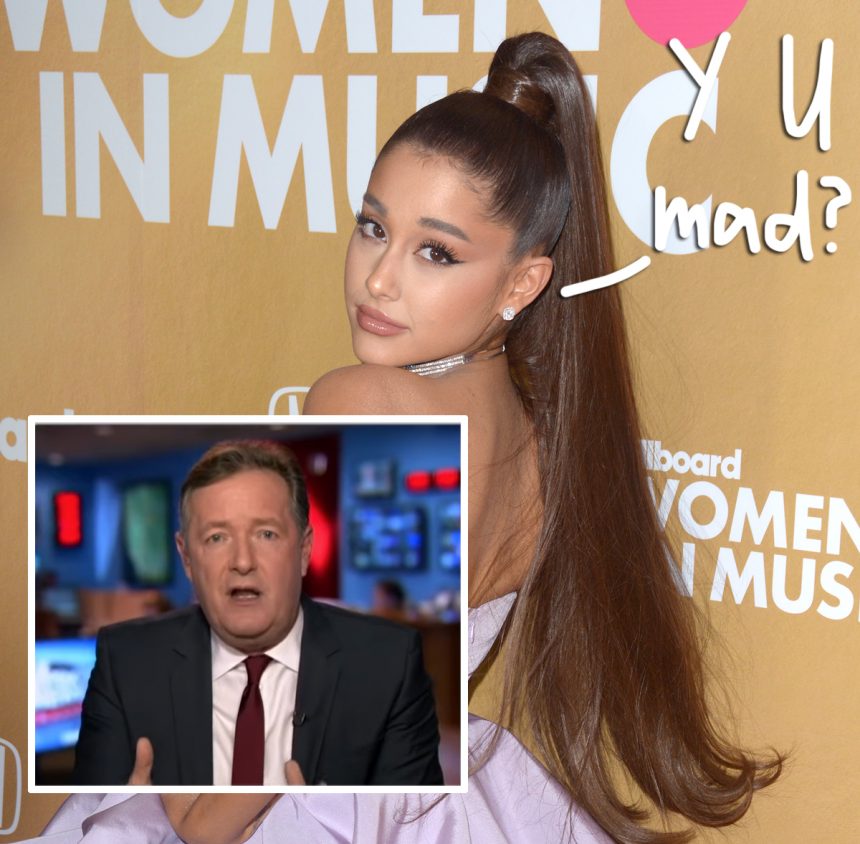 Ariana Grande WILL speak her mind at all times — whether it's to political adversary Piers Morgan or Twitics blasting her for having a conversation with said political adversary!
The 7 Rings songstress took to Twitter Thursday to defend the hours-long discussion she had with the TV personality after critics called her out for breaking bread with the enemy.
As we reported, Ari ran into Piers at a restaurant in New York and decided to sit down at his table, where the two apparently enjoyed a four-course, "great" dinner debate about feminism and other social issues they had clashed over.
While the meal was apparently very "productive" for both parties, some of the songstress' fans were upset she had the audacity to say the journalist was "kinder and gentler" in person, when he's said such awful things about female celebrities like Ellen DeGeneres, Little Mix, and even the Sweetener artist in the past.
Video: Ariana's Her Personal Life Is Still 'Nonexistent'!
For those fans, the 25-year-old had little patience — but she went about explaining her actions anyway, writing in a series of tweets:
and we spoke about that… i am a peaceful but passionate person and i will kindly say everything on my mind to a person's face if i have the chance. which i did. i don't understand what is so evil about having conversations w people. in what world did i excuse what he has said?

— Ariana Grande (@ArianaGrande) February 22, 2019
in fact that's why i sat down with him in the first place. i saw an opportunity to pick someone so opposite's brain and try to talk some sense into them which i understand is highly unlikely but i will not apologize for trying. that's all. 🖤

— Ariana Grande (@ArianaGrande) February 22, 2019
Responding to a critic who accused her of "dehumanizing" the provocateur, Ari wrote:
nah, i was anything but complacent in our conversation that none of u heard. it saddens me that u'd assume that just because i have hope that a person can change. i won't stop having conversations w people i disagree w when i see the opportunity to. hope u would've done the same.

— Ariana Grande (@ArianaGrande) February 22, 2019
The songstress then reiterated why she would NEVER ignore anyone who misunderstands her actions:
nah it's just important to me. i'm not tryna be misunderstood when it's of this much importance tbh.

— Ariana Grande (@ArianaGrande) February 22, 2019
like…. do people think i think i succeeded and that i'm some kind of fucking miracle worker? fuck no. are u all insane? bruh i just wanted to try. and speak my mind. i try my best to have faith in people. as hard as it is. anyway……. goodnight.

— Ariana Grande (@ArianaGrande) February 22, 2019
Piers, to his credit, agreed that their chat was quite productive, writing:
I'm glad you did!
I enjoyed picking your brain too.
And we reached points of agreement, which neither of us probably expected.
I think I'll write a piece about our chat so people can better understand why it was worth having. https://t.co/qYBrdwxegj

— Piers Morgan (@piersmorgan) February 22, 2019
And, just for the record:
Ariana. She insisted. https://t.co/iNYuusj0xQ

— Piers Morgan (@piersmorgan) February 22, 2019
Ha!
Sounds like Ariana's intentions here were quite pure. Do U agree?
[Image via Ivan Nikolov/WENN/Fox News.]
Feb 22, 2019 10:32am PDT