The perils of wearing vintage…
Amanda Seyfried chose a stunning archival Christian Dior gown to wear to the Critics' Choice Awards on Sunday, accessorized with a red lip, diamond necklace, and Stuart Weitzman heels. It was a bold but apt choice — the low cut and open sides showed off her figure, and the gold fabric and shimmering fringe ended up pairing nicely with the award she took home for Best Actress in a Limited Series or Movie Made for Television for her role as Elizabeth Holmes in Hulu's The Dropout.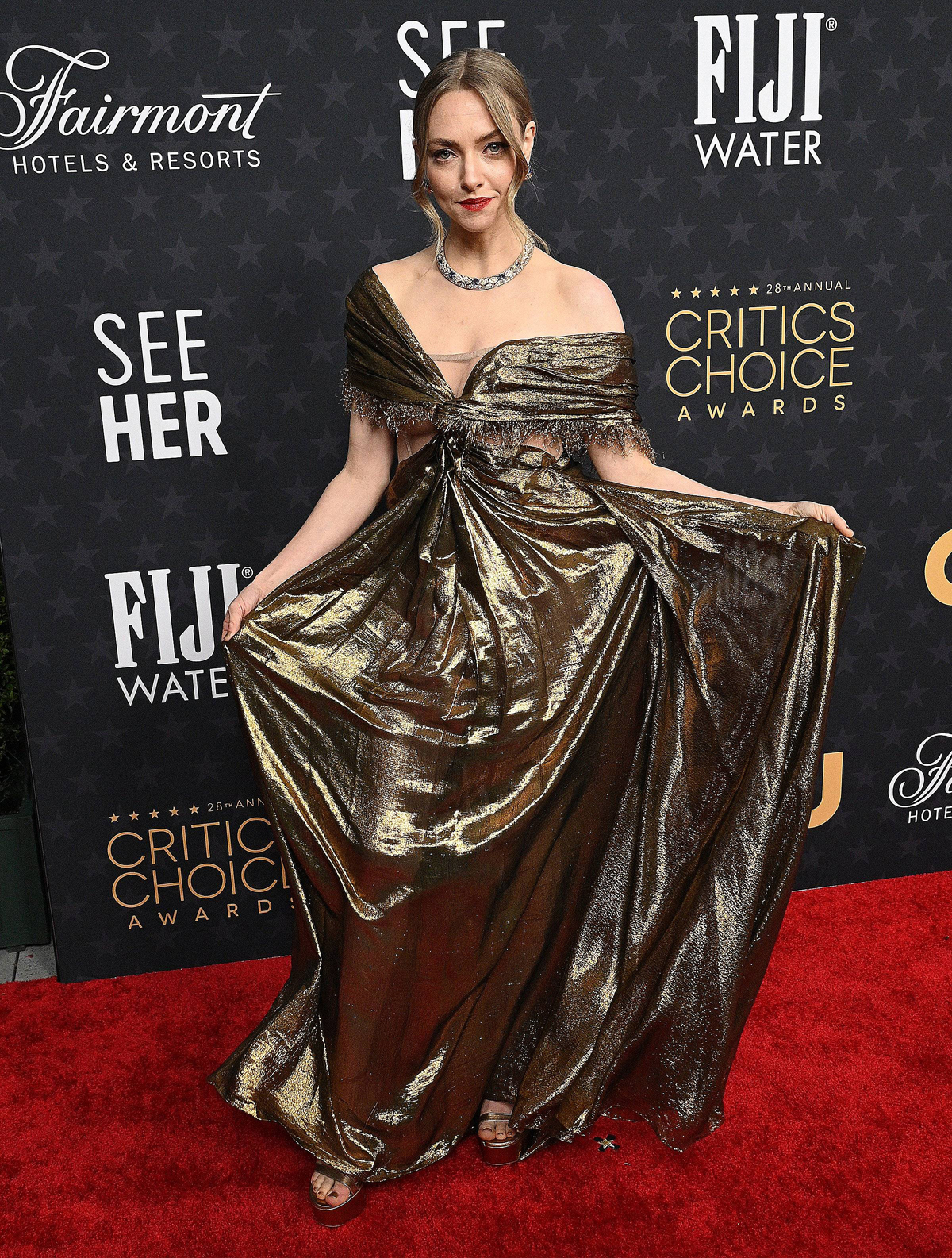 But unfortunately the acclaimed actress had to face the other side of the coin when it comes to going vintage — that would be the age part.
Related: Royal Tailor Spills On Meghan Markle & Princess Catherine's Bridesmaid Dress Feud
During a pre-show interview on the red carpet she told Access Hollywood's Scott Evans that the dress, while beautiful, was literally falling apart. Bemused by the whole ordeal, she complained with a smile:
"It's old- It keeps breaking. I'm not kidding. It's actually like breaking. It's like, I'm like tacked–."
But she didn't even get to finish the sentence before something snapped and her shoulder strap fell a few inches. It was perfect, though perhaps unintended, comedic timing from the Mean Girls alum. She joked afterward:
"I'm just going to take off my dress. I'm just gonna take it off."
Evans could not hold it together trying to continue asking her questions. But she assured her team:
"It's fine! Honestly, it's old… It's beautiful."
Then with an impish delight, she pulled down the shoulder that kept falling in mock seduction. Making it work! LOLz! See the hilarious unscripted moment (below)!
We can't help but wonder if the dress not being completely put together is partially a result of a rush to be present at this award ceremony. See, she missed the Golden Globes last week, apparently because she was working on a new musical (reportedly a Thelma and Louise reimagining co-starring Evan Rachel Wood!). Maybe she didn't think she would win? But she did! So maybe after that her team realized they needed to get her ass to the ceremony — half-wrapped in gold or not! LOLz!
[Image via MEGA/WENN.]
Related Posts
CLICK HERE TO COMMENT
Jan 16, 2023 18:10pm PDT