Grayson Chrisley is a boy who knows what he wants!
The Chrisley Knows Best alum popped up on big sis Savannah Chrisley's popular podcast Unlocked on Tuesday. There the 16-year-old was grilled about his latest romantic interest. And y'all know this girl really well: it's Alabama Barker!!! Yes, really!
Well, she's his interest anyway. LOLz! But yes, Grayson is definitely really feeling Travis Barker's daughter. And he's even gone so far as to make his interest known on Instagram!
Related: Grayson Chrisley Says He 'Didn't Have A Choice' About Being On Reality TV!
First, let's go back to May 15. On that otherwise unremarkable day, Alabama posted a set of pics to her IG page. Showing off a scantily clad photoshoot to her 1.8 million followers, the 17-year-old wrote in the caption:
"Treat ya exes like they enemies"
The now-nearly-month-old snaps themselves tell a tale, too, as you can see (below):
Like everything else Alabama does, they drew a TON of attention from commenters.
…And one of the commenters was Chase Chrisley's little brother!!! Popping up down in the comments, Grayson wrote this just hours after the photos were first published:
"We married she jus don't know it yet"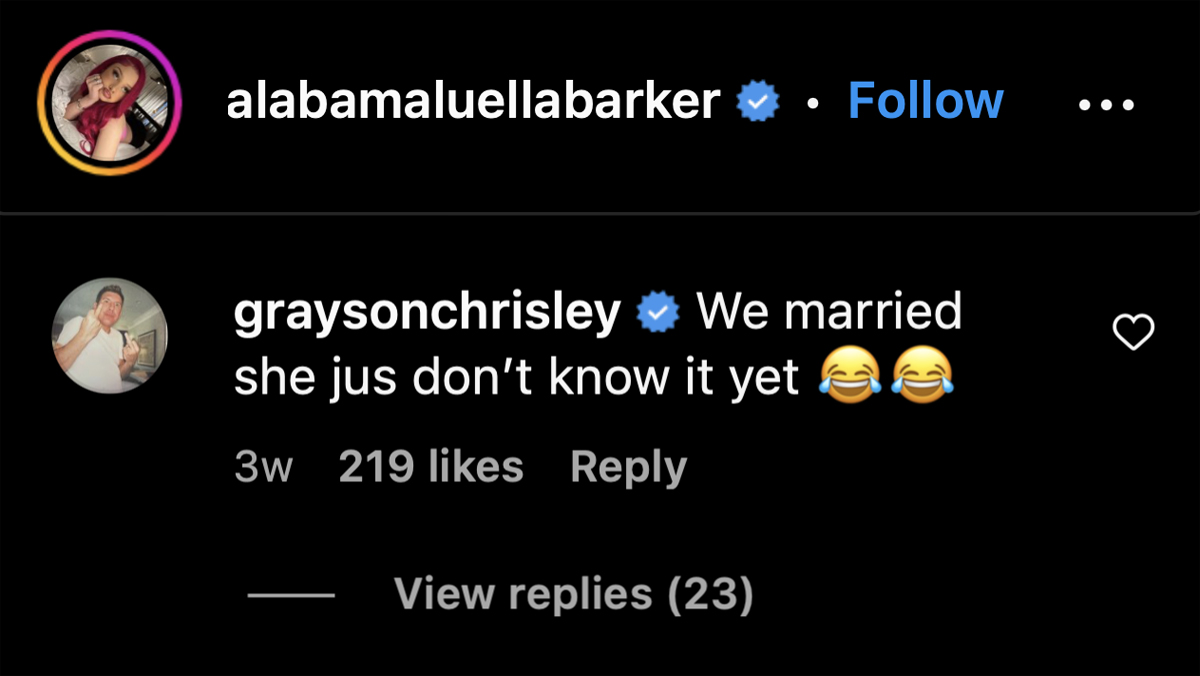 OMG!!!
Talk about shooting your shot! The teen is brazen!!
During this week's Unlocked chat, when Savannah called him out on the month-old IG flirting, Grayson stood strong in saying he doesn't regret the move:
"I thought it was pretty funny."
Then, the Sassy By Savannah mogul offered the same thought we have about this whole thing:
"I think it would be interesting. … What a plot twist no one ever expected."
To which Grayson responded that it's already being discussed in that way online! He noted many commenters were talking about a potential viral fame crossover between him and Alabama:
"That's what the comments said! 'This is the crossover I never expected but I'm here for it.'"
A gal named Alabama with a boy from Georgia? Nobody expected this, TBH…
Related: Grayson Had A 'Breakdown' After Parents Todd & Julie Went To Prison
But he's not kidding, either! A quick perusal of the comments replying to Grayson on that IG post shows us many people were in fact thrown by his open flirting at the time:
"this is cute!! You should definitely ask her out always go for what you want!!!"

"GRAYSON??!!?! Oh this is a crossover I was not expecting……"

"I can't believe how early I am to see Grayson shootin his shot"

"I'd support this"

"send me a wedding invitation"

"GRAYSON OMG"
LOLz!
On Tuesday's podcast, Grayson also bragged that his rejoinder is "the most liked comment under her post." (Sadly, it's not. But it is the second-most liked comment. So maybe that counts for something?!)
He also revealed that he figured out Alabama did see it — because she viewed one of his Instagram Stories "right after" he posted the remark.
Hmmm! So maybe there could be something between 'em?! At least she knows he exists now. Ha! Then again, she didn't slide into those DMs either…
Related: Todd Chrisley Says Fraud Conviction Has Pained Youngest Son Grayson
By the end of the podcast, Savannah seemed to be coming around to the possibility of her kid brother going after the Blink-182 drummer's daughter. Calling Alabama the "cutest girl," Savannah said:
"Naturally, when she doesn't put all her makeup and stuff on, [I think] she is so freaking cute."
Ha! Such a big sister version of a compliment! To which Grayson quickly agreed:
"Yeah, so do I. That's why I commented!"
Hey, FWIW, Savannah is Grayson's legal guardian now that parents Todd and Julie Chrisley are serving out their bank fraud-slash-tax evasion terms in federal prison. So she does have some say here until the teen turns 18, right?
What do U make of Grayson shooting his shot here, y'all?? Would U be up for a relationship between him and Alabama?! Or is that too much for you to handle?
Sound OFF with your take down in the comments (below)!
[Image via Grayson Chrisley/Instagram/Alabama Barker/Instagram]
Related Posts
CLICK HERE TO COMMENT
Jun 07, 2023 10:11am PDT