Hailey Bieber is "grateful" one year after her life-saving surgery.
The 26-year-old took to Instagram Monday to reflect on her terrifying mini-stroke last year, while simultaneously celebrating the one year anniversary of her heart surgery. She wrote on her Story: 
"This time last year I had a procedure done to close a hole I had in my heart known as a PFO (Patent Foramen Ovale) Following having a transient stroke."
She continued:
"So grateful to have found this and have it closed, and so grateful for my amazing doctors. A year later I'm feeling strong and healthy."
So glad to hear!
Related: Justin Bieber's Heart 'Breaks' Seeing Hailey 'Struggle Emotionally'
See her full post (below):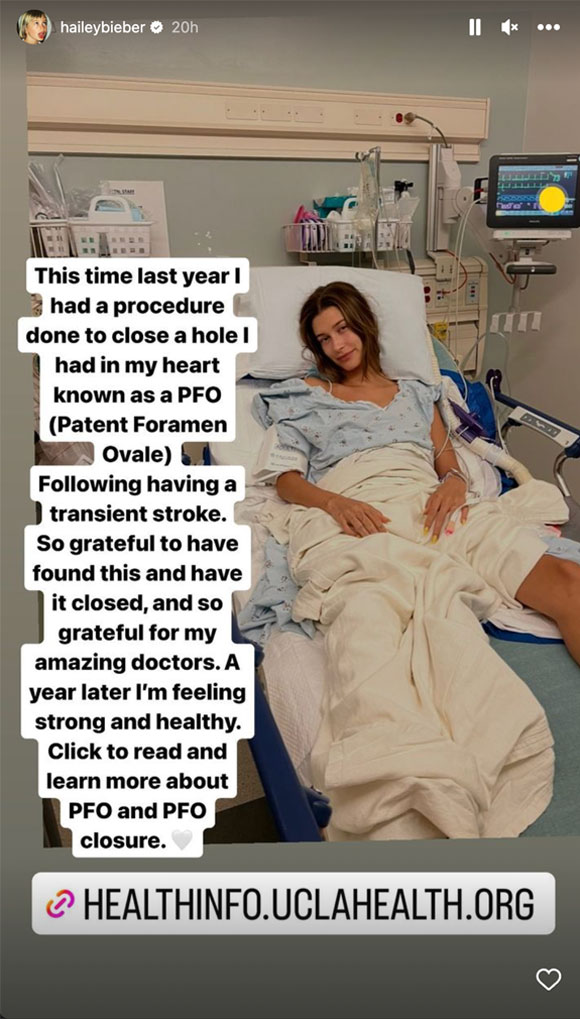 We're so glad she's remaining healthy and positive a year later! A month before she underwent the PFO closure surgery last year, the model suffered a transient ischemic attack, commonly referred to as a TIA. She explained on her Story at the time: 
"I was sitting at breakfast with my husband when I started having stroke like symptoms and was taken to the hospital. They found I had suffered a very small blood clot to my brain, which caused a small lack of oxygen, but my body had passed it on its own and I recovered completely within a few hours."
She then shared in a lengthy video: 
"I did this test, and they actually found that I had a grade five PFO, which is the highest grade that you can have. So, mine was fairly large. But at this point too, I was just grateful that they found it and that they knew that it was there. And also the conclusion was that I had a blood clot that traveled into my heart."
How scary. Let's keep in mind she was only 25 years old when this all happened… Seriously SO young to have a stroke! 
Related: Hailey & Selena Gomez Are Trying 'To Move Past' Their Troubles
She, of course, wasn't the only Bieber to suffer a scary medical emergency last year, as her husband Justin Bieber revealed a Ramsay Hunt syndrome diagnosis, which led to facial paralysis and the subsequent cancellation of tour dates. He explained on his Story at the time:
"Hey everyone, Justin here. I wanted to update you guys on what's been going on. Obviously, as you can probably see with my face. I have this syndrome called Ramsay Hunt syndrome and it is from this virus that attacks the nerves in my ear and my facial nerves and has caused my face to have paralysis."
Tough times for the Biebers, but we're glad they're both getting through it! Share all your thoughts in the comments down below!
[Images via Hailey Bieber/Instagram]
Related Posts
CLICK HERE TO COMMENT
Apr 25, 2023 11:14am PDT