Hailey Bieber is sharing her side.
On Friday, the Rhode founder took to her own Instagram, hours after Selena Gomez urged fans to leave Justin Bieber's wife alone amid death threats, with a message of her own.
Related: Are Selena And Zayn A Thing?? OMG!
ICYMI, earlier in the day, the Selena + Chef host shared a plea to her fans about their behavior amid the duos public spat. She uploaded:
"Hailey Bieber reached out to me and let me know that she has been receiving death threats and such hateful negativity. This isn't what I stand for. No one should have to experience hate or bullying. I've always advocated for kindness and really want this all to stop."
Selena then followed Hailey on IG as an additional show of solidarity.
Not long after, Hailey followed her back, and shared the following:
"I want to thank Selena for speaking out, as her and I have been discussing the last few weeks how to move past this ongoing narrative between her and I. The last few weeks have been very hard for everyone involved and millions of people are seeing so much hate around this which is extremely harmful. While social media is an incredible way to connect and build community, moments like this only create extreme division instead of bringing people together.

Things can be taken out of context or construed differently than they were intended. We all need to be more thoughtful about what we post and what we say, including myself. In the end I believe love will always be bigger than hate and negativity and there is always an opportunity to meet each other with more empathy or compassion."
See the full post (below):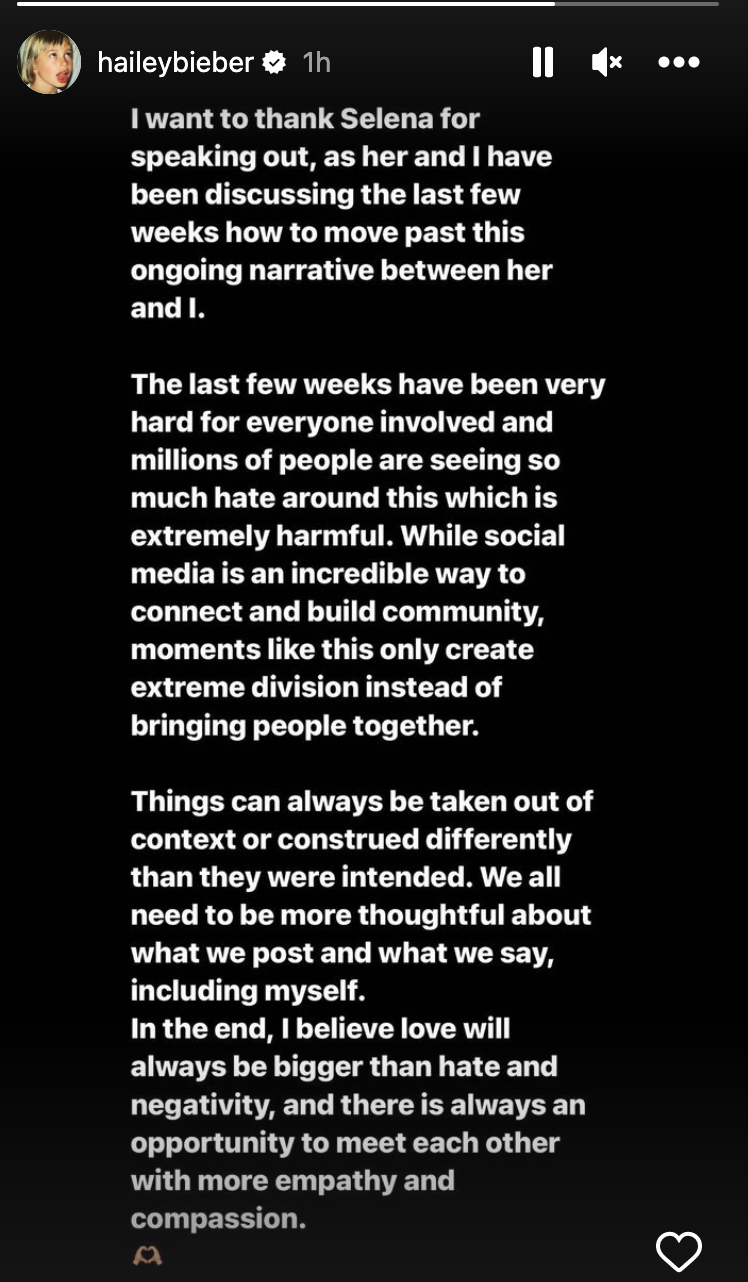 Interesting that the girls have been speaking about this for the last few weeks. Wonder how THAT convo started!!
Remember, it all kicked back off again (the pair have been pit against each other for years, btw) when fans recently accused the model and Kylie Jenner of mocking Selena's eyebrows in an IG story. The Kylie Skin owner star quickly denied the speculation, but drama continued from there.
In recent weeks it reached a boiling point online, resulting in a ton of backlash, Selly gaining IG followers, and Hailey losing way more.
We're just glad the two have talked things out. Hopefully it helps the noise dampen and they can both move on. At least now Hailey knows if she were to ever try and pull something… all eyes would be on her.
Thoughts, Perezcious readers?? SOUND OFF in the comments (below)
[Image via Hailey Bieber/Selena Gomez/Instagram]
Related Posts
CLICK HERE TO COMMENT
Mar 24, 2023 13:45pm PDT