Karl Lagerfeld left a long, accomplished, and complicated legacy behind him when he passed away last year at the age of 85. Now, one of his old former friends and colleagues is sharing dark new revelations about the creative director's upbringing.
In an excerpt of his upcoming memoir, The Chiffon Trenches, obtained by the Daily Mail, former editor-at-large of Vogue André Leon Talley leveled claims that when Lagerfeld was young, his mother "strapped him in bed with leather restraints to stop him from eating at night."
Related: Andre Leon Talley Spills MAJOR Tea On Anna Wintour In His Upcoming Memoir
The 70-year-old said the late German designer admitted his mother, Elisabeth Bahlmann, took extreme measures to curb his diet as a kid. When Karl was eight-years-old, the matriarch allegedly told him:
"You look like an old dy**."
In another section, Talley writes about the insults Bahlmann would hurl at her son, such as:
"You look like me, but not as good."
Talley explains he and the controversial fashion mogul first met in 1975 when he interviewed him for Interview magazine but they hung out more after he was posted to Paris as Vogue's editor in France. The two shared a common affinity for 18th century French high fashion but they later became close friends after bonding over the "abuse" they both suffered in their childhoods.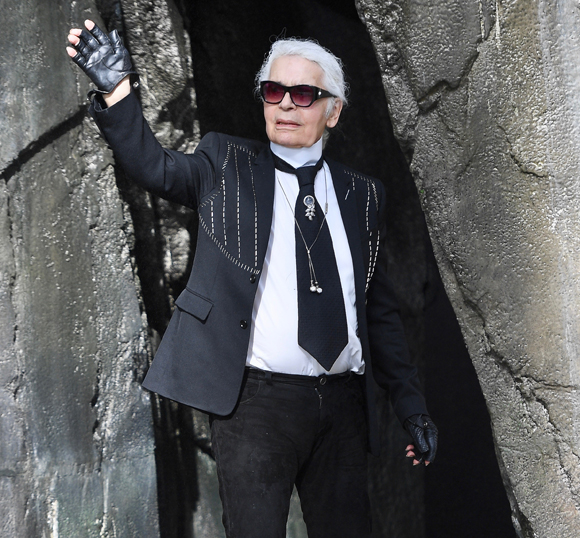 The alleged behavior had long-term effects on Lagerfeld, who struggled with dieting and body issues well into adulthood. It's been said he spent much of his career "wolfing down cold frankfurter sausages at night straight out of the fridge." Lagerfeld reportedly lost 92lbs in just over a year in 2001 following what he called the "Spoonlight Program," which consists of low fat, low-calorie foods like fish and vegetables — but the process wasn't easy and triggered many negative emotions for him.
Before his death last year, the Chanel designer gave an interview where he described the diet as a "kind of punishment" and with the added context of Talley's story, that sentiment could've possibly been a reflection of his early complicated relationship with food.
"It has to be a sort of punishment. You are a general and you have a single soldier in your army. You must give him instructions and he must carry them out. It may annoy him but he has no choice."
On the motivation behind his weight loss journey, Karl added:
"There is nothing worse than looking longingly at clothes that you would like to wear but that are definitely too tight for you."
Apart from that shocking revelation, Talley spoke highly of the late designer, noting "there's a way I could talk to Karl that no one else could." Lagerfeld grew to trust him so much that he would sometimes even make changes to his collection based on his suggestions.
According to the memoir, the men eventually had a falling out when Talley suggested a joint exhibition of his works and photographer Deborah Turbeville. He writes that Karl's "ego wouldn't let him support another artist in the realm of photography" and they never spoke again after that conversation.
Related: Billie Eilish Talks Having A Britney Spears 'Breakdown' In First Vogue Cover!
As we reported, Talley's been hot in the press lately as advance looks at his memoir have shined an unfavorable light on the likes of fashion icon Anna Wintour, and more. More salacious celebrity tales from The Chiffon Trenches include anecdotes from Talley's time spent with Andy Warhol who Talley said got "naughty" with him often, writing:
"From time to time [Warhol] would put his pale white hands in my crotch' (always in public, never in private)."
He also wrote of a memorable lunch he wound up at with the late Princess Diana, claiming the Royal kept asking him if all models really ate just "Lettuce and Diet Coke."
Such crazy stories! Will U be picking up a copy of Talley's book when it hits shelves in September?
[Image via Joseph Marzullo/WENN]
Related Posts
CLICK HERE TO COMMENT
Apr 24, 2020 17:14pm PDT