Rachel Leviss' first interview about Scandoval has a lot of fans – and even a cast member – heated right now!
The 28-year-old former pageant queen sat down for an interview with Bethenny Frankel's Just B podcast to share her side of the story when it came to her months-long affair with Tom Sandoval. She dropped some jaw-dropping statements, including that she was never besties with Ariana Madix. But here's the thing – these two constantly posted about each other on social media even after they were done filming for Vanderpump Rules. Not to mention the fact that Ariana supported and defended Rachel so much in the past – just like a ride-or-die best friend would. So how can she diminish their friendship and say they were basically acquaintances?
Related: Bethenny Accused Of Manipulating Rachel In Podcast Interview!
Elsewhere, Rachel seemed to attempt to excuse her affair with Sandoval by saying she "looked up to the cast as role models" and they "all normalized cheating." And there's more. She went on to say she "would not be involved in this affair, secrecy type situation if I thought there was longevity in this relationship between Tom and Ariana." Seriously? That does not justify her cheating with someone else's long-term boyfriend! She then added:
"They're business partners."
Ugh. You get the gist, though. There were a lot of moments in this interview had people flabbergasted, to say the least.
And naturally, many have been waiting for someone from the Vanderpump Rules cast to weigh in on the podcast. While some may have bet on Lala Kent being the first person to go off, that was not the case! Instead, it was Katie Maloney who spoke out. She took to give her opinion in the comments section of Bethenny's post promoting the interview, writing:
"What in the hot garbage is this?"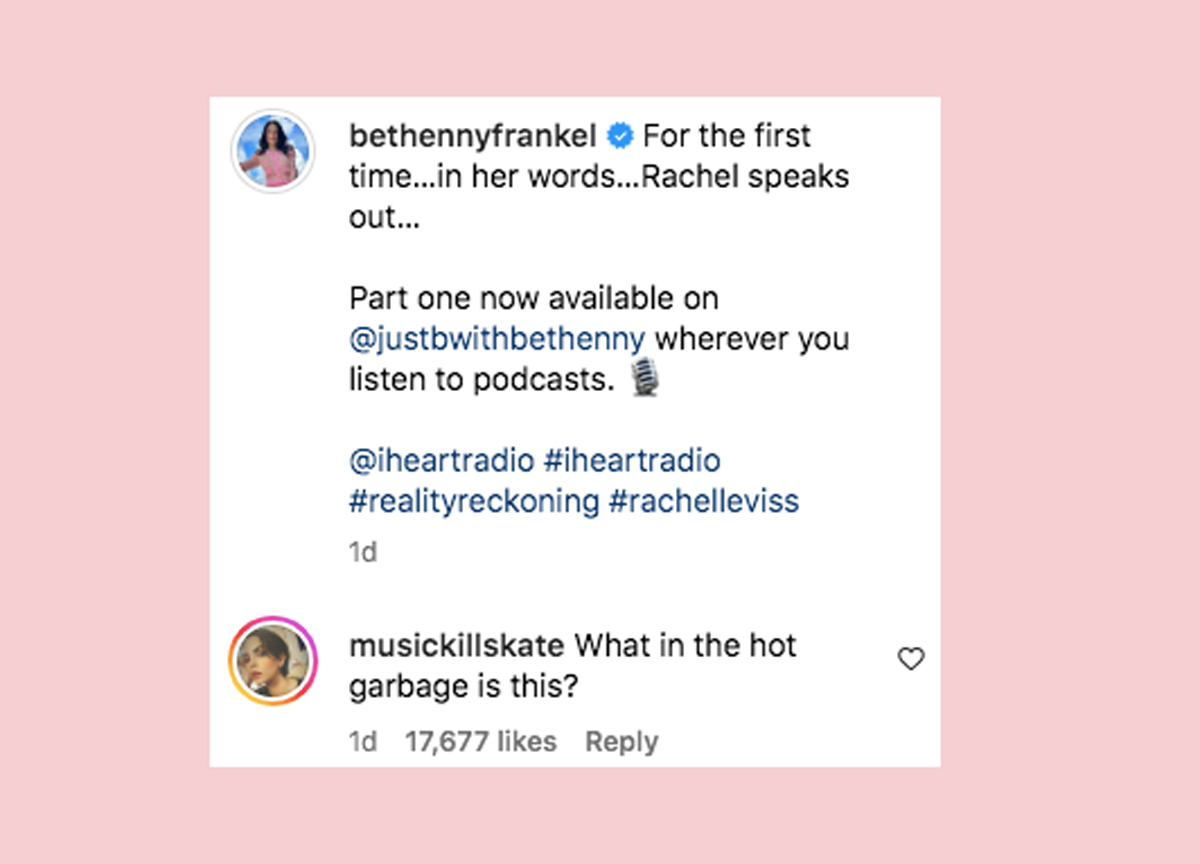 The 36-year-old later hopped on Instagram Stories and seemingly suggested that her former co-star lied during the interview. Mentioning the Vine star Nicholas Fraser's viral song Why You Always Lying, Katie said in a video:
"You know that trending sound or song … that was like, 'Why the f**k you lying?' That's been stuck in my head, like, all morning for some reason."
She also captioned the post:
"Can't figure out why."
Now, the OG cast member did not get into what Rachel supposedly lied about on the podcast. However, that did not stop other fans from seemingly agreeing with Katie's sentiments! Ever since the episodes dropped, people have taken to social media to share their thoughts on what Rachel had to say in her first interview. And it's safe to say, many were pretty furious over the lack of accountability. See the reactions (below):
"In case y'all are wondering if Rachel has grown or learned from her mistakes— save your listen. The answer is no."

"My thoughts on former #VanderpumpRules cast member, Rachel Leviss' recent podcast interview Truly, the girl is trying so hard to create the narrative that SHE was a victim because the show exploited her affair! Trying to be the victim—AGAIN!! SMH"

"Omg! They're all saying everyone in the show cheated, but Rachel cheated with someone who stood by her since the BEGINNING and had an affair on someone who was in a 10 year relationship for 7 months… PLEASE I AM not believing Raquel leviss for one second!"

"So yeah, accountability is still lacking. This isn't about women supporting women. This is excuses. S***ty ones."

"It's hurtful to HER bc ariana is taking brand deals???? BYE RAQUEL LEVISS! Byyeeee!!! #bethenny #pumprules"

"Raquel started as a guest > friend > regular. She was witnessed/exposed to some of the worse human behaviors on TV. By the time Scandoval hit, she knew exactly what type of show she had signed up for, but suddenly it doesn't work for her because public opinion is not on her side"
And of course, many went off on Bethenny for having Rach on the podcast – especially since she's never seen the show:
"For someone who (suddenly now) hates reality TV, Bethenny Frankel continues to make her existence revolve around it. Giving Rachel Leviss a platform to continue showing a lack of remorse for f**king her friends boyfriend & flaunting it publicly is quite the choice"

"Just curious if you would have this much compassion for someone sleeping with your fiancé in you driveway after you dog died?"

"Petition to stop people who have never watched a full episode of Vanderpump Rules to interview people from Vanderpump Rules"
Clearly, Katie and VPR fans weren't happy with this interview! Now, we want to know what Ariana has to say about her former pal's new comments. What were YOUR thoughts on it, Pererzcious readers? Let us know in the comments below.
[Image via Bravo/YouTube]
Related Posts
CLICK HERE TO COMMENT
Aug 17, 2023 13:03pm PDT