Ken Block has tragically passed away at 55 years old.
The action sports legend, who is known by many for his rally car driving championships, sadly died in a snowmobile accident Monday, according to his team, Hoonigan Industries. They explained in an Instagram post the same day:
"It's with our deepest regrets that we can confirm that Ken Block passed away in a snowmobile accident today. Ken was a visionary, a pioneer, and an icon. And most importantly, a father and a husband. He will be incredibly missed. Please respect the family's privacy at this time while they grieve."
See (below):
So, so sad.
Related: Jeremy Renner Addresses Fans Following Snowplow Accident
The crash occurred around 2 p.m. when Block was riding the snowmobile on a steep slope in Wasatch County, Utah, according to the Wasatch County Sheriff's Office. Apparently, the vehicle overturned and landed on top of him — the Sheriff's Office explained: 
"Mr. Block was riding with a group but was alone when the accident occurred."
The trailblazer was later pronounced dead at the scene from injuries sustained in the crash. More details regarding the accident will likely emerge soon, following an official autopsy. The Sheriff's Office statement added: 
"The State Medical Examiner's Office will determine the official cause of death. We are saddened to hear of the loss of Kenneth and our hearts are with his family and friends so deeply affected. We thank all of our first responders for their continued service."
This all just comes just one week after Block revealed in an IG post that he had been performing stunts in Idaho with the new snowmobile, which he admitted had "lots of power." He wrote: 
"It was my first day on my new '23 Ski-Doo Summit X Turbo, and this thing rips! Lots of power up at high elevation, and wheelies all day!"
See (below):
Related: Barbara Walters Dead At 93
He later shared his excitement to get on the powerful vehicle in a story post the day of his death, which showed a row of snowmobiles, covered in snow, but ready to ride. He captioned it, "Hell yeah." See (below):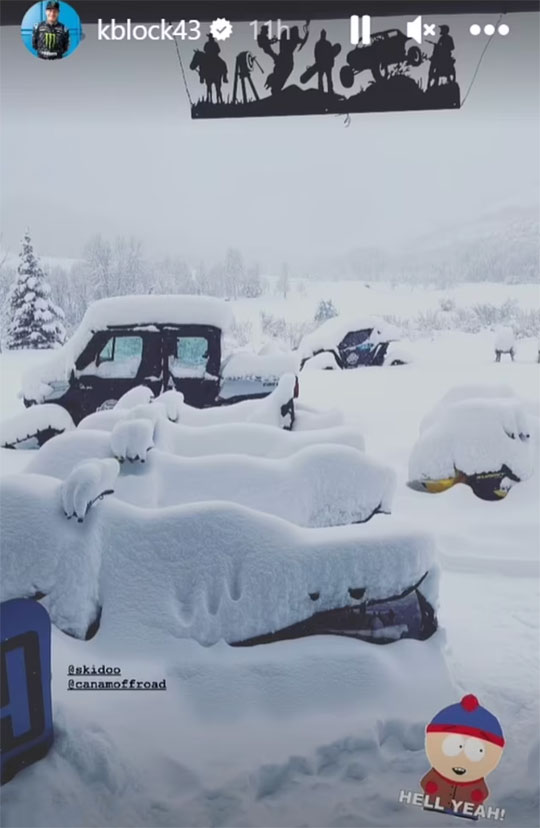 Prior to his action sports career, Block co-founded sportswear company DC Shoes in 1994. In the mid-2000s, he began his career in rally car racing, and later expanded to motocross, skateboarding, snowmobiling, competitive snowboarding, and driving UTVs. He earned 16 victories in 60 Rally America events from 2005-2014, and won five medals in the X Games. Over the past few years he's also built up a huge following on YouTube. His channel, which celebrates all things racing and driving, has over 2 million subscribers.
A true icon in a lane of his own. He is survived by his wife, Lucy Block, and three children, including 16-year-old Lia Block, who has also been competing in his Hoonigan Racing Division since age 11.
Our thoughts are with his loved ones during this incredibly difficult time. Rest in peace.
[Image via Paul Jacobs/WENN]
Related Posts
CLICK HERE TO COMMENT
Jan 04, 2023 10:34am PDT