Can we deliver Kyle Richards all the snaps and claps for a moment?!?!
The 54-year-old reality TV veteran is THRIVING right now! Fans have noticed recently just how ripped the Real Housewives of Beverly Hills star has become. She's always been a strong woman on camera and off, but lately she's become a (literally) STRONG woman with a new fitness regimen that has her getting impressively jacked!
Of course, social media is a toxic wasteland, so people have tried to take down her glow with commentary about supposed Ozempic weight loss drug abuse. The RHOBH mainstay has plainly and repeatedly denied that, though. She's just working really hard in the gym and watching what she eats!
Related: Oops! Andy Cohen Accidentally Revealed Kyle's Breast Reduction On TV!
She's also cutting things out of her lifestyle. This week, in fact, we learned new deets about what Mauricio Umansky's wife has not been doing to get such a strong figure: alcohol! She's done drinking booze and seems to be MUCH better off for it!
On Tuesday, the longtime Bravo star took to her Instagram Stories to reveal some of her fitness tips. She held an informal Q&A session with her followers on the app and responded to a bunch of asks. One reality TV fan asked the Bravolebrity about her recent fitness gains, and Kyle explained she's been on a now-seven-month-long break from booze!
She revealed:
"NO alcohol, bread, pasta, sugar. I eat protein, fruit and vegetables. Now that I am the weight I want to be, I will have the occasional small amount of pasta etc once in a while. But no alcohol since July 15."
Since July 15?! That's no joke! And quite the commitment!
When another fan asked if she missed having those liquid spirits in her life, she replied in a since-expired Stories post:
"Truth is I don't miss it at all. I didn't put a time frame on when or if I [will start to drink again]."
Wow!
Good for her. Nothing wrong with a little alcohol every now and then if it's something you can handle — and nothing wrong with scrapping it and going for a healthier existence, too. Sounds like Kyle has found a good groove!
Then, when another fan asked whether she would start drinking again soon, the Beverly Hills resident balked at the thought:
"I feel amazing so don't see the point right now."
Of course, as RHOBH fans know, Kyle was notorious for downing a margarita or two while taking in the show's ever-present drama. So a third fan asked whether she misses those margs on her recent sobriety journey. But it sounds like Richards doesn't really feel like she's missing out:
"So far, no."
And yet all this doesn't mean she's going to be sober forever.
In a follow-up IG Stories post, another fan asked whether the UTA-repped star would resume drinking again the next time she needs to film a full season of RHOBH. While Kylie explained she doesn't "plan on it," she did deliver a crack about how a little alcohol could still make its way into the mix:
"I don't plan on it. With that said, some of these women have been known to drive someone to drink."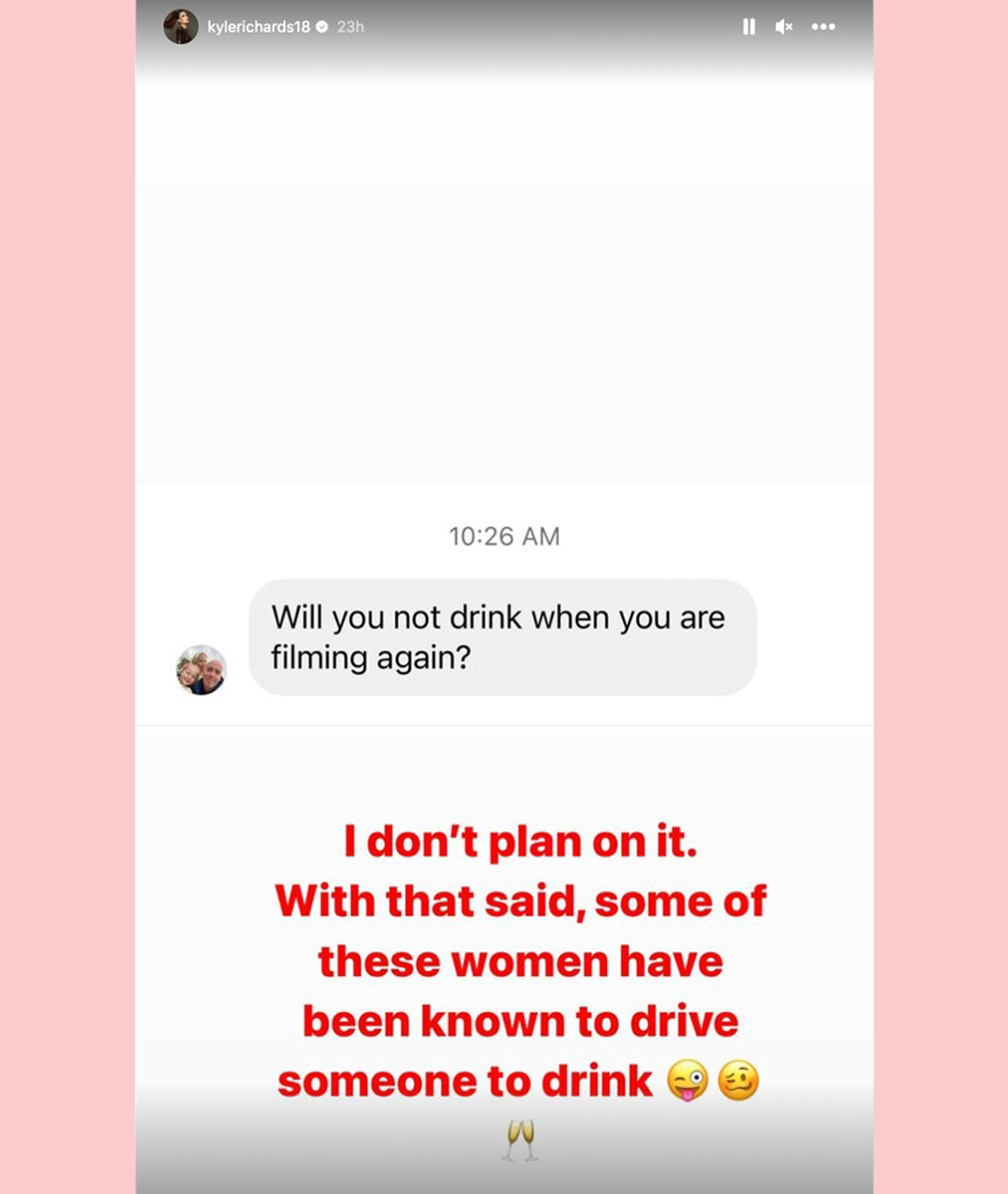 LOLz!!
She's definitely not wrong about that…
Of course, Richards has also been the target of a lot of social media accusations lately. Fans have claimed she's on Ozempic and doing other shady s**t to get the body she has, but Kyle continues to say that isn't true. You might recall this convo she had with ExtraTV late last week, when she slammed online critics who don't understand the work she puts in:
"People that know me know that I'm up every day at like 5:30 a.m., 6:00 a.m. at the latest … I'm in the gym for two hours. I really put a lot of effort into my diet and exercise and taking care of myself, so when people like to think I took the easy way out, it's frustrating. Sometimes I turn my cheek the other way and ignore it, but I work really hard and it really bothers me, and I would like to be able to be an inspiration to people. So don't think I took the easy way out."
Strong words! From a strong woman!
What do U make of Kyle's alcohol abstinence, Perezcious readers?? Surprised by it or nah?!
Share your takes on this ripped reality star down in the comments (below)…
[Image via Kyle Richards/Instagram]
Related Posts
CLICK HERE TO COMMENT
Feb 10, 2023 10:20am PDT