Don't come for Kyle Richards!!
The Real Housewives of Beverly Hills star is clapping back against accusations that she's been taking a weight loss drug to help slim down her incredibly toned and tight figure. And even though Instagram commenters may have nothing nice to say about the reality TV veteran's look at 54 years old, she's not gonna take it from them! This time, Kyle claps back!
Related: Oprah Winfrey Shows Off Impressive Weight Loss And New Fitness Regimen!
So, this all started on Monday. That morning, the Bravo-lebrity took to her IG Stories with a new selfie. In it, the longtime television personality showed off her stunning figure. She rocked a tiny black bikini in the jaw-dropping selfie shot in a full-length mirror, which appears to have been taken in a closet.
As you can see (below), the 54-year-old RHOBH star still VERY much has it: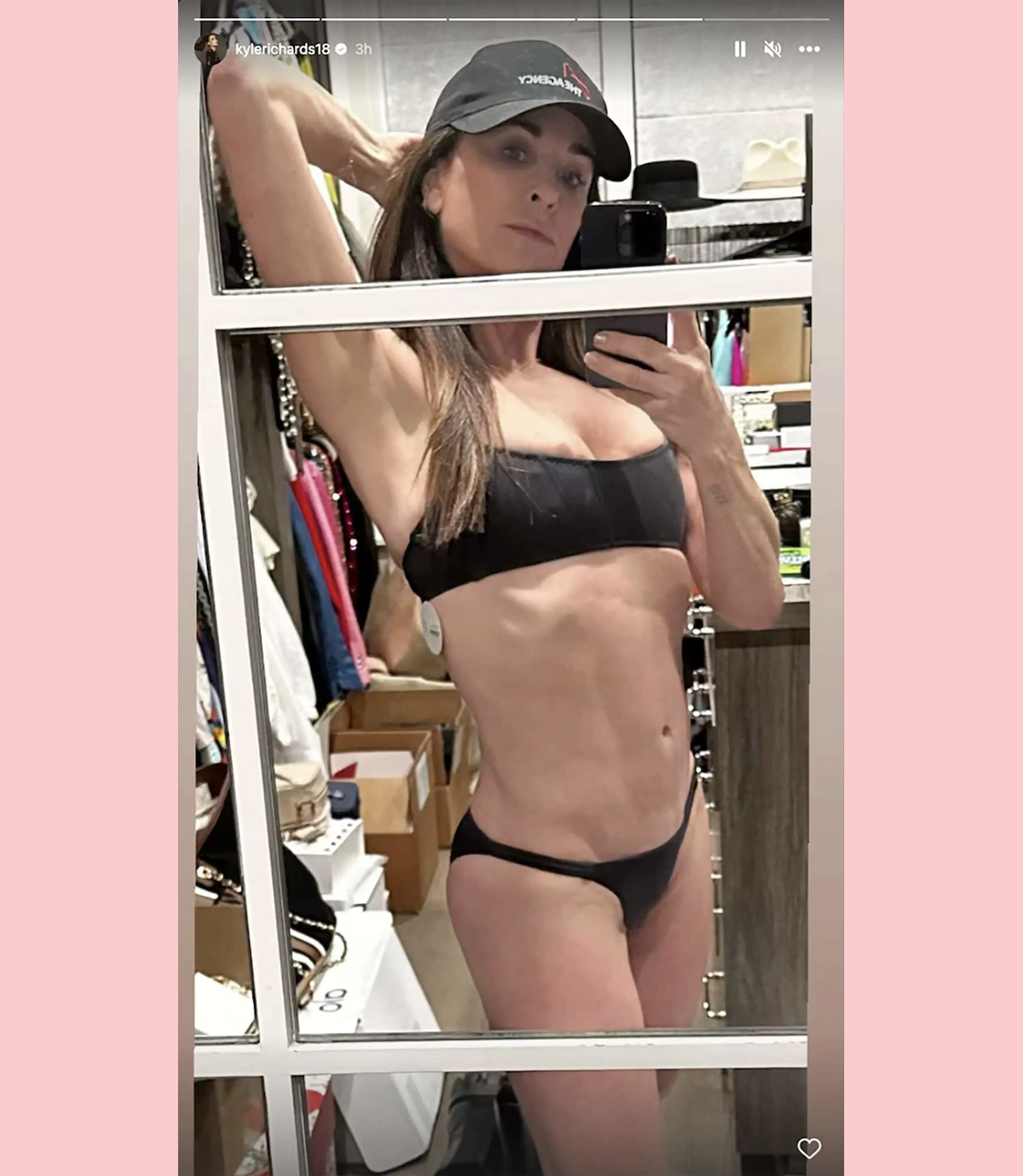 Damn!!!
But commenters aren't so sure about that — to say the least. When Page Six teased Kyle's stunning mirror selfie in a post on their Instagram account, social media users got on Richards' case with accusations about supposed diet drugs. Wut?!
Related: Emily Ratajkowski Weighed Just 100 Pounds After 'Trauma'-Induced Weight Loss
Citing the diabetes-turned-weight-loss drug Ozempic as the alleged culprit, hundreds of commenters took to the news outlet's Monday evening IG post to weigh in on what they thought was really going on with Mauricio Umansky's wife. As you can see (below), they were very, VERY harsh in their unfounded accusations towards Kyle:
"I think it's many visits to the plastic surgeon."

"I swear everyone in this damn city is on Ozempic. Side effects of that s**t cannnottttttttt be good long term"

"Health kick? Ozempic"

"One word: ozempic"

"I don't understand how a person without diabetes could even get a prescription. A person dieting isn't going to eat a lot of carbs and then to take Ozempic and risk low sugar is very dangerous."

"Nobody believes u Kyle"

"More like hit the ozempic!"

"You're so beautiful, Kyle. You don't need any more nips or tucks. When everyone can notice you've had plastic surgery, it's enough."

"Stop with ozempic! Let those that actually need the drug for health reasons have it"
Yikes…!
People can be so cruel!! As you can see, it quickly got out of hand in the comments. In fact, it got so bad that the longtime TV personality couldn't help but respond personally to some followers!
By late Monday night, Richards jumped into the Page Six Instagram comment section (HERE) to dish out her own take on her rock-hard figure. In a pair of comments, she first referenced a breast reduction she had in May of last year. She cited it as the source of her changing figure. In that response, she also shaded one particularly cruel commenter:
"I have never tried ozempic and this is not from plastic surgery. I did have a breast reduction in May. I'm honest about what I do. But if giving plastic surgery the credit makes you feel better then pop off sister"
Then, she straight-up denied taking Ozempic in a second comment, adding:
"I am NOT taking Ozempic. Never have."
You can see the reality TV star's reactions to Monday night's IG allegations (below):

So there!!
What do U make of Kyle's claims, Perezcious readers??
Are you on her side against these social media trolls?!
Sound OFF with your thoughts on everything down in the comments (below)…
Related Posts
CLICK HERE TO COMMENT
Jan 17, 2023 08:31am PDT