Here we go again???
For those who don't know, news came out earlier this year that Travis Scott and Kylie Jenner broke up once again. A source shared with Entertainment Tonight at the time that the 25-year-old makeup mogul and the 31-year-old rapper ended their relationship because of their lifestyle differences, explaining:
"Kylie and Travis live different lifestyles and that's been a big issue. With two kids, Kylie doesn't go out too much. Travis on the other hand lives a life of late nights in the studio and going out with friends. The two love and respect each other and will continue to co-parent."
Related: Jordyn Woods & Pia Mia Show Support For Selena Gomez Amid Feud With Kylie!
While the couple has been "known to be on again off again" over the years, things seemed different this time around. An insider for Us Weekly previously claimed that Kylie was done with her romance with the Goosebumps artist once and for all, saying:
"[Kylie] has no idea what the future holds, but right now she doesn't see any type of a reconciliation. At the end of the day, the only thing that matters to Kylie is what's best for her kids, period. She knows Travis is an amazing father and that's the only thing that she cares about."
However, the source noted that her friends "aren't so convinced" and "wouldn't be surprised at all if they got back together again at some point." Well, we guess her pals were possibly right! Because Travis – who rarely posts anything on social media – took to the comments section of a Kylie Cosmetics post featuring pictures of his baby momma in a black skin-tight and off-the-shoulder gown and left a flirty compliment. He simply wrote on Saturday:
"A beauty."
Ch-ch-check out the post (below):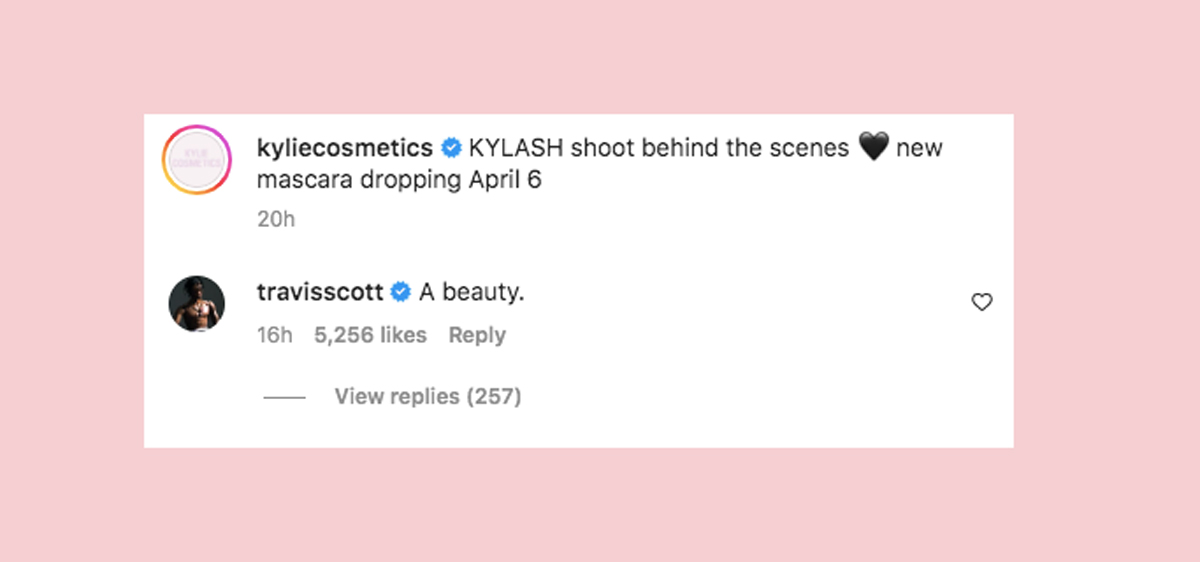 As we mentioned before, Kylie and Travis broke up a couple of months ago – so fans' immediately raised their eyebrows at the comment. In fact, many people took this as a sign that they are either back together – or they never went their separate ways in the first place! See some of the reactions (below):
"@travisscott THEY DIDNT BREAK UP LETS GOOOOO."

"they didn't break uuuuuup."

"@travisscott and here we go again"

"@travisscott DIDN'T Y'ALL BREAK UP?"

"@travisscott BACK W HERRRRRR"

"Tell me they're fine."

"stoppppppp, i miss you guys."

"You and Kylie are best couple please be together forever."
Obvi, the comment from Travis could have been nothing more than a simple compliment to the mother of his kids. But considering these two are notorious for breaking up and getting back together, we would not be surprised if their way of hinting to everyone they're back on. Or perhaps shutting down the breakup reports?
Of course, neither of them have clarified the status of their relationship at this time. But what do YOU think, Perezcious readers? Do you think Kylie and Travis are together now? Or do you think this was just a nice comment and nothing more? Drop your reactions in the comments below.
[Image via MEGA/WENN, The Tonight Show Starring Jimmy Fallon/YouTube]
Related Posts
CLICK HERE TO COMMENT
Apr 02, 2023 11:17am PDT