Love Is Blind exes Natalie Lee and Shayne Jansen are back to battling it out!
Just last week, Netflix announced the cast for a brand new reality dating series, something called Perfect Match. Surprisingly, it stars many fan favorites from several of their unscripted series. (Man, they've only been in the reality dating game for a couple years, and they're already recycling?) Anyway, among the pack was Love Is Blind's Shayne, who infamously got engaged to Natalie in the second season — but broke things off ahead of their wedding. During the reunion special, the pair revealed they reconciled briefly but ultimately went their separate ways.
Well, well, well. It turns out that reconciliation was ill-timed. They weren't done dating when Shayne started casting for Perfect Match — which is definitely sus!
Related: Zanab Reveals The 'Forever Love' She Found In Pods After Cole Split!
BTW, if you haven't seen the trailer for the new show, coming to the streamer on Valentine's Day, check it out (below)!
As to be expected, the cast announcement went viral across social media, quickly catching the attention of a certain (and very salty) someone. Yup, we're talking about Natalie! The Chicago native took to TikTok on Friday to accuse her ex of joining the case of a dating show while he was supposed to be dating her! Responding to a fan who was wondering if she'd be tuning in for the new series, she wrote:
"He was casting for the show in November 2021 while we were in a relationship (obviously behind my back) so HELL YES I WILL BE WATCHING lol."
Yikes! A pretty harsh claim to be throwing around… especially since it might not be true.
Wait, what?!
Shayne clapped back at the allegation via his Instagram Story over the weekend, and while he didn't call out Natalie by name (initially, at least), it was pretty clear who he was talking about! He dished:
"Obviously with the new show coming out I figured 'someone' would try to once again destroy my character for personal gain."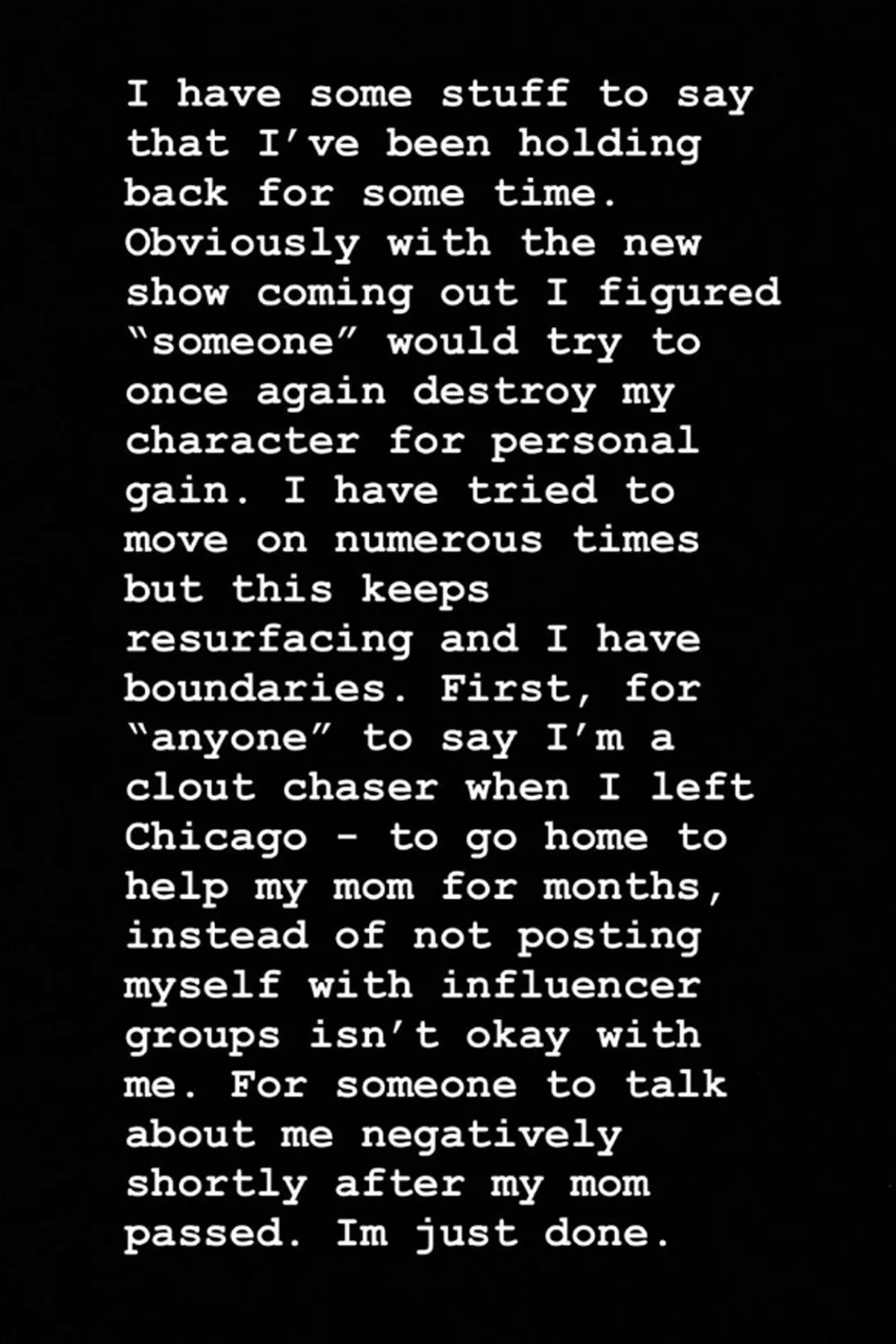 But then things got REALLY juicy when he uploaded a screenshot of a text message exchange with Natalie in which she was seemingly encouraging him to go on Perfect Match — despite everything she is now claiming. She wrote in the texts:
"I really want you to enjoy life because this show for you is a once in a lifetime opportunity and it will help with your future goals. So don't give up on it because of me or LIB."
Wowza. So, she's straight-up lying now?? Or is his message out of context??
Related: Why Jen Shah Refused Interview With Ex-Boss Andy Cohen!
Natalie then replied to Shayne in her own IG Story. She claimed she and Shayne were both asked about casting for Perfect Match in September 2021 (when nobody knew they were together at the time). Apparently, this is when Shayne's alleged lies started, she claims:
"We told each other we declined the opportunity, but I later found out he actually didn't decline and started the casting process in November 2021 without my knowledge at the time, while we were still together. We broke up and cut contact with each other some time that November."
As for why she was being so kind to Shayne in the texts, she explained that he supposedly still had feelings for her while filming Perfect Match and wanted to leave, but she thought he should stay until the end since she felt there was "little hope" for their romance in the future. Her statement continued:
"While Shayne was filming the new show in February 2022, he texted me numerous times he wanted to leave midway through filming because he still had feelings for me after we saw each other for the first time since our breakup at the reunion show taping. He also asked for my support as he struggled through the online hate. Knowing there was little hope for our relationship and how excited he was to do another reality tv show, I encouraged him to continue filming and tried to pacify the online backlash for him through my interviews and on my social media."
OK, we're not saying we don't believe her. But if all this is true… then why is she acting like she's mad now??? You can read her full explanation (below).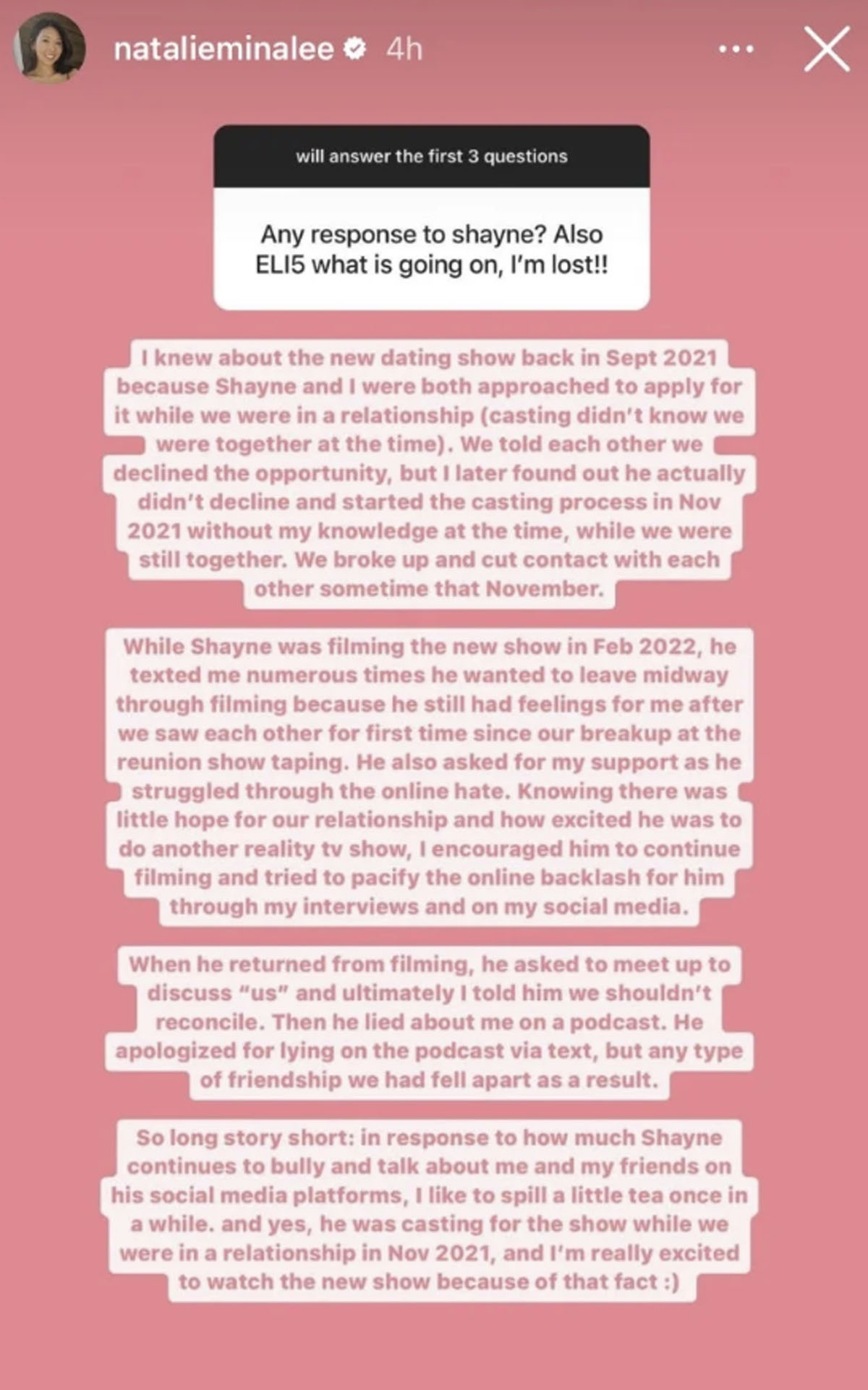 Honestly, this doesn't really help her case. Obviously, it's not fun to find out your ex-boyfriend was joining a reality show behind your back, but the fact that she didn't pull him from the show when she had the chance kinda raises some red flags. She clearly wasn't very angry then, so… is she just trying to get attention now?? Or is this all viral promo for Netflix's new show..?
What do YOU think, Perezcious readers? Does Natalie have a right to be so mad?? Sound OFF (below)!
[Image via Netflix/YouTube & Natalie Lee/Instagram]
Related Posts
CLICK HERE TO COMMENT
Jan 23, 2023 10:41am PDT