Mandy Moore Opens Up About 'Unhealthy Dynamic' With Ryan Adams Amid Ongoing Sexual Misconduct Scandal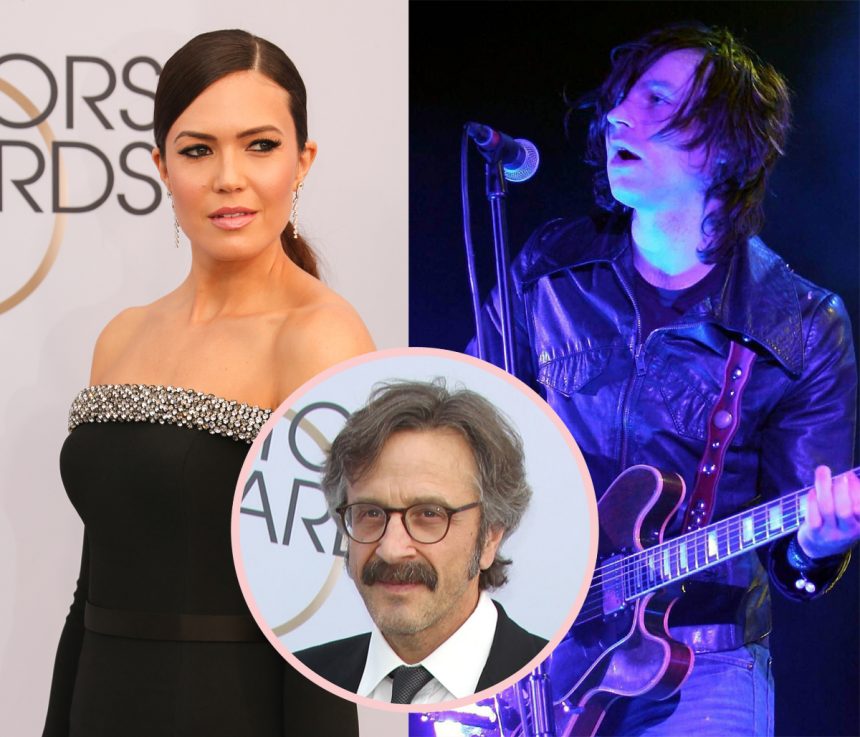 Mandy Moore is getting real!
The This Is Us star went on the WTF Podcast with host Marc Maron for a long interview that was published on Monday, and she opened up about a couple important and serious things going on around her life — including her former relationship with Ryan Adams.
Related: FBI Now Investigating Ryan Adams' Alleged Conduct…
As you'll remember, Moore's ex is catching MAJOR heat right now over alleged sexual misconduct and other reportedly inappropriate behavior with underage girls.
The 34-year-old herself has been involved in discussing the aftermath already — but here, she really opened up. Speaking about the singer, and how she knew she had to get out of their marriage, the actress revealed to Maron:
"I was living my life for him. It [was] an entirely unhealthy dynamic. I had no sense of self. I felt like I was drowning. It was so untenable, and unsustainable. I was lonely with him. And I just knew this was not the rest of my life. I knew this was not the person I was supposed to be with, I knew this was not the person I was supposed to be … [The end] was a lot of endless conversations. Conversations in a loop, crying, all of that, for months and months and months, and months and months, even after filing for divorce."
And more:
"I couldn't get traction on anything with Ryan. I was like, 'all I want is to be able to do a television show, hopefully here in Los Angeles. Have a nice job, I can come home every night, my husband is here…' And I desperately wanted a family. But I think I just innately knew, like, let's wait for things to settle down and find some even ground before we venture into that. And now I'm just glad, like everyone said, that we didn't have children because now I'd have been forever tied to that person. And I don't want to be. At all. So now it's a fresh slate."
She also opened up about an event from her childhood that had a major impact on her life, too — when her mother left her father for another woman.
Related: Look At Mandy's Turn On Our Best-Dressed List!
Mandy expanded upon it a bit while explaining a career slow-down in the early 2010s:
"My parents were getting divorced. [I was] 23. It was really dramatic and traumatic for me … I ended up finding a letter from her that was like a therapy exercise, it was a letter she wasn't intending to send to us. On her computer. I had bought her a laptop, and I was setting up her laptop for her for Christmas, and I saw this letter in her 'drafts' folder. And I didn't know what to do, so I confronted her after the holidays and told her I had read it. It was really dramatic… I told my younger brother."
And more:
"We were on vacation in North Carolina. Like, family vacation. And I found this information, sitting in the same room as my parents … I ran upstairs. My brother followed me, because he could sense that something was wrong, and I told him what was going on. They [mom and dad] were literally sitting across on the other couch, watching TV in front of us … My dad knew. That was sort of what was indicated in the letter. He knew, and they were trying to figure out the terms and what that would look like. But I was ready to go down and confront them, and my brother, thank goodness, he was like 'I really don't think that's the best way to handle this.' … He's a sensitive, thoughtful guy, and that was the right move. We went through the rest of the family vacation. And then after the vacation is when I confronted my mom."
Wow.
The whole episode — about 90 minutes in length — is really fascinating to hear. You can listen to it in full HERE.
What do U think, Perezcious readers?!
Share your thoughts in the comments (below)…
[Image via WENN.]
Feb 18, 2019 2:19pm PDT