Eating for two.
Rihanna is giving us a candid look at her pregnancy cravings — and her growing baby bump! Late Tuesday evening, the Shut Up and Drive singer shared a few snaps on her Instagram Story of what she was digging into, and boy does it all look good! She captioned the first pic, which showed off an exquisitely-plated dish of spaghetti, with a delicious dusting of parmesan cheese sprinkled on top, "Drive-tru" — possibly implying she had found a place that offers Italian cuisine on the go! More realistically, though, it was a sit-down restaurant that accommodated the momma, because who wouldn't do that for Rihanna?? Maybe it was her fave — Giorgio Baldi!!
Related: Daniel Radcliffe & Longtime GF Are Expecting Their First Child!
She followed up the first snap with a second shot of another pasta meal, including in the frame a view of her budding baby bump and an emoji of a mother feeding her baby a bottle. See (below):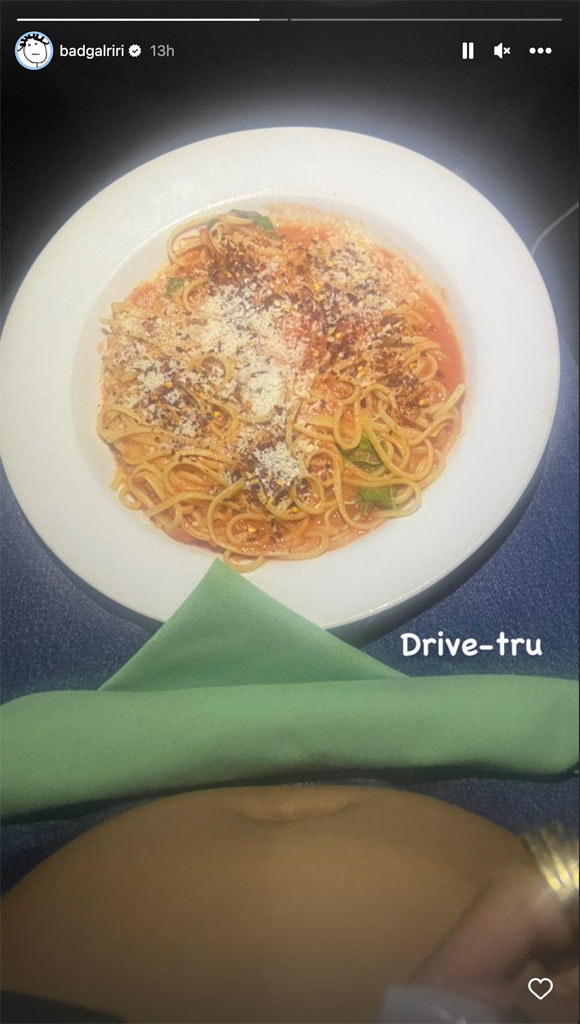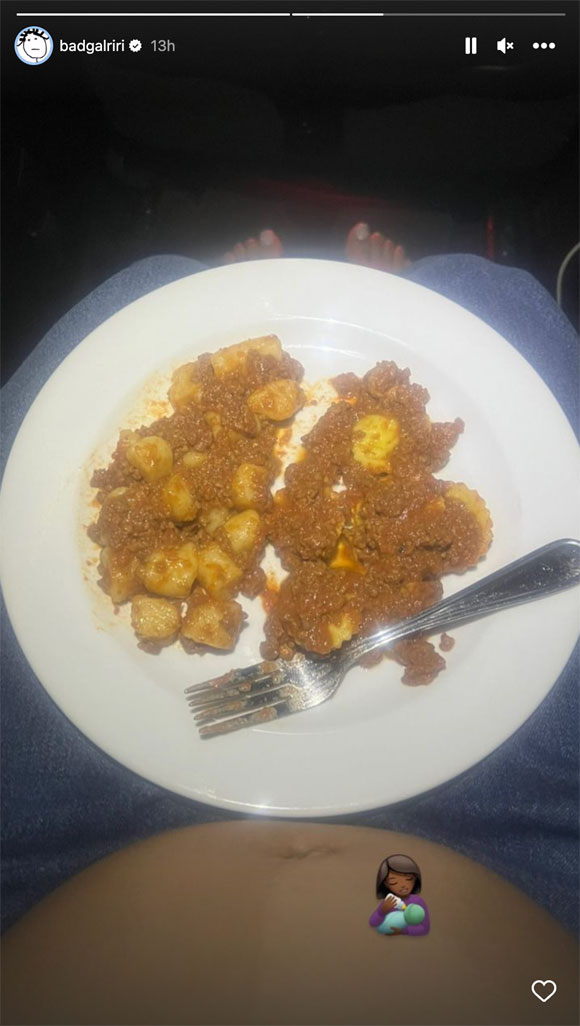 Spaghetti on the brain!
This is one of the best looks we've had yet of the Lift Me Up singer's growing belly this time around, after she first revealed the news of her second pregnancy at the Super Bowl last month — where she stole the spotlight during her iconic Halftime Show! If you remember, at the time, fans weren't quite sure whether or not the Oscar-nominated singer was indeed expecting again — but it eventually became undeniable after she kept not-so-subtly rubbing her belly. Soon after, a source close to the Diamonds singer revealed to Entertainment Tonight just why she used the performance as a way to announce her news:
"She knows it was a performance to remember and that is what she wanted. She loves that the performance also acted as such an exciting announcement for her and her family. Rihanna wanted to display a message of empowerment and to show that you can balance it all and make your dreams come true. She feels so confident and appreciative in this moment."
The Desperado singer's bebe, which is due later this year, will be her second with rapper A$AP Rocky. The two welcomed their first son in May 2022. While they have yet to reveal his name, the loving mother just can't resist gushing about her baby boy every chance she gets! Earlier this month, she shared a few glimpses of him watching her music videos on IG ahead of her Academy Awards performance, joking that he was jealous "his sibling is going to the Oscars and not him."
LOLz!
Related: Rihanna Claps Back At Fans Who Called Her Out For Referring To Her Son As 'Fine'
We're so happy for RiRi! We just know she's a great momma. What do YOU think of her pregnancy cravings, Perezcious readers? Let us know in the comments down below!
[Image via MEGA/WENN]
Related Posts
CLICK HERE TO COMMENT
Mar 29, 2023 12:06pm PDT