Rihanna is not taking fan criticism quietly!
The 34-year-old singer was the subject of a photoshoot for this month's issues of British Vogue. Her 9-month-old baby boy that she shares with boyfriend A$AP Rocky joined the shoot, too. And on Wednesday, RiRi took to Instagram to celebrate the boy and their amazing family shots! No matter WHAT fans had to say!!
Related: Rihanna Guarantees That She IS Releasing An Album This Year!!!
In her IG post celebrating the fun pic spread, the Umbrella singer wrote this caption about her "fine" 9-month-old son — and also mentioned the surprise child she is currently carrying in her belly, too:
"my son so fine! Idc idc idc! How crazy both of my babies were in these photos and mommy had no clue"
So sweet!
And so fun for that proud momma, right? Fine, indeed!!
Related: This Was The REAL Meaning Behind Rihanna's Super Bowl Halftime Look!
But because this is the internet, nothing can just be without burning through as some super-controversial s**t show too! LOLz!
Down in the comments of the Barbadian beauty's IG update, fans absolutely SLAMMED the star for her remark about how her infant son is "fine." You can see the hotly-contested debate over that four-letter word down (below):
"Is it just me or is it weird to describe a child as 'fine'"

"If you think she means this in any other way than innocent, then that sounds like a you problem tbh"

"I love Rih… but imagine a father calling his baby girl 'fine'?! Weird AF"

"this is … a little dark lol"

"Calling your baby fine is high key sick I don't get it"

"This is a tad bit….creepy"

"That caption is really problematic. I wish you were better"

"Please dont be calling babies 'fine'… idgaf if its your own"

"Riri FINE ISN'T THE RIGHT WORD FOR A BABY"

"fine???? that's a weird thing to call your child"
Jeez!!!
Lighten up, y'all. Seriously…
The comments got SO intense, in fact, that Rihanna couldn't take it anymore. One person wrote this (below):
"Who calls a baby fine?"
And Rihanna herself clapped back with THREE exclamation points:
"His mother!!!"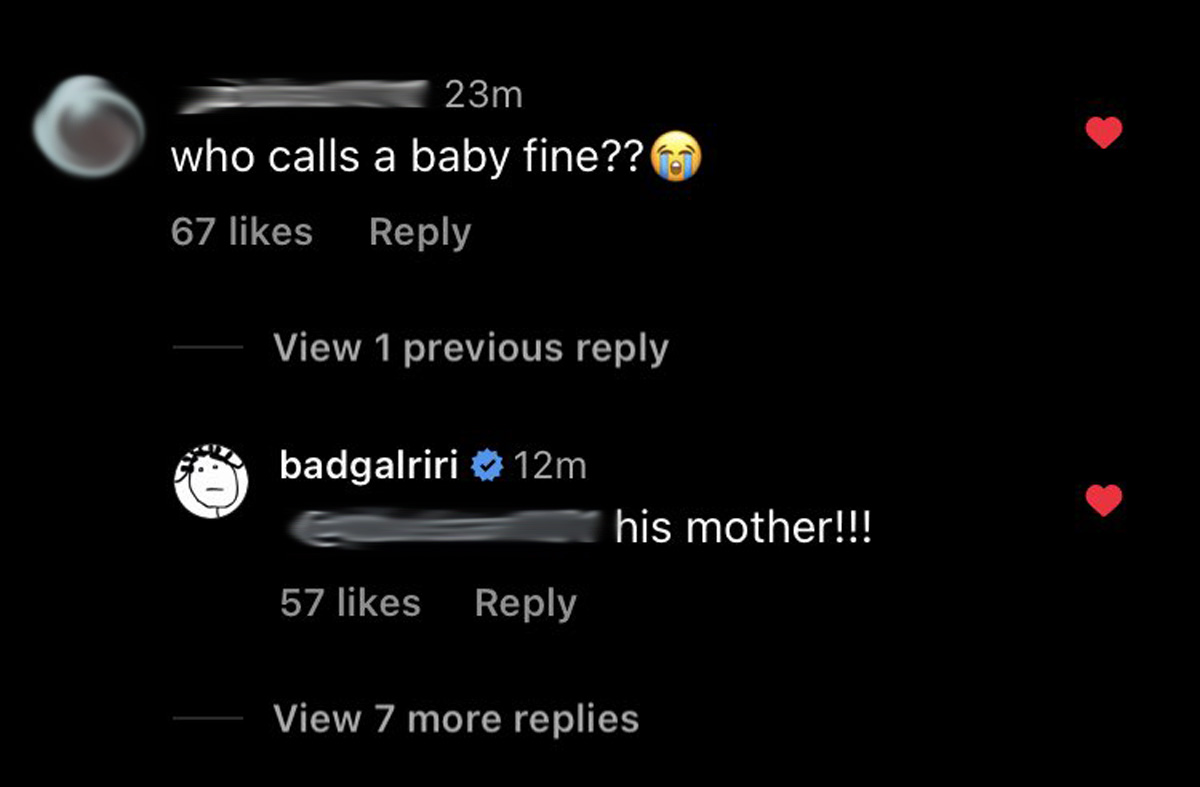 Yikes!
Another fan shared their dissatisfaction with a second comment about the performer's choice of words:
"Fine!? more like cute, adorable.. he's not a grown man.. lol"
To which the proud momma retorted with yet another spicy one-liner:
"You just keep your lil cougar paws away from him and we good!"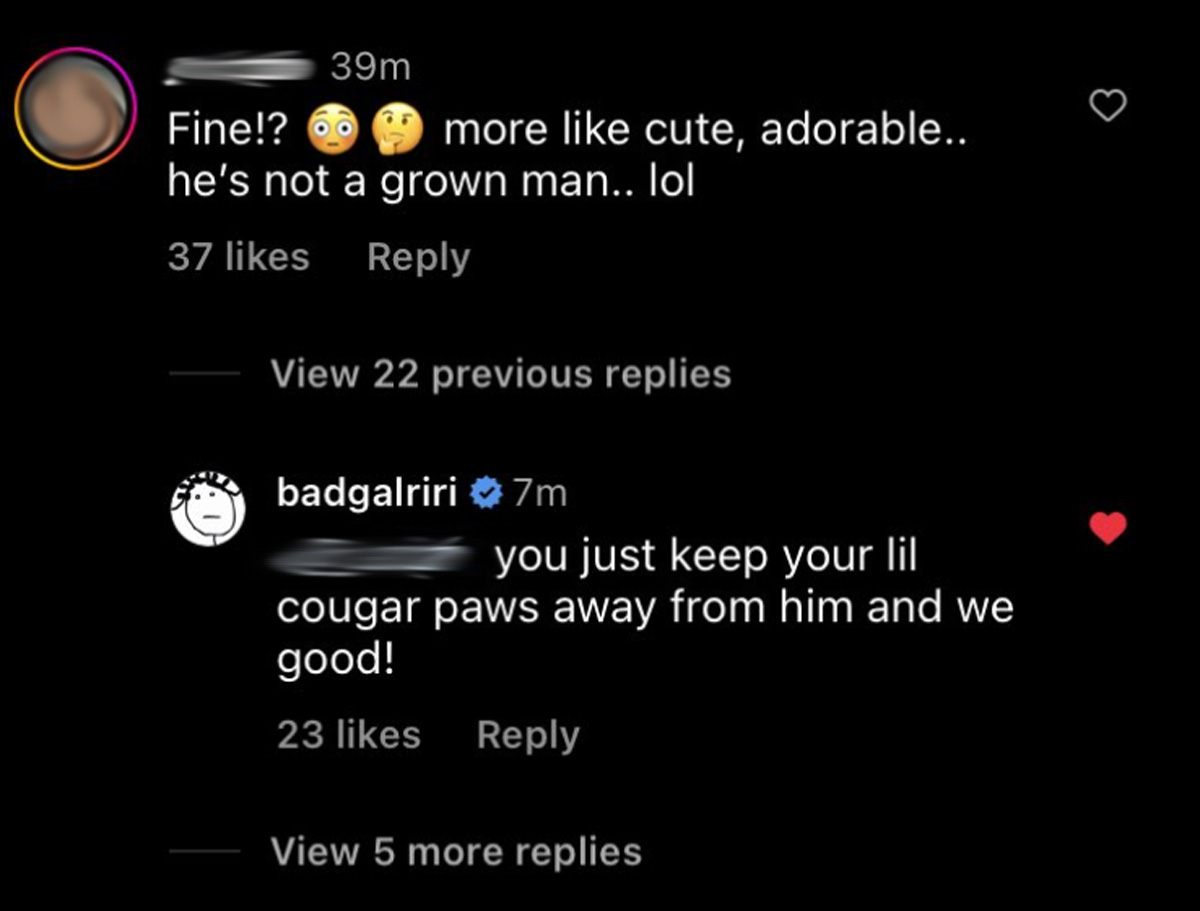 And a third fan found Rihanna's wrath after writing this:
"riri ik u did not just say 'fine'…"
As you can see (below), the Diamonds singer needed just two letters to clap back and win this round: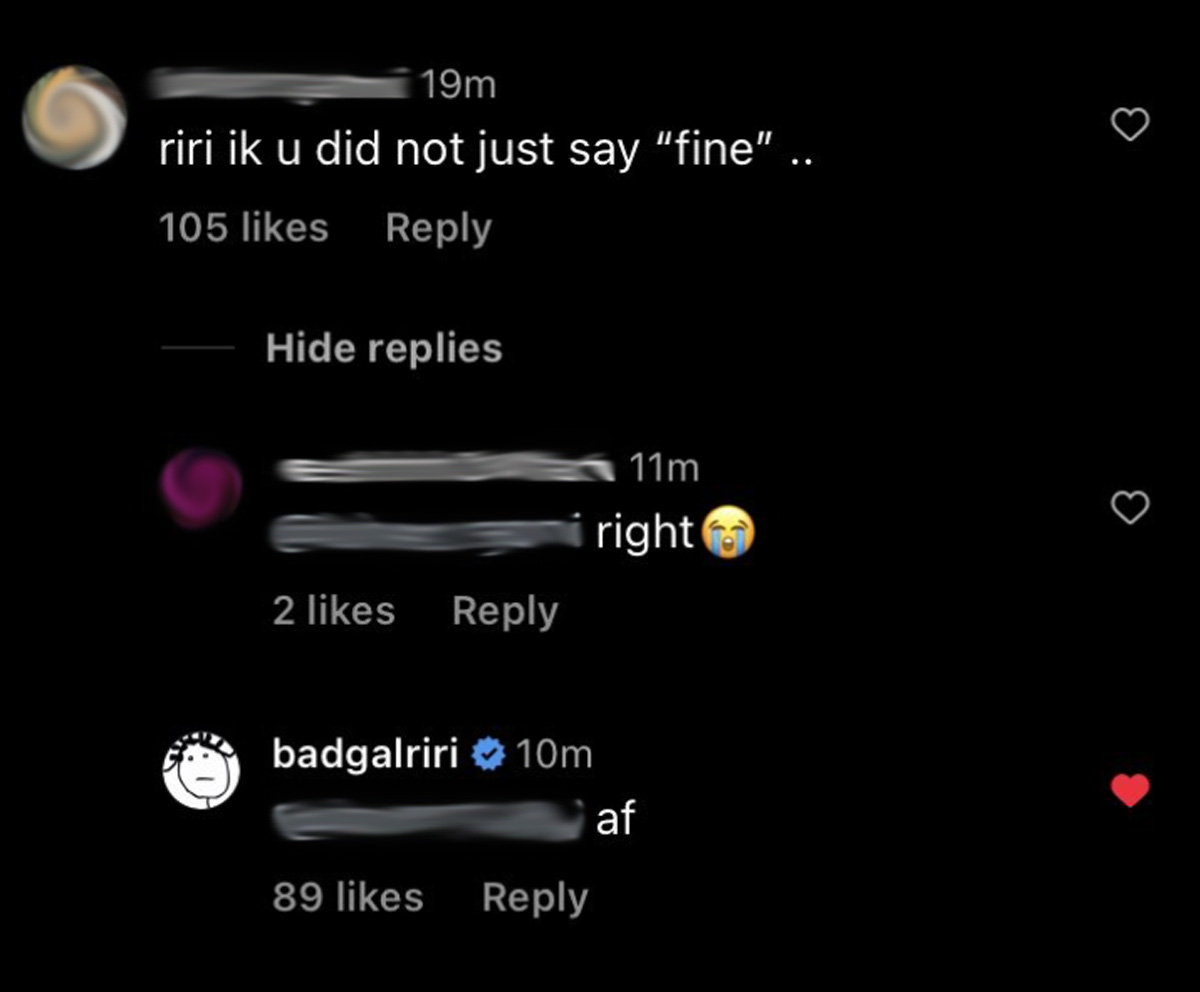 So there you have it, y'all!
Clearly, Rihanna is still riding high after her stellar Super Bowl halftime show performance. And she does NOT want to be dragged down by the dismissive takes of the online masses. TBH, we can't blame her for that!
Related: Kim Kardashian And North West Pay Tribute To Rihanna In New TikTok!
What about U, though?! Are y'all offended about RiRi's choice to refer to her son as "fine"?? Or is it no big deal?
Sound OFF with your take on everything down in the comments (below)!!
WENN
Related Posts
CLICK HERE TO COMMENT
Feb 17, 2023 07:51am PDT