HBD, Sandra Bullock!
The Miss Congeniality star celebrated her 56th birthday on Sunday with some A-lister friends by her side, all while practicing social distancing and wearing masks.
Related: Sandra's Daughter Laila Thanks A Nurse Fighting On COVID-19 Frontlines
Jennifer Aniston was one of five in attendance at the intimate gathering, and shared a pic of the small outdoor celebration to her Instagram Story, featuring all guests in masks. The Friends star captioned her picture:
"Celebrating our girl properly distanced with so much love. HAPPY BIRTHDAY SANDY WE LOVE YOU!!!"
We love to see it!!
Front and center was the birthday girl who snapped the group selfie, joined by Jen, Sarah Paulson, Holland Taylor, and an unidentified brunette woman. Take a look at the cute photo (below):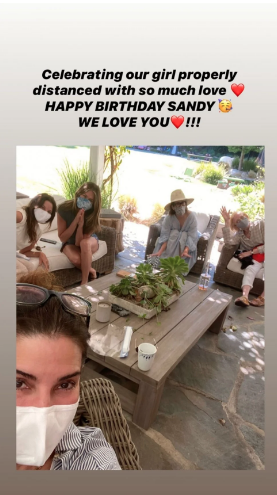 Compared to some of the other celebrity gatherings we've seen over the past few months, we're definitely impressed by this group. Good job, ladies!!
Related: Meghan Markle Reportedly Planning A Birthday Getaway Amid Coronavirus
We know Miz Aniston is passionate about mask-wearing, especially because coronavirus hit very close to home for her after a close friend was diagnosed. Along with a snap of herself and on-screen turned off-screen bestie Courteney Cox wearing masks together and a second of a man in a hospital bed, Jen recently wrote on Insta:
"This is our friend Kevin. Perfectly healthy, not one underlying health issue. This is Covid. This is real. We can't be so naive to think we can outrun this…if we want this to end, and we do, right? The one step we can take is PLEASE #wearadamnmask."
Yes!! Just because things are opened up doesn't mean we shouldn't be taking precautions, even if some influencers and celebs are throwing caution to the wind. Don't forget that we've heard this same story so many times since March: people with or without underlying health conditions are still susceptible to contracting the virus, which can lead to lingering symptoms or even death.
Aniston added:
"Just think about those who've already suffered through this horrible virus. Do it for your family. And most of all yourself. Covid affects all ages. PS this photo was taken in early April (he gave me permission to post!). Thank god he has almost recovered now. Thank you all for your prayers ??❤️ "
We hope you had a great birthday, Sandy!!
[Image via WENN/Instar & WENN/Avalon & Adriana M. Barraza/WENN.]
Related Posts
CLICK HERE TO COMMENT
Jul 27, 2020 13:00pm PDT