Tom Sandoval is going to find a way to justify all his shady decisions, isn't he??
On Monday, People obtained a new sneak peek of Vanderpump Rules' upcoming episode. In an already-released preview, Raquel Leviss was put on blast for showing up to work late after spending the night at the bar owner's home while his then-girlfriend Ariana Madix was away attending her grandmother's funeral.
Related: Ariana's Reaction To White House Correspondents' Dinner Joke!
Now, in a new part of the episode, the TomTom co-owner tries to justify why he initially lied about the 28-year-old spending the night at his pad. In a confessional, he set the scene, saying:
"After Beach Day, [Tom] Schwartz, Raquel and I all took a car back to my house, jumped into the jacuzzi, hung out, had some drinks, listened to music. We went in the jacuzzi."
While chatting with Ariana, Scheana Shay, Schwartz, Brock Davies, and Sandoval, the SUR waitress then dished:
"We went in the jacuzzi after hanging out."
Ariana wasn't disturbed by that, responding:
"Yeah, which is something we always do."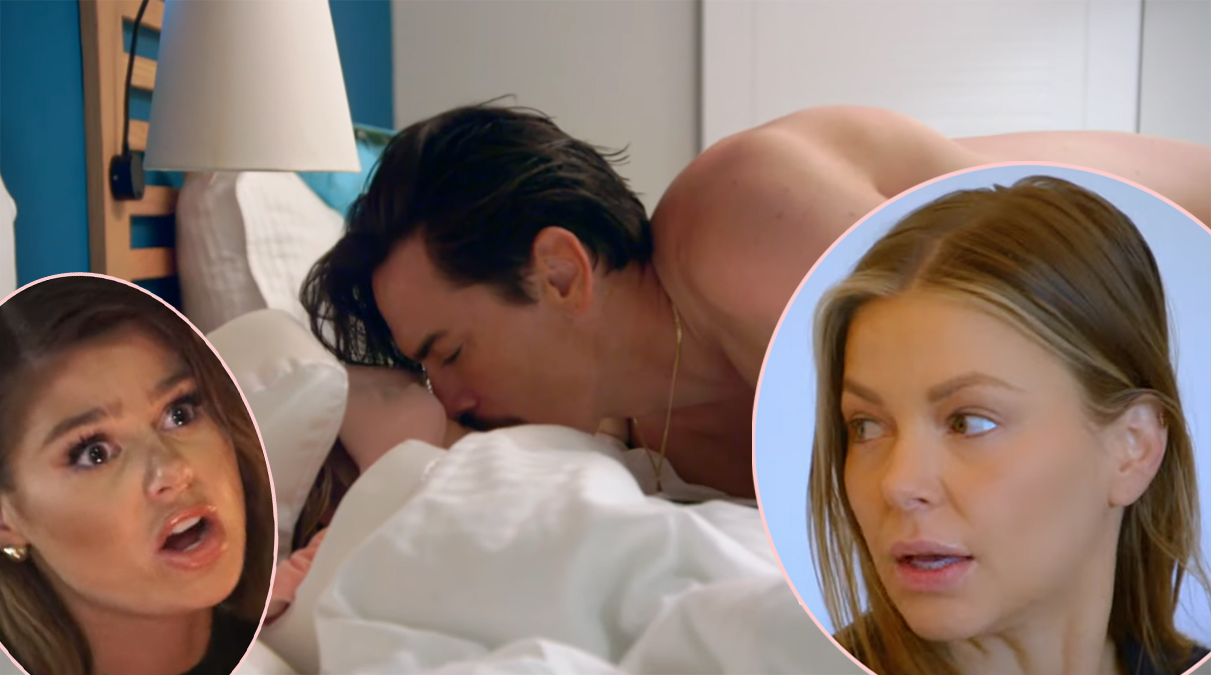 Finally, Raquel dropped the bomb, confessing:
"And then I stayed the night and I slept on the couch."
Tom then cut in, adding:
"I was like, 'Dude, go upstairs, go to the f**king guest room.'"
The guest room. Sure…

Related: Kim Shades Kendall In Kardashians Trailer With This Super-Subtle Reference!
Scheana, having heard a different rendition of this same story, then called them out for lying, saying:
"Raq said you guys lied and said she didn't stay the night."
In a flashback, Sandoval, Schwartz, Davies, and Peter Madrigal can be seen sitting around outside discussing the now infamous beach day. Sandoval seemingly tried to claim Raquel didn't spend the night. Speaking to the camera, he explained his reasoning:
"On the heels of, you know, the open relationship rumor and obviously, Schwartz and Raquel making out in Mexico, we just thought maybe it'd be better if everyone didn't know that little detail."
Except it wasn't just one "little detail" — it was the beginning of an affair at this point! Yet he would continue to lie his ass off until March when Ariana caught him red-handed! Doubling down and taking NO accountability, Tom argued while back with the main group:
"I wasn't lying. Like, she did dip out. She went and passed out."
Yet he was way more honest with cameras, adding in the confessional:
"I fully was going to tell Ariana but, like, we should've just told the truth. Like, stupid."
We all know he doesn't really think he should've told her the truth! He was just fine lying for months about Scandoval! Ch-ch-check out the clip (below)!
Oooooh, this Wednesday's episode is going to be a doozy. Reactions, Perezcious readers?
Related Posts
CLICK HERE TO COMMENT
May 01, 2023 10:30am PDT