UPDATE 5/22/23 9:00 A.M. PST: It WAS an ad… for SoFi! Watch (below)!
______________________________________________________________
UPDATE 6:00 P.M. PST: Well, we guess we got trolled!
A few hours after the news of Ariana Madix moving out of the house she shared with Tom Sandoval got shared by just about every entertainment news source on the internet, she finally revealed it was all just… some kind of viral ad??
In a second IG Story video, she told followers:
"I'm moving up, not out. Not yet anyway. It's time to get my financial house in order."
OMG WHAT?! She was filming some kind of commercial or something? She promised to explain more later, but it seems like she's using all the media focus to make that money. Which… we can't exactly blame her, right? She should get something out of all this!
Enough profit and she will be able to move out of the house she shares with her cheating ex-boyfriend!
---
Ariana Madix is finally closing the door on this very long, unsatisfactory chapter of her life. And after she shuts the door, she just has to return her keys…
A couple months ago, the Vanderpump Rules star dumped Tom Sandoval, her boyfriend of nearly a decade, after he was infamously caught cheating with their friend and co-star Raquel Leviss. Unfortunately for Ariana, the decision to leave is a little complicated when you co-own the house you live in together…
Yes, longtime fans will know she and Sandy bought a $2.075 million modern farmhouse in Valley Village together. We mean, she couldn't just walk away — it was her damn house, too! So the exes had to live under the same roof for weeks! The same roof under which the TomTom co-owner was having sex with Raquel behind Ariana's back!
Related: Ariana Reveals She LIED For Sandoval About His 'Miami Girl' Affair!
But it seems like she finally figured it all out because on Monday morning she posted a short video to her Instagram Stories cutely informing fans that she was finally moving out! Posing in front of a stack of moving boxes, she captioned the clip:
"ready to dip out "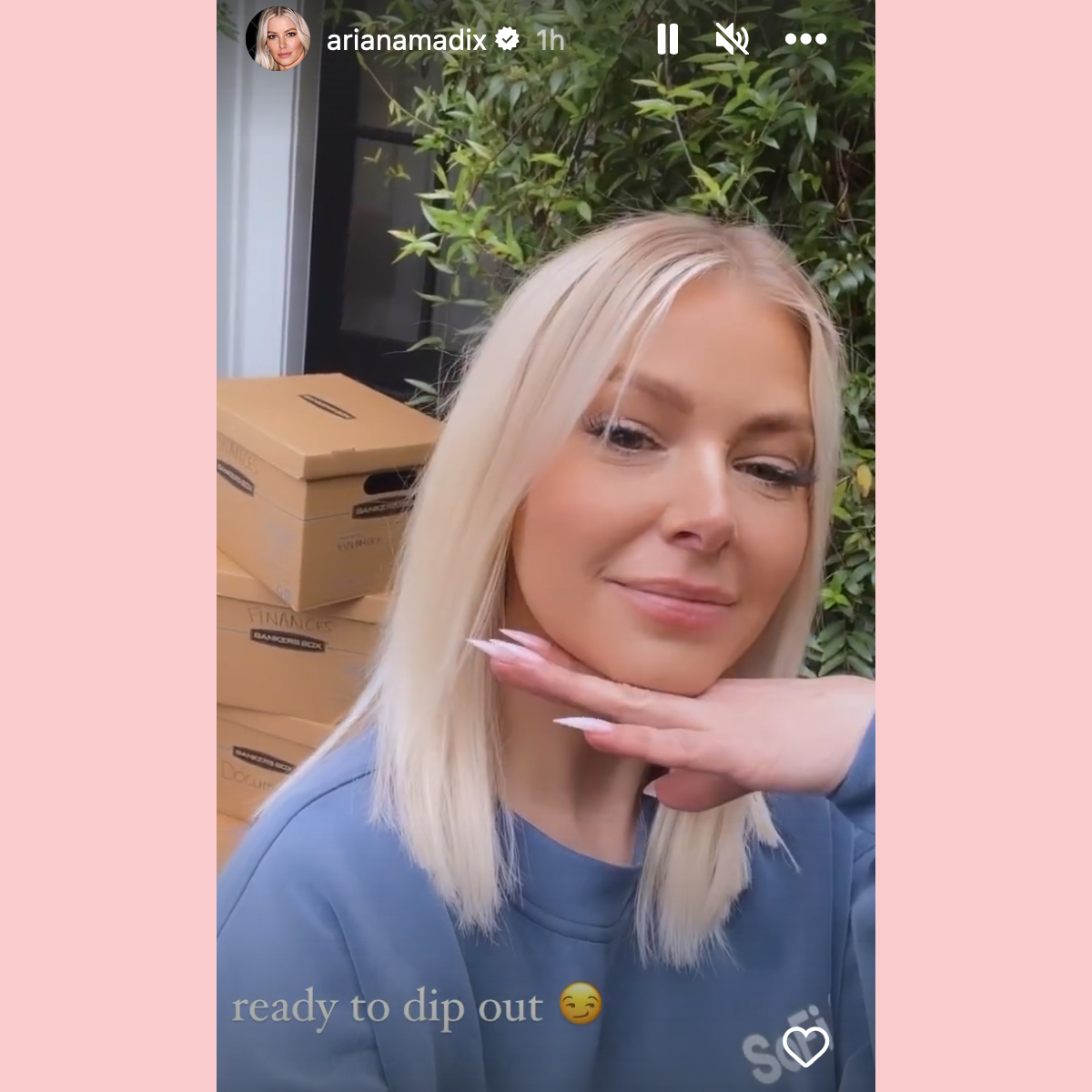 Later on there were pics of her in action, hefting the boxes into a U-Haul rental truck. Ch-ch-check out a couple (below):
Ariana Madix finally moves out of house shared with Tom Sandoval after his affair https://t.co/POiEEsCo7H pic.twitter.com/h36EHZvUTG

— Page Six (@PageSix) May 22, 2023
You may be wondering, where is she going? Is it too early to move in with hunky new boyfriend Daniel Wai? After all, we've heard the couple are — shockingly — already "falling in love" despite the whole thing being basically a rebound.
Well, the thing is, he lives in New York City. And Ariana is a little busy in Los Angeles. Not only does she potentially have the next season of VPR to film — she'll presumably be the face of it now, what with all the good will after this cheating scandal — she also has a brick and mortar business to think of. If you'll recall, the 37-year-old is opening a sandwich shop with Katie Maloney in West Hollywood. It's called Something About Her, and all that good will we mentioned is sure to make it a hit right out of the gate.
Besides, as much as Ariana may be into the fitness trainer, she really needs to stand on her own two feet right now. And in her own square feet. So we'd already guessed she find a comfy place somewhere close to West Hollywood to hang her hat while she figures out the house finances. And it looks like we were right! According to a witness speaking to Page Six, Ariana was seen arriving with the U-Haul at her new home — and it's only 15 minutes away!
We're just happy she's getting out of the digs with Sandoval! That must have been a nightmare! Definitely going to be a complicated road considering Tom leveraged the house to carry on with opening his latest bar. Eek.
[Image via Bravo/YouTube.]
Related Posts
CLICK HERE TO COMMENT
May 22, 2023 12:37pm PDT