Baseball is broken, and the way to fix it is by turning into a dystopian sex game. Or at least that's the take published by the Los Angeles Times on Tuesday.
Following the idea that the MLB needs spicing up to help the ratings — as they consider how to start the season back up during the coronavirus pandemic — the paper reached out to experts on drawing eyeballs: reality TV producers.
We cannot even begin to comment on whether baseball even really needs "fixing"; it seems to be one of those throwback pastimes loved for its tradition and simplicity, whose slow decline in ratings has more to do with the rise of other interests, like soccer and video games.
Video: John Krasinski Surprises Boston Healthcare Workers With Red Sox Star
But we're not here to talk about that. We're hear to talk about Mike Fleiss being disgusting.
As part of the article, entitled "Better baseball on TV: What MLB can learn from Bachelor and Millionaire," the outlet ran one opinion that offended more than just longtime baseball fans. The problematic Bachelor creator's pitch was just a bit outside the batter's box, as he suggested:
"What you do is, each game, you load up the stadium with (the players') wives, at a distance from them and at a distance from each other, so there is no quarantine violation. The winning team gets to have their wives tested, and then essentially a conjugal visit… You can (film) all the girls. They're beautiful. They're in the stands, separated in their own sections or whatever. Those guys are now playing for more than the pride of winning a baseball game. If you go on an eight-game losing streak, that's not good."
Wait, WHUT??
What kind of bread and circuses awfulness is that? Literally turning women into objects to be won? Thrown to the champions? How vile!
At least on his flagship reality shows, there is some effort made at true human connection — which sometimes results in actual relationships based on more than ratings! This? This is the opposite of romance. It's turning sex into some kind of currency.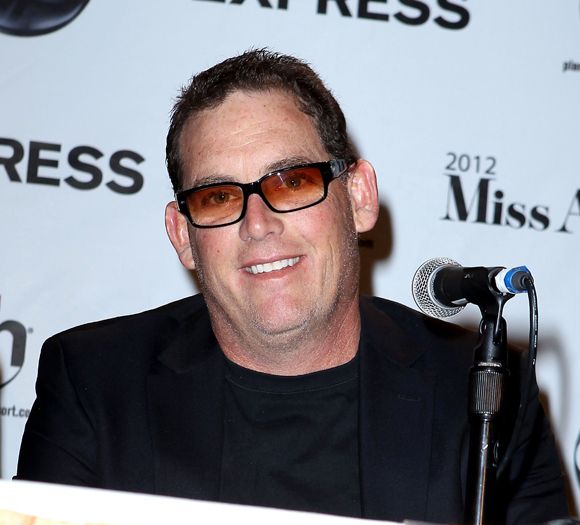 Moreover, he's suggesting tearing apart real families who actually do love each other (not for the cameras but genuinely) in order to play his sex game?
This is beyond foul, this is some Handmaid's Tale BS. The fact this man views women in such a way really puts the rest of his programming into a new perspective. Ugh!
[Image via Universal Pictures/ABC/YouTube.]
Related Posts
CLICK HERE TO COMMENT
May 06, 2020 18:17pm PDT