Shade Or No Shade? Did CNN Spike Trump's Shutdown Surrender??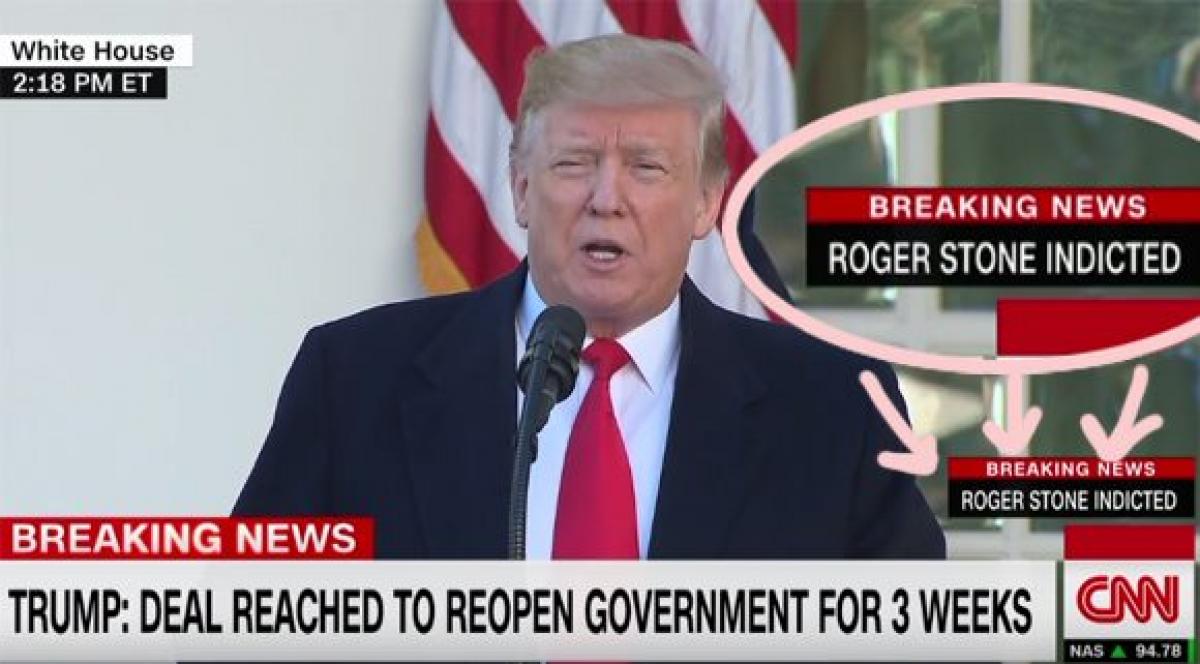 On Friday Donald Trump finally surrendered, at least temporarily, and agreed to re-open the government for three weeks while the debate over his stupid wall continues.
It's a total loss for the President, who is now doing exactly what Nancy Pelosi and others demanded.
He used the highly watched announcement to try once again to sell the wall, mostly with a lie about Democrats actually supporting it.
Related: Twitter Mocks Trump For Nursery Rhyme Wall Tweet
We're just a frozen caveman celebrity blog, but it's starting to sound like Trump is going to take the reasonable border security implementations Congress has previously voted for, with its small amount of fencing and slats in specific areas, and call THAT his wall — so he can lose completely and still claim victory.
While doing a massive eye roll at some of this far-fetched B.S., we couldn't help but notice something…
Do you see it?
CNN kept a little graphic on the screen the entire time which read:
"Breaking News: Roger Stone Indicted"
Ha!
While the POTUS is trying to turn this into a win, CNN is making sure to remind viewers it's just hours after his decades-long adviser was indicted on seven felonies in relation to covering up the activities of the Trump campaign!
So shady! Or is it?
Now obviously, this is what 24-hour news networks do. They keep referring back to biggest story of the day, with crawls and graphics.
Obviously CNN and Trump have an extraordinarily contentious relationship: they report the awful things he does, he calls them "fake news" and posts violent memes about them, they ask tough questions, he tries to kick them out of the White House, his followers threaten them with bombs…
Is this a bit of very subtle revenge? Or just a perfect storm of bad news for the President?
What do YOU think, Perezcious pundits??
[Image via CNN/YouTube.]
Related Posts
CLICK CLICK CLICK Next Article
Jan 25, 2019 1:11pm PDT