Jessica Simpson is really feeling herself amid her impressive weight loss journey!
On Wednesday, the Open Book author shared a new selfie (above) she snapped to Instagram, leaving fans and followers floored over her toned transformation! While Jess has always looked glowy and gorgeous, the star revealed she lost 100 pounds only six months after youngest daughter Birdie Mae's birth to "feel like myself again."
Related: Jessica Simpson Says She Went Back To John Mayer Almost '9 Times' 
Even amid quarantine, Simpson is putting in the hard work at the very least for her "own mental health." Flaunting her muscled figure (ahem, hello abs and legs) for the pic, she wrote in the caption about how she's able to squeeze in time for herself with her three kids, Maxwell Drew, 8, Ace Knute, 7, and Birdie, 14 months, at home:
"Woke up before all 3 kiddos to get my steps in and spend time with me, myself, and I. Move move move for your own mental health. ??"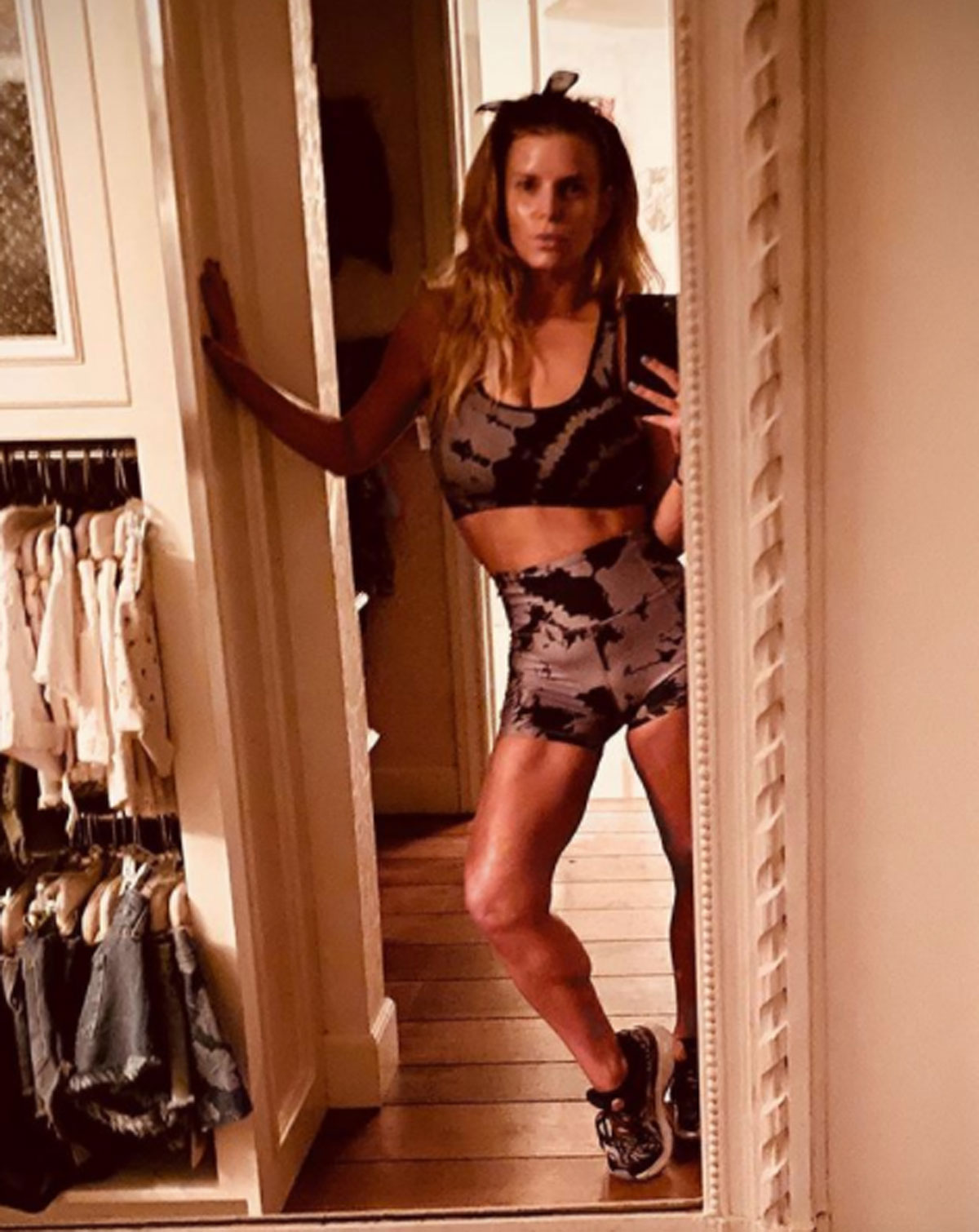 The snap also served as genius promo for her tie-dye sports bra and shorts set from her Jessica Simpson Collection!
Celebs flooded the post's comments section with comments, like Chelsea Handler writing:
"You got lots of muscles, sister."
Rita Wilson also sounded very excited over the sexy selfie, sharing:
"Exercise is the best for your mind and body! Way to go JS!"
Plus, her personal trainer, Harley Pasternack, left her three fire emojis, which we can only imagine means he's incredibly proud of his superstar client! As we reported back in October, he spilled all the secrets behind the momma of three's weight loss, sharing at the time:
"In the past, our focus was really about the workouts. This time, while the workouts still went on, the focus was on the time spent outside of the gym. Working out with resistance exercise is the best way to tone, tighten, and strengthen. But to lose weight, nothing can beat walking. Both of these are essential to get the goals that you want. We made sure Jessica's Fitbit read at least 12,000 steps every day before she went to bed, made sure she got at least seven hours of quality sleep a night, [and] unplug from technology at least one hour a day."
The 39-year-old has battled with body image issues over her long-spanning career, talking about the pressure to look thin at 17! She wrote in her memoir:
"I thought it was about my voice. I didn't know that it was going to end up being about how I looked in a dress. It's heartbreaking and I mean, I punished myself for it. I took diet pills. I heard it and I couldn't not hear it in the back of my mind every time I was on stage, every time I walked out the door."
Even more recently, in responding to former Vogue creative digital director Sally Singer's recollections of the 2007 Met Gala, Jessica fired back at the body-shaming over her natural breasts. Singer's harsh critique of the singer read:
"One year Jessica Simpson was there with John Mayer. She was wearing Michael Kors and her breasts maybe fell out of her dress on the red carpet…and then at dinner it was suddenly like, whoa, Jessica Simpson's breasts are across from me at the dinner table and they are on a platter and I'm looking at them. And John Mayer was putting his hands on them at the dinner table. He kind of reached down and I just remember thinking, Oh, celebrities, feel free to play here. That's what's going on."
But in her own IG post, she voiced how she took issue with the article while reflecting on a similarly well-endowed star: Jayne Mansfield. Along with the famous photo of Jayne being given side-eye by Sophia Loren, the star penned:
"Feeling a little like Jayne Mansfield after reading this (inaccurate!) oral history of the #MetBall where I am body shamed by #SallySinger (https://www.vogue.com/article/the-complete-met-gala-oral-history) …But in all seriousness I have persevered through shaming my own body and internalizing the world's opinions about it for my entire adult life. To read this much anticipated article about the classiest fashion event there is and have to be shamed by another woman for having boobs in 2020 is nauseating."
Preach!! How can we let that toxic s**t go when others continue to try and bring us down?? Think Jessica is shoving it to her haters with her sweaty new selfie? Hell yeah! And we love to see it!!!
[Image via WENN/Instar & Jessica Simpson/Instagram]
Related Posts
CLICK HERE TO COMMENT
May 28, 2020 07:19am PDT