Celebs React To Jussie Smollett's Assault As 'Empire' Cast Equipped With Armed Guards!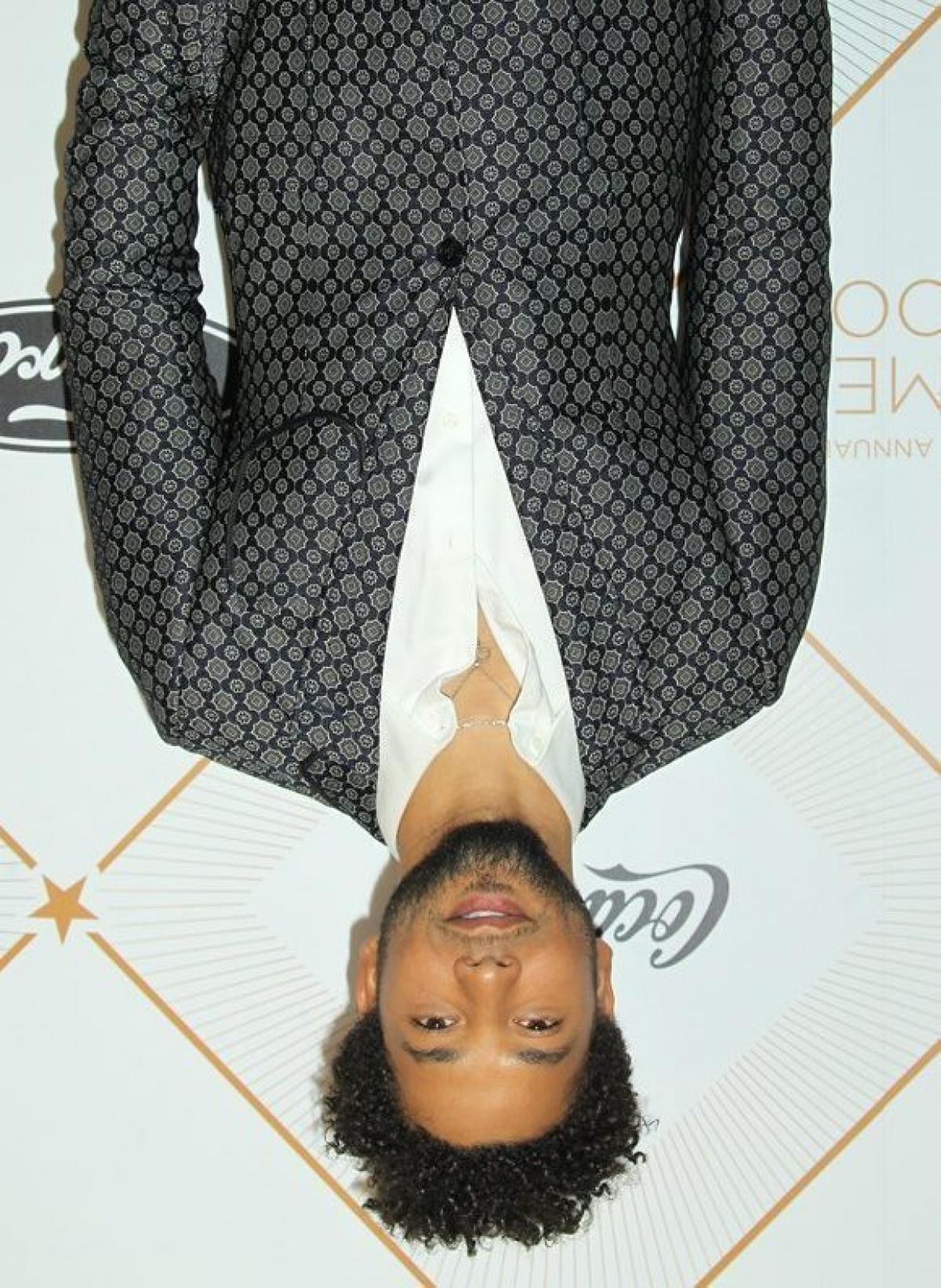 Celebs are speaking out after Jussie Smollett's hospitalization.
As we reported, the Empire star was allegedly the victim of a possible hate crime when two white men fractured one of his ribs, put a noose around his neck, poured a substance on him, and yelled, "This is MAGA country." He was discharged from the hospital Tuesday morning.
Related: Jussie, Mindy Kaling, & America Ferrera Discuss Diversity In Hollywood!
According to TMZ , authorities are investigating an alleged threatening letter addressed to him last week that contained racist and homophobic slurs. Cops also visited a Target store and an apartment complex — near where the alleged incident occurred —  to obtain surveillance footage.
Early Tuesday, the Empire staff held an emergency meeting, and later that day, cast members were given armed security as they continued shooting in Chicago.
Studios 20th Century FOX Television and FOX Entertainment also released a statement about the controversy. It read:
"We are deeply saddened and outraged to learn that a member of our EMPIRE family, Jussie Smollett, was viciously attacked last night. We send our love to Jussie, who is resilient and strong, and we will work with law enforcement to bring these perpetrators to justice. The entire studio, network and production stands united in the face of any despicable act of violence and hate — and especially against one of our own."
Additionally, Empire co-creator Lee Daniels posted an emotional video on Instagram where he told Jussie that he "didn't deserve" what happened to him.
Fellow co-creator Danny Strong also shared kind words about the thespian.
I'm deeply horrified and saddened by the racist and homophobic attacks against @JussieSmollett. He is a kind and profoundly talented soul whom I respect with all my heart. The terror of racism and homophobia has no place in our society, it is the most indecent way to live…

— Danny Strong (@Dannystrong) January 29, 2019
Several stars — including John Legend and Zendaya — reached out to the 36-year-old actor on social media.
See all of their messages (below):
Sending love to Jussie and the Smollett family after this horrific attack. We support you and pray that you find peace and justice.

— John Legend (@johnlegend) January 29, 2019
This is heartbreaking and terrifying…please pay attention to what's happening here. Sending all my love to @JussieSmollett https://t.co/YTJ6bwLDkZ

— Zendaya (@Zendaya) January 29, 2019
I'm just now hearing the news about the senseless hate attack on my #EMPiRE Nephew @JussieSmollett IM SO ANGRY AND HURT ABOUT THIS! THIS MUST STOP!! SPREAD LOVE NOT HATE! PRAYERS UP TO U NEPHEW! 😢😢🙇🏾‍♀️🙇🏾‍♀️ pic.twitter.com/p4GqfNW3An

— Vivica A. Fox (@MsVivicaFox) January 29, 2019
Sending my love and prayers to you @JussieSmollett . This is unacceptable and they will be brought to justice.

— Matt Bomer (@MattBomer) January 29, 2019
god bless jussie may he have all the support he needs healing from this.

hella speechless. no words.

— Kehlani (@Kehlani) January 29, 2019
This is horrific. What kind of country do we live in. https://t.co/unvzWmo6XD

— George Takei (@GeorgeTakei) January 29, 2019
No words. Love to you @JussieSmollett ❤️❤️❤️❤️ https://t.co/bdVahUfi04

— Margaret Cho (@margaretcho) January 29, 2019
.@JussieSmollett is one of the fiercest people I know. This hatred won't stop his championing for a better world. If anything, it will probably motivate him more. It has me.

— Jackée Harry (@JackeeHarry) January 29, 2019
We ALL have a responsibility to rise up against the ignorance and hate out there. If you know who did this to @JussieSmollett, REPORT THEM TO THE POLICE.

— shonda rhimes (@shondarhimes) January 29, 2019
DEAR GOD! Prayers and justice for Jussie Smollett.

— kerry washington (@kerrywashington) January 29, 2019
I am disgusted and horrified to hear of the homophobic and racial attack on Jussie Smollett last night. Unfortunately, these hateful attacks happen way too often. We must call out and hold those accountable. Sending love to you, Jussie.

— Mindy Kaling (@mindykaling) January 29, 2019
sending u my love 💜🙏🏾 pic.twitter.com/9dHEphO8BQ

— Janet Jackson (@JanetJackson) January 29, 2019
OMG!! THIS is why the LGBTQ community continue to fight to be seen and PROTECTED against hate!

We ALL have to take this racist and homophobic act of violence very personally! My arms are around you @jussiesmollett. You are loved! https://t.co/bprDZ3Luah

— Viola Davis (@violadavis) January 29, 2019
THIS IS FUCKED UP TO THE CORE. CATCH THESE EVIL HOMOPHOBES AND LOCK THEM UP FOREVER https://t.co/RScjV4hlex

— Andy Cohen (@Andy) January 29, 2019
we love you @JussieSmollett ❤️

— Ella Mai (@ellamai) January 29, 2019
Prayers up for @JussieSmollett 🙏🏾
Ignorance and hatred will never be victorious. Love will overcome all.

— OMAR EPPS (@omarepps) January 29, 2019
1/3 – I've known Jussie since he was 10 years old, and a man of @JussieSmollett's talent, intellect and kindness should be an undisputed blessing to our community. My heart is hurting knowing that he's suffering…and for what? Just for being?

— Halle Berry (@halleberry) January 29, 2019
2/3 – The fact his presence on this earth would be perceived as a threat to anyone only shows the magnitude of their fear and confusion. I pray that our country learns to heal, that we may see each other for WHO we are and nothing more. We gotta find the LOVE yawl!

— Halle Berry (@halleberry) January 29, 2019
3/3 – Praying endlessly for Jussie's quick recovery at Northwestern Memorial. Anyone with information is asked to call Area Central Detectives at 312-747-8382

— Halle Berry (@halleberry) January 29, 2019
No matter what's happening around us, @JussieSmollett is ALWAYS quick w/ a massive smile & hug. Thats the kind of man he is. The homophobic, racist hate crime against him & hate crimes against countless others cannot stand. Rebuke hatred any & every time it rears its ugly head.

— Gabrielle Union (@itsgabrielleu) January 29, 2019
@JussieSmollett my prayers are with you and your family.

— Quvenzhane' Wallis (@IAMQUVENZHANE) January 29, 2019
all of it is you @jussiesmollett. the red hat is the white hood. no ifs ands or buts. if you wear it, you attacked jussie. if you support them, you attack all of us. watch us rally. our… https://t.co/mncBpkFixL

— Nico Tortorella (@NicoTortorella) January 29, 2019
[Image via Adriana M. Barraza/WENN.]
Jan 29, 2019 1:40pm PDT