Tom Sandoval is lucky Lala Kent didn't hear this disgusting comment he made about her daughter Ocean during the Vanderpump Rules reunion filming — because she would have gone into full-on momma bear mode!
For those who don't know, part two of the reunion episode picked up with the massive argument between Lala and Sandoval about the 40-year-old's months-long affair with Raquel Leviss. And things got very heated to the point where they were calling each other narcissists and morons! After Lisa Vanderpump attempted to intervene, Sandoval decided to hit below the belt by saying to Lala:
"You're a f**king moron. You pulled your IUD the day you found Stassi was pregnant."
Related: Raquel Kicked Friend Out Of Hotel Room To 'Hook Up' With Sandoval
Yeah, he made a super inappropriate comment on camera about how Lala took out her IUD when she heard their former cast member Stassi Schroeder was expecting a child – implying that she only wanted to get pregnant because the 34-year-old did. So yet again, rather than owning the fact that he messed up by cheating on Ariana for months, Sandoval decided to make a disgusting remark to seemingly hurt her.
Lala clearly didn't hear the comment from Sandoval because we all know she would have gone OFF on him at that moment. It most likely would have been so bad that Andy would have had to step in and separate them! However, things come out eventually! And now that the reunion episode has aired, well, the 32-year-old author found out about what he said, and she's not holding back her disgust for him on social media!
Following the episode, Lala took to Instagram Stories to slam Sandoval for diminishing "the conception of" her little girl again, saying:
"Tonight is the second time that I have seen Sandoval diminish the conception of my beautiful, magical daughter. I'm disgusted. It makes me sit here and question who the f**k raised you and how they must be sitting there going, 'Do we really gotta claim this f**king guy? Really?'"
She continued:
"I'm so glad that I didn't hear that at the reunion, because I tell you what, these mama bear paws woulda mauled the f**k out of him. Sandoval, you better watch your f**king tongue. When you talk about me, you keep my daughter out of your mouth. That's where I f**king draw the line. You can come for me all day long. You leave her out of this."
Lala – who shares her 2-year-old with ex Randall Emmett – then noted that Ocean "was brought into this world out of love, respect," adding:
"My relationship may have gone to s**t, but that little girl is the best thing that ever f**king happened to me. How dare you."
When a fan called out Sandoval for "going after someone's child," Lala re-posted it and wrote:
"I would tag Sandoval, but his punk a** blocked me."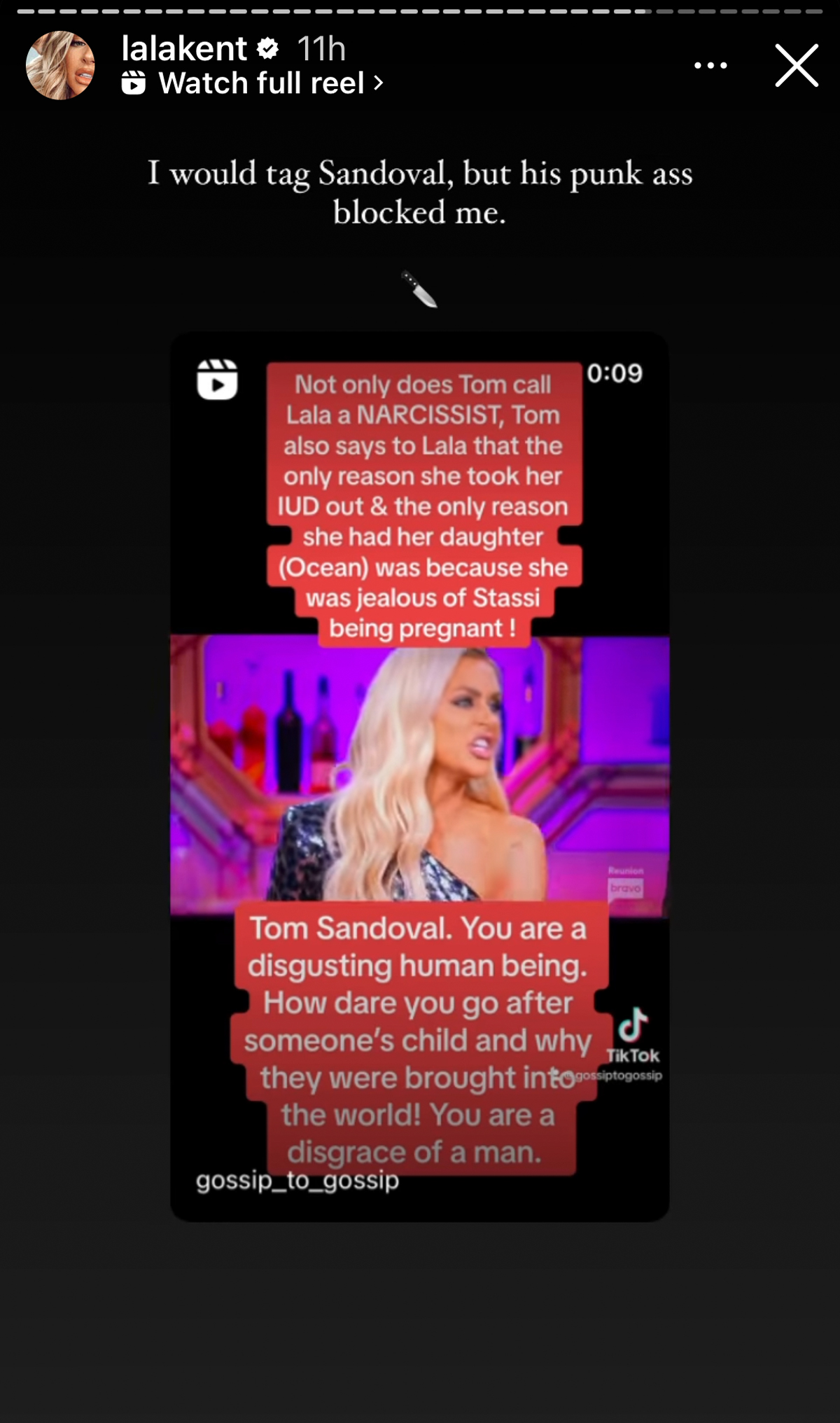 Ugh. Sandoval may have been in a screaming match with Lala over his actions, but it was not necessary to bring her kid into the fight whatsoever. As Lala said, leave her out of the situation because she had nothing to do with what was going on. Reactions to the matter, Perezcious readers? Let us know in the comments below.
[Image via Lala Kent/Instagram, Vanderpump Rules/Peacock]
Related Posts
CLICK HERE TO COMMENT
Jun 01, 2023 10:24am PDT