Was Meghan Markle really a big ol' diva before she was even world-famous? Or was she just sticking up for herself?
That's the question we have after reading the account of a videographer who worked with the actress before she became the betrothed of Prince Harry — and one of the most recognized women on the planet.
Related: Meghan Coming For Gwyneth Paltrow's Lifestyle Throne??
The videographer, who is speaking on condition of anonymity because he still works in the business, tells DailyMail.com he worked with the Suits actress during a shoot in Toronto a bit before the news came out she was dating the Duke, and it was an awful experience all around. Why?
"She was very high maintenance and rude. She was difficult and demanding."
Wow. But the cameraman was actually prepped for it; even then, he claims, she had a reputation for being a handful:
"People told me, 'get ready because she is a lot.' They used to call her 'the princess.'"
Ha! To the manner born! OK, you have to admit that's pretty amazing if true!
But what was his impression when she finally arrived? He recalls:
"When I saw her, right away from the moment she arrived, I didn't even know who she was and she was acting like a diva. It was the attitude, how she talked to people, the rules."
The videographer paints a pretty specific picture, saying:
"She came in wearing a (baseball) cap, hiding her face and she had her head down and just walked back towards the make-up room. It was like it was the big diva coming in, and she doesn't want people to see her, like you would do if you're walking in the street and you don't want the paparazzi to take your picture. So I was like, 'Wow.' I wasn't impressed. Everyone thought, 'She is acting like an A-lister when she is not even a D-lister.' But it was kind of like a caricature of someone playing the superstar, you know, because a real superstar, generally unless it's a super bad day, they will play it naturally and be generous with their presence."
Hmm.
Maybe it was a "super bad day"? Maybe she had a forehead zit she needed covered up? Bad hair day? You never know what someone's day was like before they came in. So how was she to work with once she got settled?
"She was putting pressure on from the start that she was going to have to approve everything… There were all these demands — you have to get a specific type of flower, you can't film her while she is getting her make-up on, you have to get a certain brand of champagne for the shoot. You have to ask permission to shoot anything. She's the boss. You felt like you were walking on eggshells… Normally when you suggest things on a shoot the star will not contradict you, they will say, 'I will try that.' But she had her own ideas. She had a lot of decision (power) but at some point… you're an actor and I'm the director, let me do my thing."
OK, those are definitely some specific demands for a video shoot — but none of that really sounds rude. Gurl knows what she wants and asserts herself. Nothing wrong with that, right?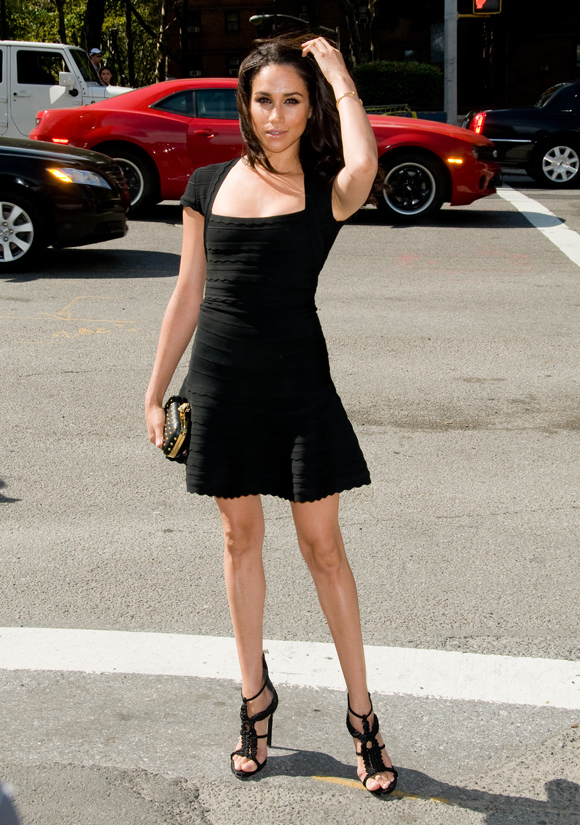 Well, that wasn't all. While the videographer admits Meghan was good on camera, it was off-camera where the problems started:
"The girl was really easy to shoot. Once you say 'action,' she knows how to do her job. But after the camera stops, she's not the most friendly person."
How so?
"She had a team with her, like her make-up artist and publicist, and it was like something out of Mean Girls. They were a clique, looking at other people and laughing and having fun among themselves."
Huh?? Girls having fun and laughing with their friends isn't being rude either.
Well, the video pro does have a more specific example:
"One of my team [members] is the nicest guy and he was traumatized by the end of it because she was so mean. He told me that at a certain point he started to shoot her feet, just taking some b-roll, and I don't remember if they had told me in advance or not, but I understand she hates her feet."
That's inneresting. It's not the first time we've heard Meghan has feet issues.
There was a rumor based on scarring noticed by sharp-eyed fans that she'd had bunion surgery.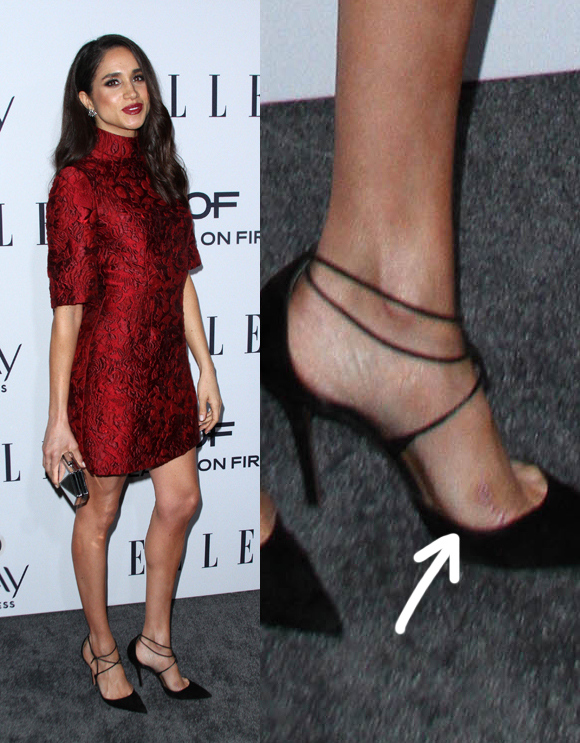 So how did she react to some guy shooting closeups of her feet? The entire entourage took offense:
"When he did that, they all looked at him like "what the hell are you doing?' and said, 'You're done for today.'"
OK, so he admits he may have been told in advance not to shoot her feet, and one of his guys started doing it without getting permission, and she and her team got upset? We don't know, we think we're with her on this one.
Generally when some guy starts filming your feet, he's either a total creep or Quentin Tarantino. Either way, a woman is well within her rights to say what she does and doesn't want filmed.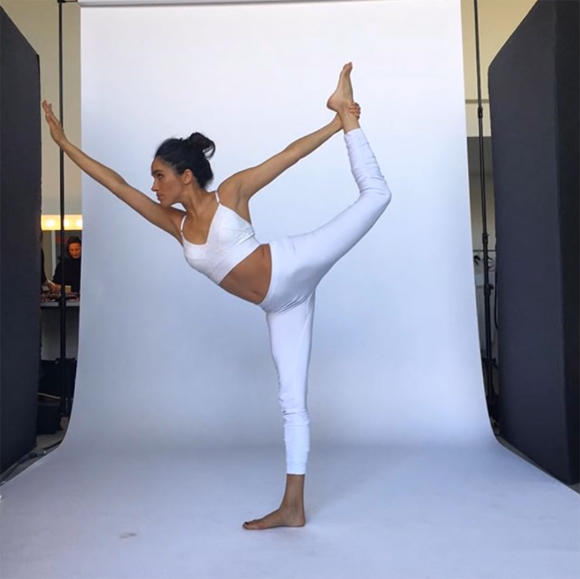 The videographer assumed the USA Network supporting player was going to fade into obscurity. Little did he know…
"I told him, 'It's probably the last time we will see her.' And then it comes out she has started to date the prince. I don't think she deserves the attention. I wasn't impressed with her and I'm just surprised she charmed the guy. She came across as very insecure and spoiled."
He adds:
"If they would have offered me another job with her, I would have rejected it. I wouldn't want to work with someone like that again."
To be fair, the pro did admit his experience was not universal in the community:
"I did hear from someone else who shot her later that she was nice, so maybe she changed her attitude."
Maybe. Or maybe it was you and your crew not respecting the clearly laid out boundaries?
What do YOU think, Perezcious readers? Does this sound like Meghan was being a "mean" and "difficult" diva? Or standing up for herself and her feet?
[Image via Adriana M. Barraza/WENN/Meghan Markle/Instagram.]
Related Posts
CLICK HERE TO COMMENT
May 05, 2020 14:17pm PDT