Break out the Stitches, because it looks like Shawn Mendes and Camila Cabello are indeed sewing back together their relationship!
There's been a lot of confusion surrounding the exes since Saturday. As we reported at the time, the two were seen smooching at Coachella, prompting many fans to believe they were giving love a second shot. However, on Monday, an insider struck down the speculation, telling PageSix: 
"Shawn and Camila remain friends with a lot of love and history between them, but they aren't dating again."
Even at the time, we were raising our eyebrows at that denial. We mean… if this hookup was so unexpected, how could their reps know this was "a one-off" or what it would mean? Now the latest reports suggest the two actually ARE back on — and they don't care who knows it!
In footage captured by Instagram user Jessica Rendall, the singers were clearly spotted holding hands as they strolled down a populated Santa Monica street! The eagle-eyed fan spoke to PageSix Thursday about the steamy sighting, explaining:
"My friends and I were walking down Santa Monica Blvd. just after 8 p.m. on Wednesday night when I looked up from my phone and saw Shawn and Camila walking toward us holding hands."
She added:
"I clearly had a shocked look on my face because Shawn looked at me and smiled because he knew I recognized him. They were deep in conversation and seemed very happy and comfortable together."
So by the sound of it, the lovebirds were not trying to conceal their rekindled romance whatsoever, despite that source they were not back together! Sounds a little messy — and we LOVE it! A source later confirmed the to the outlet the duo are indeed "hanging out again," cryptically adding: 
"They're enjoying getting reacquainted and seeing where it goes."
By the sound of Jessica's eyewitness statement, the two seem to have no trouble at all getting "reacquainted" as they looked pretty cozied up! The insider specifically noted the Señorita collaborators "care about each other a lot."
Awww.
On top of all that, an anonymous contributor also shared the following scoop with celebrity gossip account DeuxMoi: 
"I was visiting my friend at her apartment … and I was in the lobby with Shawn Mendes and Camila Cabello who were definitely holding hands."
See (below):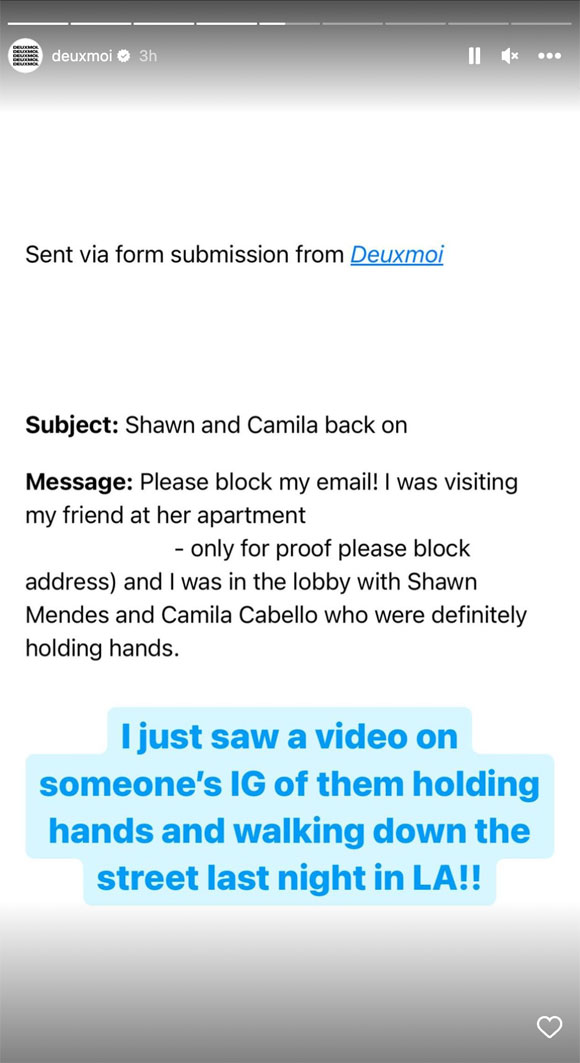 This all comes in the wake of the Havana singer's February split from her Shawn look-alike BF Austin Kevitch, the CEO of Jewish dating app Lox Club. Looks like she traded him in for the real thing, LOLz! On Shawn's end, he's been rumored to be both dating 51-year-old chiropractor Dr. Jocelyne Miranda AND Sabrina Carpenter, but obviously if either was actually happening, neither could have been very serious.
What do YOU think of the latest Shawmilla update, Perezcious readers? Are you happy to see them back in action? Let us know in the comments down below!
[Image via Shawn Mendes/YouTube/MEGA/WENN.]
Related Posts
CLICK HERE TO COMMENT
Apr 20, 2023 12:15pm PDT