Soulja Boy Goes Ballistic On Drake, Kanye West, & Tyga In Explosive Breakfast Club Interview!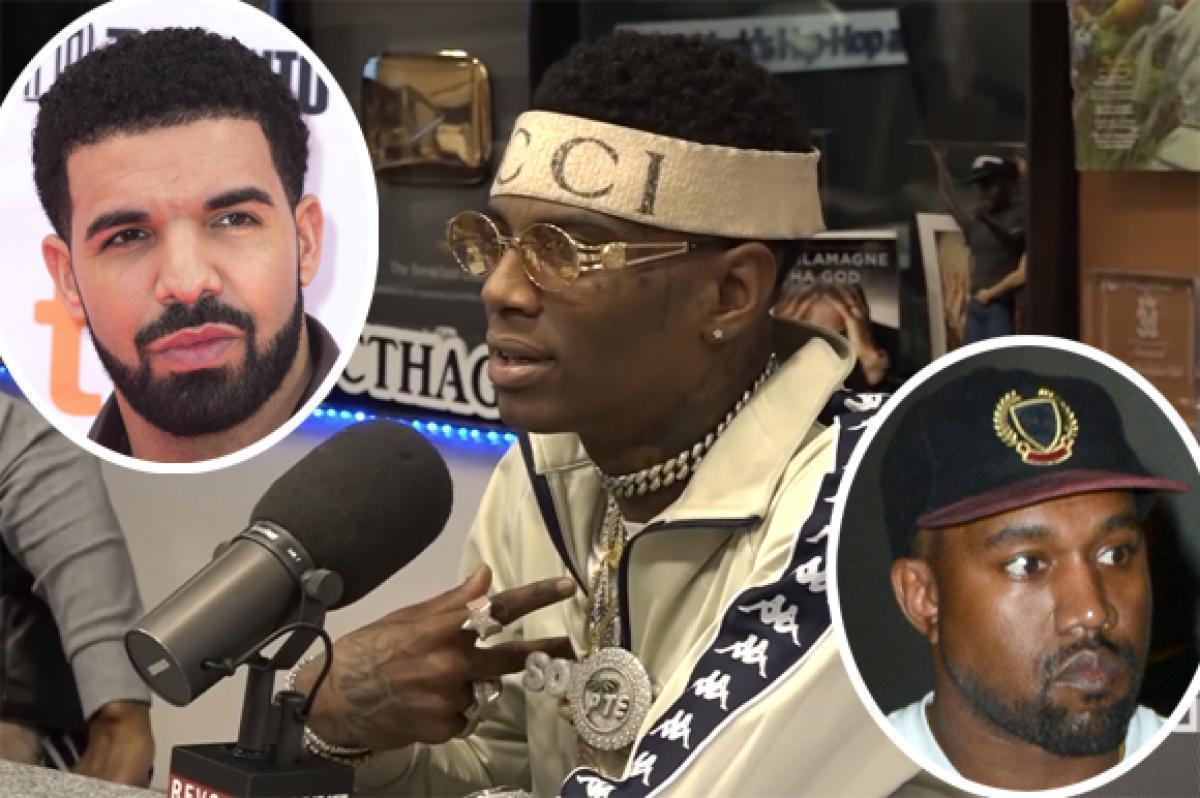 Soulja Boy remains adament that he's rap's GOAT, and he'll flip his Gucci lid if anyone says otherwise. 
The Crank That artist went off on Kanye West, Tyga, and Drake (don't even get him STARTED on Drake) in an interview with the Breakfast Club Wednesday, going ballistic on Charlamagne Tha God and Envy after they praised the talents of the aforementioned rap titans.
Related: Drake Signs Multi-Million Dollar Las Vegas Residency Deal
The biggest outburst came when Charlemagne insisted that Drizzy was "biggest rapper in the world" — a remark that literally made Soulja jump out of his chair and launch into a heated tirade. He said:
"Draaaake? the n**** that got bodied by Pusha-T? The n**** that's hiding his kid from the world, but the world won't hide from the kid. Aubrey Graham in the wheelchair? Drake?! Y'all n****s better stop playing with me in here. Y'all talking about the light-skinned n**** from Degenerous [Degrassi]?'
The 28-year-old then brazenly declared that he taught the God's Plan rapper "everything he [knew]." To prove his point, Soulja compared the very similar melody of Drake's 2010 song Miss Me to his 2008 track Kiss Me Thru the Phone, shouting:
"That's Soulja! That's MY bar! He copied my whole f**ing flow! Word-for-word! Bar-for-bar!"
Shocked by the revelation, not even Charlemagne could deny the uncanny resemblance between the two songs.
But Soulja's later claims were met with much less agreement.
Related: Kim Says Kanye Did NOT Defend R. Kelly During Livestream
Complaining that hip-hop artists are now making bank off the type of music he was ridiculed for making nearly a decade ago, the performer professed:
'"They love the new generation, I had to take them bullets. Everybody doing what I did. They laughed at me, they said I killed hip-hop, now they're doing exactly what I did. I'm the reason y'all are doing this, I'm the reason all these artists have social media. Y'all should thank me. Every artist in the game, all y'all record labels, y'all owe me 5% bro."
Soulja's envy did not extend to Mr. West, however. He said of Kim Kardashian West's husband:
"We looking at you like you goofy, bruh. You up here supporting Trump and sh*t, bruh. You supporting Trump, bruh?"
And he had just as harsh of a dismissal for Tyga, quipping:
"Tyga…Tyga…Tyga. The n**** who let Travis Scott steal his b*tch?"
Ouch.
Do U agree that Soulja Boy should be given more credit for his influence on rap? Watch his full interview (below) and sound off in the comments!
Jan 16, 2019 12:54pm PDT