Police Drug-Sniffing Dog Suffers OD On An EDM Party Cruise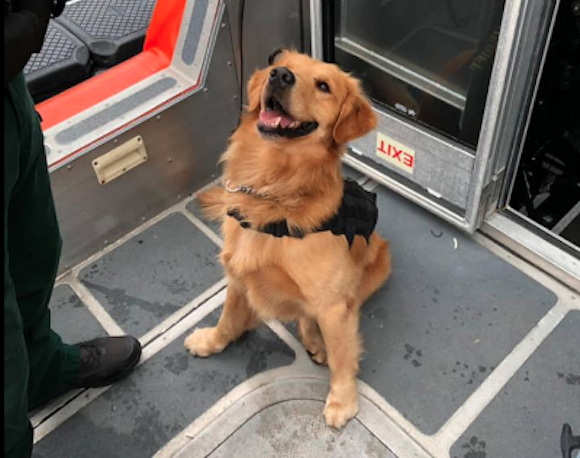 A heroic K-9 is on the mend after overdosing while searching party cruise ship passengers in Florida this week!
On Wednesday, the Brevard County Sheriff's Office was screening ticket-holders boarding the Holy Ship! event on the cruise ship Norwegian Epic as it docked in a Florida port when Jake, the department's highly specialized drug sniffing dog, started acting funny.
Related: YouTuber Thwarts Package Thieves With AMAZING Invention…
Apparently, Jake suddenly fell ill after discovering a batch of hidden drugs on a passenger trying to board the ship for the EDM concert cruise — and things would have gone very badly for the poor mutt had an officer not used Narcan to quell the accidental overdose!!
A sheriff's office spokesperson explained the incident to Click Orlando (below):
"[Jake] started having some problems with balance and had some type of seizure incident of some sort, was showing effects of having inhaled some substance. They administered the Narcan and got [him] to the vet."
Narcan is very common, as it's typically used in certain overdoses to revive human beings — though it's certainly newsworthy that it worked on Jake, too!
The canine, who was quickly stabilized once at the vet, helped cops pull more than a dozen people off the ship to arrest on drug charges before it could leave port. Wow!!!
Related: Woman Trains Her Dog To Do Harry Potter Spells!
One of those dozen, Leslie Bennett, is the person who allegedly brought aboard the drugs on which Jake overdosed; the 33-year-old Montana resident has since been charged with felony possession of a controlled substance without prescription, and possession of drug paraphernalia and equipment, for what was later determined to be both ecstasy and amphetamine.
Scary!!!
Honestly, though, we're just glad that Jake is OK, as you can see in this announcement from the department (below) earlier this afternoon:
K9 JAKE'S BACK ON THE BEAT: @BrevardSheriff's K9 Deputy Jake is back on duty at Port Canaveral, playing with his handler, Deputy Scott Stewart, and showing no ill effects from a severe reaction that the 3-year-old golden retriever suffered from finding drugs on a passenger. pic.twitter.com/5cdFHlNlEp

— Port Canaveral (@PortCanaveral) January 11, 2019
Awww!!
Who's a good boy?!
[Image via Facebook.]
Jan 11, 2019 7:03pm PST