Jose Canseco SLAMS Newly-Engaged Alex Rodriguez Over Claims He's Cheating On Jennifer Lopez!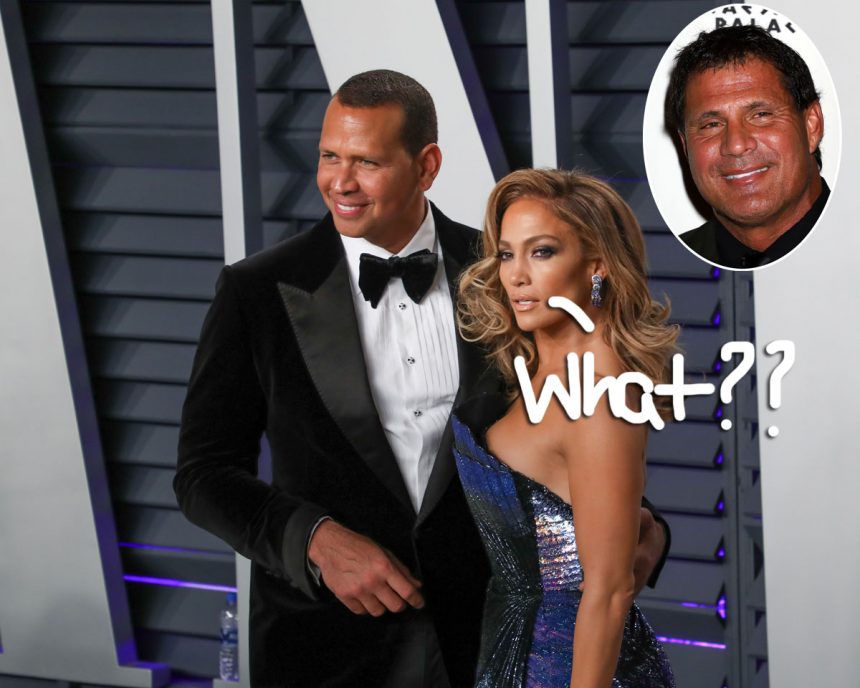 This is coming right out of left field for Alex Rodriguez and Jennifer Lopez!
Just one day following the announcement that the pair are engaged, Jose Canseco took to Twitter on Sunday to blast his fellow former Yankees player for cheating!
Related: Alex Rodriguez Shares Sexy First Look At Jennifer Lopez Pole Dancing
Along with one since-deleted tweet featuring his phone number, the ex baseball star fired off on at A-Rod, writing he cheated with Canseco's ex-wife Jessica, whom he has been divorced from since 1999:
"Watching World of Dance watching J.Lo text Alex Rodriguez little does she know that he is cheating on her with my ex-wife Jessica poor girl she has no idea who he really is"
Jose continued, revealing how he had this insider knowledge:
"I was there a few months back with her when he called her on her phone"
While he never went to tag Rodriguez that didn't stop him from calling Lopez's fiance out:
"Alex Rodriguez stop being a piece of s**t stop cheating on Jennifer Lopez"
Even wanting to take him out on a MMA fight:
"Alex Rodriguez I challenge you to a boxing match or an MMA match anytime you want"
Hours later, Canseco doubled down on his cheating claims to prove he's not lying:
"I am willing to take a polygraph to prove that what I'm saying about Alex Rodriguez is 100% accurate"
You can see all the tweets (below):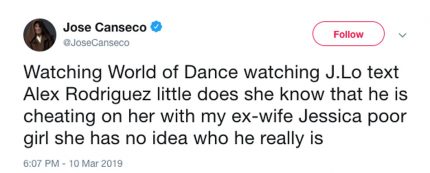 Neither J. Lo or her soon-to-be-husband have responded to the 54-year-old shocking claims about an affair, and we really can't imagine they will.
For those who haven't been keeping up the couple, they first met in 2005 when she was still married to Marc Anthony, but didn't reconnect until 12 years later! They've now been dating nearly two years, gushing about each other and their close families for everyone to see!
While A-Rod has only been married once, to Cynthia Scurtis, this is the actress' fifth engagement after getting hitched to Ojani Noa, Cris Judd, and Anthony. She was briefly engaged to Ben Affleck before breaking it off.
It'll be interesting to find out what happens next now that Jose has came out with these wild cheating allegations, but we can't imagine it'll be good.
We'll continue to keep you updated!
[Image via Sheri Determan/DJDM/WENN]
Mar 11, 2019 7:11am PDT