Kim Kardashian is making the most of life after Kanye West — and she's trying not to let his continued antics affect her anymore. Easier said than done, but she's tryin'!
The 42-year-old reality TV star is the subject of a new in-depth interview in Vogue Italia this week. The Italian high-fashion mag released their feature with the SKIMS mogul on Monday, and already, we've got plenty to pick out from within!
Related: Kim Epically BURNS Big Sis Kourtney As Super-Nasty Italy Wedding Feud Heats Up! OMG!
Most notably, the Kardashians star is speaking out about the aftermath of her divorce from the Hurricane rapper. She's not calling him out or anything, though. Well, not specifically. And she didn't even use his name in the interview!!
However, she did use her soft landing with the mag to explain how she feels about having to co-parent the former couple's four children — North, 10, Saint, 7, Chicago, 5, and Psalm, 4 — while Ye continues to perform bizarre antics in public with his new "wife" Bianca Censori.
When asked about how she keeps herself so cool and collected around her kids amid the Chicago-born rapper's unruly outbursts and unpredictable periods, Kim credited her late father Robert Kardashian Sr. with teaching her how to stay calm. Then, she admitted how she hides away from her kids when she's most upset, saying:
"If it's something concerning my kids' dad and I'm upset, I try not to show as much emotion. I have to be ready to explain why I'm upset and it might not be appropriate for them to know. There's nothing worse than, 'you'll understand when you're older.' I don't want to be that person. But if I'm upset about other things that they can understand, I absolutely will show emotion and cry."
Inneresting…
Honestly, it's not a bad call. There's no point in riling the kids up over something they can't know about now, at their age and all. And Kim has thus far done a good job of keeping it all away from them across the internet, too — especially with North, who is now at an age where she's using TikTok and other social media outlets.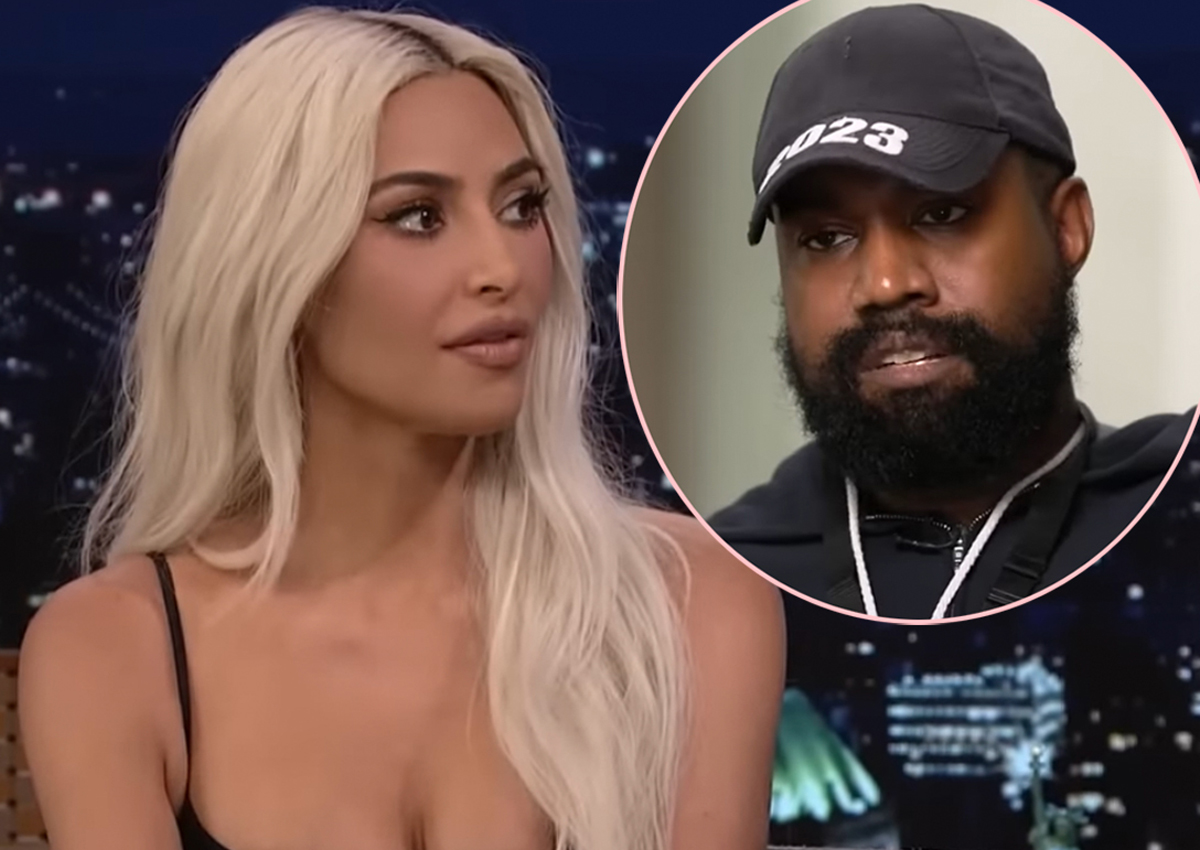 Still, it's not easy.
Later in the interview, Kim acknowledged how she just had to keep pushing forward after her difficult divorce from Ye no matter what to make sure her children were growing as they needed to be:
"Sometimes you just don't really have a choice. Would I have made the situation better if I handled it in any other way? No. Would I have made it worse? Yes. I think at some point you just have to surrender to not getting the last word and not having your truth out there. I also saw a really good example from my parents. And that was helpful. It makes me want to be an example for my kids too."
Speaking of North and her TikTok use, as we referenced a moment ago, Vogue Italia asked Kim about that as well.
Interestingly, the SKKN By Kim mogul admitted that she wished her eldest daughter would not spend time on social media. But nevertheless, the Selfish author acknowledged that she believes it's so far being done in a healthy way:
"In a perfect world would they be on social media? No, but my eldest daughter is light and playful about it. She just genuinely loves to do videos with me. As things come up we'll have those conversations. North does not have social media on her phone yet, she also has weeks without being on her phone and is not a dependent person on her phone. If she was, I would be a little bit more concerned."
Well said. That'll only get more difficult to navigate as North gets older, of course. But it sounds like Kim has a solid foundation for what to do when North's teen years come and all that…
Related: Kim SLAMMED After Tweeting From American Horror Story Set Amid Writers' Strike!
Reactions, Perezcious readers??
[Image via Tony Forte/WENN/Kim Kardashian/Instagram]
Related Posts
CLICK HERE TO COMMENT
Jun 26, 2023 16:34pm PDT