Guess the ring really didn't mean a thing… to her!
Days after filing for divorce from her husband Kroy Biermann, it looks like Kim Zolciak has officially said sayonara to her wedding ring!
In her first social media appearance since the breakup news hit the internet, the Real Housewives of Atlanta alum was seen acting completely unbothered by the drama as she learned how to play Fortnite with her friend Elizabeth Arthur. In the clip, which she reposted to her Instagram Story on Wednesday, she can be seen struggling even to put on a gaming headset while saying of her 26-year-old daughter:
"I have to learn how to play Fortnite since Brielle [Biermann] doesn't acknowledge me for hours."
LOLz! She was all smiles as she laughed on camera, too! And as she adjusted the headset, her ringless left hand was in perfect view.
Related: Shakira Has 'No Interest In Dating' Tom Cruise
Check it out HERE, while it lasts.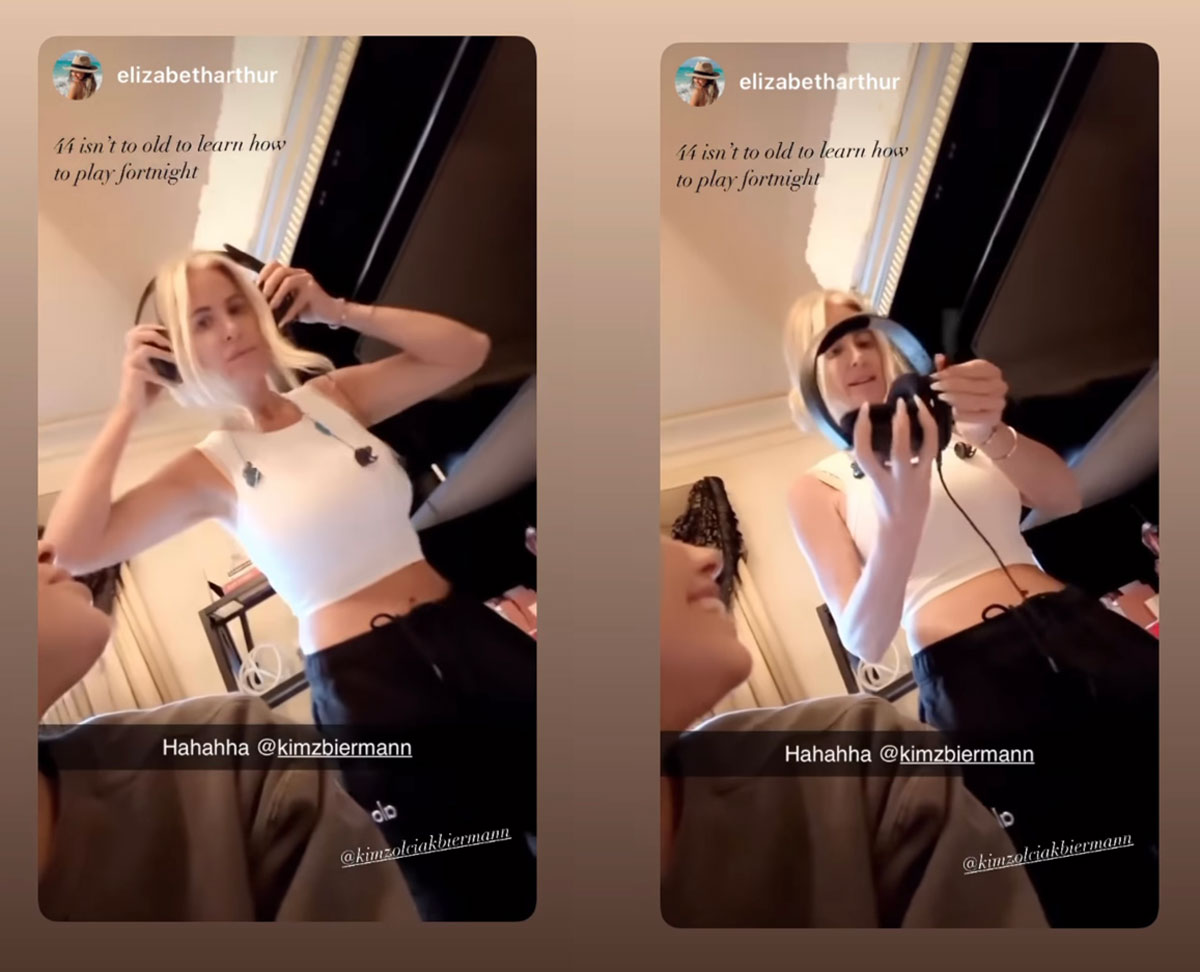 By the way, her wedding ring is hard to miss when she's wearing it, which used to be all the time. Take a look:
Wowza!
Related: Tori Spelling's Family Vacate Home After Kids Suffer Mold Infections
Innerestingly, her low-key reaction to the breakup is VERY different from her estranged hubby's… In Kroy's first social media message since the split, he made a fuss when he changed his IG bio to add:
"My ring meant a thing."
As we've been following, the couple both separately filed for divorce this week, citing their separation date as April 30. The bombshell news came on the heels of reports claiming they owe over $1 million to the IRS in unpaid taxes, plus another $15k to their home state of Georgia. Sources have gone on to say their financial woes have torn them apart in recent months. An insider told Us Weekly on Wednesday:
"The financial burdens have been a strain on their relationship. Between the tax debt and other financial stresses, it's been difficult. The tax debt was the straw that broke the camel's back in their marriage."
They're now fighting for custody of their four minor children, Kroy, 11, Kash, 10, and twins Kane and Kaia, 9. The former Atlanta Falcons player also adopted Kim's eldest daughters, Brielle and Ariana, 21, in 2013.
To make matters even more complicated, the exes are still living in the same house together. Their Georgia mansion was almost lost due to a foreclosure auction earlier this year when they reportedly defaulted on their mortgage, but they were able to save the property — and now they're both clinging to it! Kroy is asking a judge to evict his ex — but so far, she's hunkering down and also trying to stake her claim.
We imagine their time under the same roof is only going to get more and more complicated as they make this separation more public! Maybe she'll be able to tune him out by playing Fortnite…
Reactions? What do U think of Kim's unbothered return to socials? Let us know (below)!
[Image via Kim Zolciak/Instagram & Bravo/YouTube]
Related Posts
CLICK HERE TO COMMENT
May 11, 2023 11:25am PDT